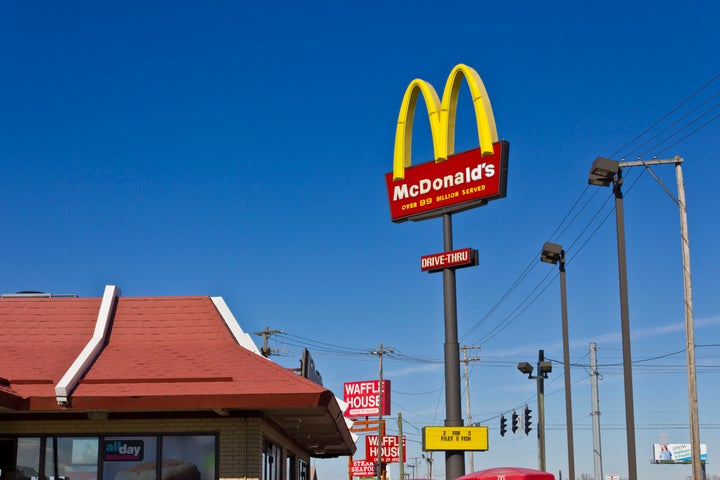 McDonald's branches in the UK and Ireland will soon give people the option to "swap out" their Happy Meal toy, to reduce the impact on the environment.
Next month, in selected restaurants, the chain will provide customers with the option to swap the toy for a fruit bag. In early 2020, it will run a trial of offering customers a choice between a book and a toy.
The fruit replacement will still come in a plastic bag. When HuffPost UK asked McDonald's about this, a spokesperson said: "The plastic bag has a functional role; there isn't an alternative solution at the moment."
The packaging of its fruit bags are currently under review, in line with its commitment that by 2025, 100% of packaging will come from "renewable, recycled, or certified sources".
In addition to the two trials, the chain will continue to offer a range of different gifts as part of the Happy Meal – including a paper-based toy for Halloween 2020.
The move comes after two young girls from Southampton – Ella McEwan, nine, and little sister Caitlin, seven, – petitioned for Burger King and McDonald's to think of the environment and stop giving plastic toys out with every kid's meal.
Paul Pomroy, the CEO of McDonald's UK and Ireland, said: "We recognise that some people may not want a plastic Happy Meal toy, but we also know that the gifts provide fun for many families and children.
"That's why we'll be running these trials, in order to give our customers a choice; they also can choose not to have a toy or gift at all."
Pomroy said the chain wants to understand what customers want – "and we'll learn a lot from whether they choose a fruit bag or a book over a toy".
Longer term, the chain said it will continue to work with suppliers to move towards more sustainably-sourced, renewable, recyclable materials for Happy Meal gifts – with paper-based toys and board games in the pipeline.
The move comes after the chain's recent roll-out of paper straws in restaurants – although it did admit to binning, not recycling them – the removal of McFlurry plastic lids, and the removal of single-use plastic from McDonald's salads.
McDonalds hopes all these changes will reduce its plastic waste by 1005 metric tonnes annually.