Windsor is quiet when I arrive on a sunny Tuesday morning: shop owners are busying themselves for the day ahead, restaurant and pub staff are wiping down tables and hotel reception staff stand idly chitchatting. Meanwhile, two police officers wait patiently to change guard outside the castle while observing the street cleaners picking weeds from the pavements not far away.
This is the quiet before the storm. On 19 May, as Prince Harry and Meghan Markle marry at St George's Chapel, Windsor Castle, 100,000 people are expected to descend on the town and surrounding area. And the workers of Windsor need to be ready...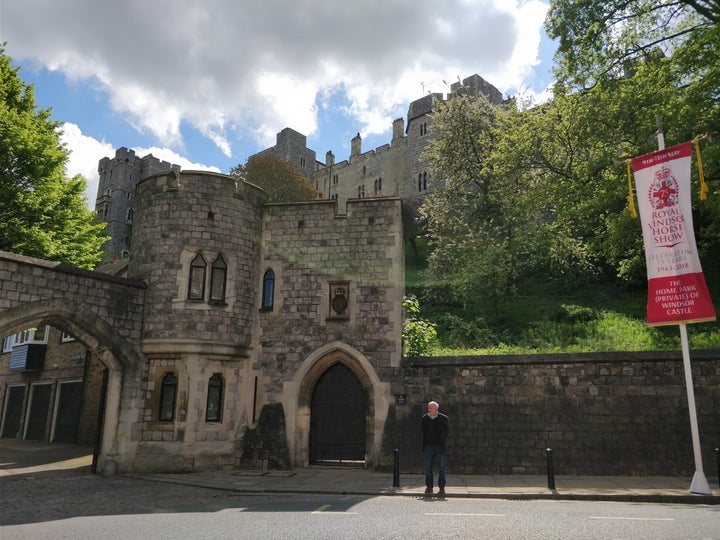 Ed Harris is a street operative for Windsor and Maidenhead Council. He will form a task-force of around 30 street cleaners (possibly more) who will help to keep the event free from litter and the public toilets in check. Harris expects he'll clock on at 6am on the day of the wedding and work up until about 10pm ("probably even later"). His work on the day will be varied: emptying bins, keeping the streets clear of litter and cleaning public toilets. "I'll be doing my best to keep on top of it all," he laughs. "There's going to be a lot of people."
The newly-married couple will travel in a carriage procession through Windsor to their reception in St George's Hall - so with the eyes of millions upon them, the streets need to be spick and span. Later that day, once the crowds have cleared, Harris will move further away from the castle, cleaning up the aftermath of the great tourist rush.
His role isn't just about street cleaning, Harris admits. He's also been urged to keep an eye out for any suspicious behaviour. "It's quite good, we get a nice little invite to the wedding so that ain't too bad," he tells me. "At the same time it's a little bit daunting, because with everything that's going on in the world, and it being such a big event, we're going to have to keep our eyes wide open. We feel like security rather than litter-pickers."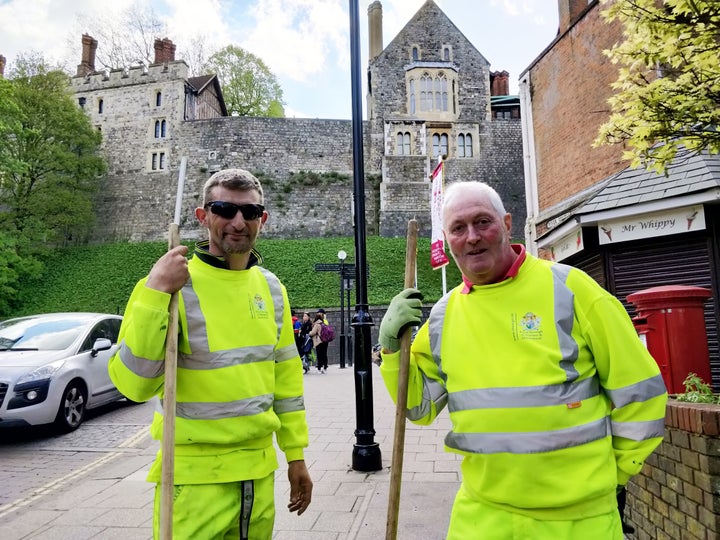 It helps to have eyes everywhere. Thames Valley Police say that "this is one of the largest operations the force has ever policed" and are stepping up their presence in Windsor over the next few weeks. A broad range of visible security measures will be in place such as Automatic Number Plate Recognition (ANPR) technology, CCTV and Hostile Vehicle Mitigation (HVM) barriers. There will be both armed and unarmed police officers, search dogs, police on horseback, the roads policing unit and the National Police Air Service. There will also be Royal Borough of Windsor and Maidenhead community wardens and ambassadors throughout the town centre.
While a spokesperson couldn't confirm how many police will be on shift, they did say "we will ensure we have enough resources in place".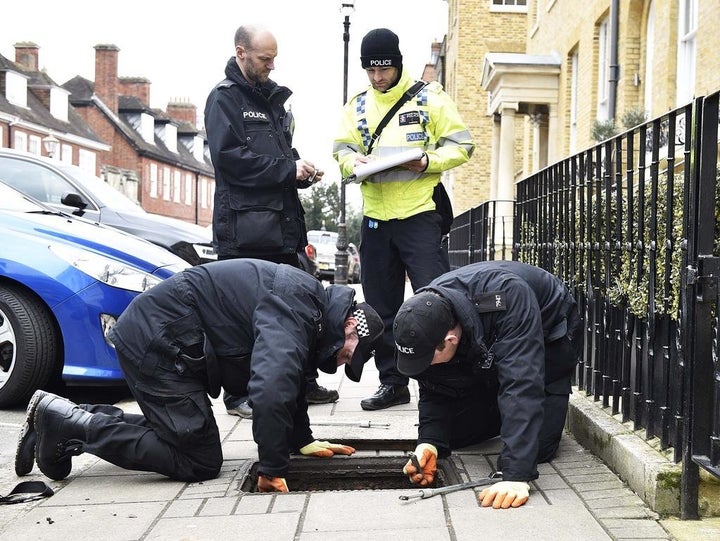 At Windsor and Eton Central station, British Transport Police will be on patrol, screening and searching travellers and confiscating items that may pose a risk to the general public. Chico Coulibaly, stations area manager for South Western Railway, will be working a 12-hour shift at the station on the big day (from 10am to 10pm) to make sure passengers travel safely and comfortably.
"I will be the SIO (Station Incident Offer) at Windsor," he explains. This involves being in constant communication with the stations teams at Staines, Richmond, Clapham Junction and London Waterloo, in order to monitor passenger flow."
Despite the long day, Coulibaly says "it's a great privilege" to play a part. "The last couple of months have been hard work with all the planning meetings, conference calls and site visits, but it will all be worth it," he says. "I cannot wait."
The stations area manager says seeing his customers having a great time will be a "real reward". He adds: "This is what we are about - serving the community we are part of. This is a big day for the UK and beyond, but especially Windsor itself … My only regret is that they are not using the Royal Train to travel."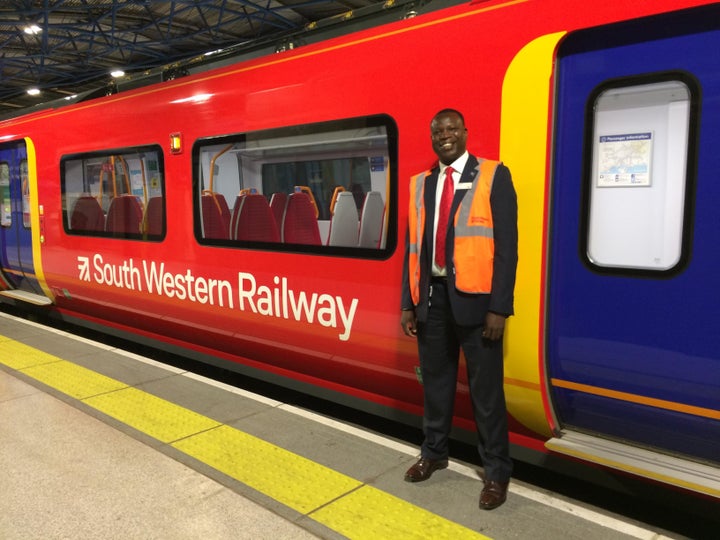 Also playing a key part in getting tourists to the celebrations is Emma Burrell, promenade manager for boat company French Brothers. On the day of the royal wedding she'll clock onto her shift at 5am and expects to be working solidly until 11pm that night. As parking in the town is limited (one shop owner tells me people have been selling their personal parking spaces for hundreds of pounds), the company will offer a park and float service from the local racecourse, meaning punters can park up and enjoy a 10-minute boat ride down the river to the main event.
Burrell expects they'll ferry around 10,000 people down the river for the wedding - which considering they tend to accommodate 2,000 on a typical Saturday, is pretty intense. She will be stationed in Windsor ready to meet and greet customers off the boats and direct them onwards. "There'll be lots of crowd management and talking to people," she says.
"It's exciting. The atmosphere is going to be amazing and everybody is going to be in a really good mood. Hopefully the weather will hold."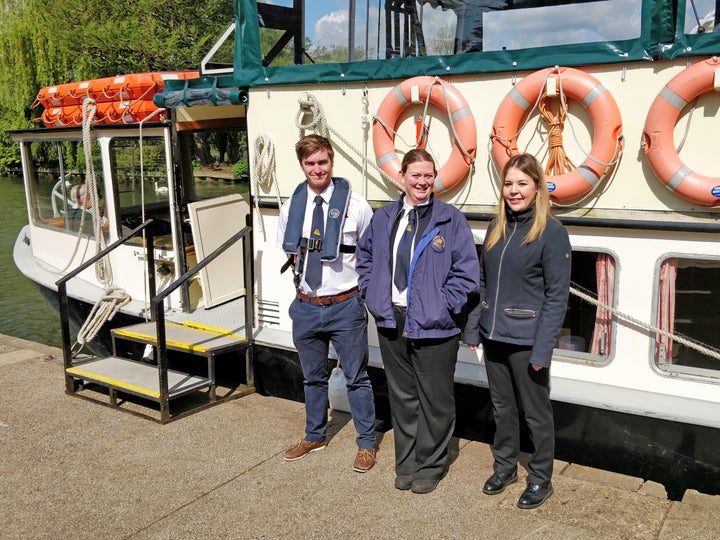 Demand for hospitality in Windsor is understandably high, with many hotels booking up just weeks after the royal wedding announcement. Some residents are vacating the area and renting out their properties and spare rooms for thousands of pounds, says Heather Shelley, who owns Eton Fudge Shop.
On entering Shelley's shop, I'm hit by the smell of vanilla and caramel, which I soon discover is coming from a huge cooking pot filled with simmering fudge. Shelley has been making fudge for eight years. In the run up to the royal wedding she's been incredibly busy, sending it across the globe to America, Afghanistan, Japan and China. Why? Because people want a taste of Britain when they throw their own royal wedding parties. Shelley has created a special fudge box for the day, which contains Eton mess and American cheesecake flavoured fudge - a nod to where Harry went to school and where Meghan is from.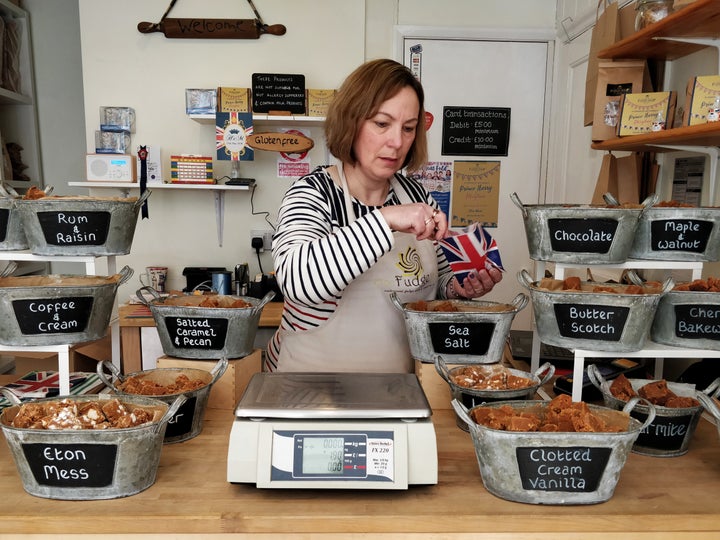 On 19 May, Shelley says she'll be in her shop at 7am to prepare a fresh batch of fudge, which takes about 2.5-3 hours in total. She expects to stay open until about 7pm. When I ask how it feels to be taking part in the celebrations, she exclaims: "It's just magical. There's so much negativity in the world at the moment and I think this is a real positive that the whole world is drawing on. It's nice to have something to look forward to."
Further down the street, Cormac Ahern, supervisor at The George Pub, says he's "not too bothered" about the celebrations themselves, but he is excited for the food that'll be on offer at the pub he works in. On 19 May, he's working a breakfast shift from 7.30am until 3pm - although he adds he'll probably come back for an evening shift to cope with demand. "We're doing a hog roast during the day," he tells me. "Hopefully I'll be able to finish up, get a little bit of hog roast and go home."
When asked if he'll be sticking around to celebrate after his shift, he laughs: "No, I'll be walking in the opposite direction."