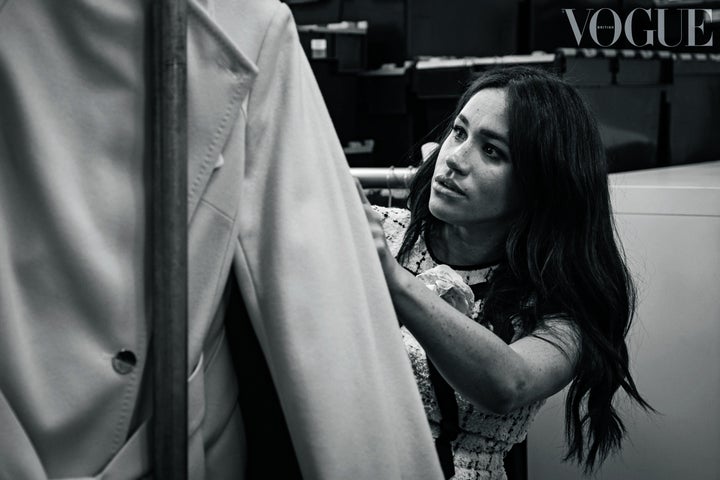 Meghan Markle has revealed she approached British Vogue's Edward Enninful about editing the magazine's coveted September issue – and hopes it will reflect "the power of the collective".
In her guest editor's letter, the Duchess of Sussex says she met the magazine's editor-in-chief over a "steaming cup of mint tea", where the pair "teased through how one can shine light in a world filled with seemingly daily darkness"
Coming away from that meeting, Markle had a vision – and it wasn't being a cover girl. "So I asked the question," she writes in her letter. "Actually, I typed and deleted the question several times until I built up the courage to ask the question in question: 'Edward... instead of doing the cover, would you be open to me guest editing your September issue?'"
The Duchess celebrated him "yes" quietly, she says, sitting on the sofa at home with her two dogs. Months of planning followed, leading to a September cover that celebrates 15 women who are "forces for change" in the world.
These include Adwoa Aboah, Jacinda Ardern, Laverne Cox, Chimamanda Ngozi Adichie and Greta Thunberg. "More than anything, this issue is about the power of the collective," the Duchess's letter reads. "In identifying our personal strengths, it is anchored in the knowledge that we are even stronger together."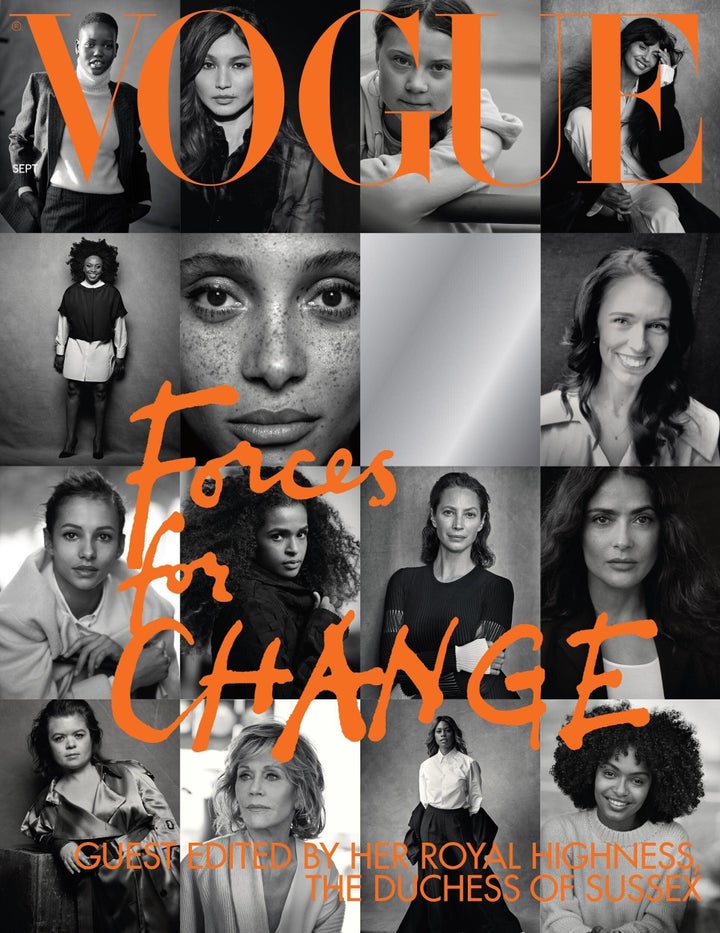 Announcing their collaboration on Instagram, Enninful echoed the Duchess's sentiments: "From the very beginning, we talked about the cover—whether [the duchess] would be on it or not," he explained. "In the end, she felt that it would be in some ways a 'boastful' thing to do for this particular project. She wanted, instead, to focus on the women she admires."
Some of those featured on the cover are people Markle has met personally, while others she said she admired from afar for "their commitment to a cause, their fearlessness in breaking barriers, or what they represent simply by being".
"These are our forces for change," she writes in her letter. "And among all of these strong women on the cover, a mirror – a space for you, the reader, to see yourself. Because you, too, are part of this collective."
The issue will include a piece with Dr Jane Goodall, interviewed by Prince Harry; a conversation between the Duchess and former first Lady, Michelle Obama; and a section that focuses on "internal beauty".
[Read More: Michelle Obama Tells Meghan Markle Motherhood Is 'A Masterclass In Letting Go']
Markle notes that she was around five months pregnant when the guest editing process first began – and will be holding three-month-old baby Archie by the time readers are holding the magazine.
"It's a very special time for me personally, on so many levels," she writes. "Working with Edward and his team, both during my pregnancy and my maternity leave, has played no small part in that joy. It has been a privilege to be welcomed and supported by this amazing team."
British Vogue's September issue is the magazine's biggest publication of the year, jam-packed with high fashion – and pages of adverts to match. Markle says she saw the challenge as "an opportunity to further diversify what that typically represents", but that she has not had total control over the edition.
"There is one caveat for you to remember: this is a magazine. It's still a business, after all," she writes. "I share that to manage expectations for you: there will be advertising sections that are requisite for every issue, so while I feel confident that you'll feel my thumbprint on most pages, please know that there are elements that just come with the territory."
The Duchess of Sussex guest edits the September issue of British Vogue.