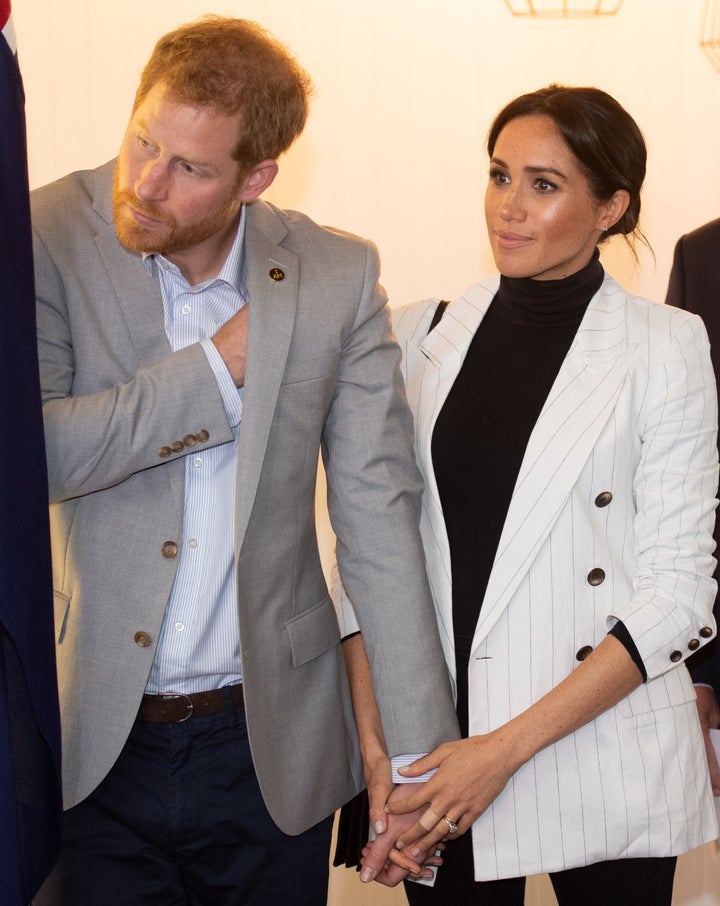 The pregnant Duchess of Sussex has cut back on parts of her schedule during the two-week royal tour around Australasia, Kensington Palace said.
Meghan pulled out of meeting Invictus Games competitors on Sunday after being advised to rest following a late night watching the opening ceremony, which was delayed by two hours due to an electrical storm.
Prince Harry, who presented medals alone on Sunday morning, was later joined by his wife in the afternoon.
Kensington Palace said in a statement: "After a busy programme, the duke and duchess have decided to cut back the duchess's schedule slightly for the next couple of days, ahead of the final week-and-a-half of the tour."
The Sussexes are currently part-way through a gruelling 16-day tour of Australia, New Zealand, Fiji and Tonga, with 76 events on their schedule.
A royal source said the duchess was "not sick, just tired" and was keen to take part in everything.
The source added: "We have to try to pace her. We have to make sure she is well paced and not overdoing it.
"She had a very late night last night.
"She wants to do everything, but Prince Harry is encouraging her to pace herself."
The source added: "We want to make sure she gets enough rest at the beginning of the day and at the end of the day.
"If it has been a very late night due to unforeseen circumstances, we have to adjust for that."
Meghan joined Harry for later engagements on Sunday, with the couple attending a reception at the Pavilion Restaurant in the Domain for Invictus competitors, their families and friends hosted by Australian Prime Minister Scott Morrison.
The couple had a busy Saturday, starting off with the opening of an extension to the Anzac memorial in Hyde Park, then on to Cockatoo Island to watch the Jaguar Land Rover Driving Challenge as part of Invictus.
In the evening, the couple attended a reception for the Games and went on to attend the opening ceremony.
The games were launched in 2014 and this year sees injured service personnel from 18 countries compete during the week-long event.
The royals will next travel to Fraser Island, off the coast of Queensland.
Monday's planned engagements including a visit to Lake McKenzie and a walkabout on the Kingfisher Bay.