Temperatures fell as far as minus 5C (23F) in central England overnight on Monday bringing frost to most parts before the arrival of sleet and snow from the west later, the Press Association reported.
Forecasters have issued a weather warning covering much of Scotland and northern England to come into effect from midday, with inclement conditions expected to continue until rush hour on Wednesday morning as a band of wintry weather moves slowly eastwards.
Drivers are being urged to take care as snow falls to lower levels overnight, with 4cm to 8cm (1.5ins to 3ins) across hilly areas above 200 to 300 metres, with as much as 15cm possible above 300 to 400 metres.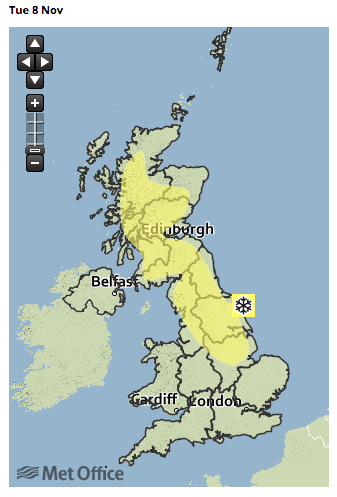 Meanwhile there is a risk of gales of up to 50mph developing in the south west on Wednesday before moving along the Channel.
There are no weather warnings issued for Thursday and beyond, but this could yet change.
Met Office forecaster Emma Sillitoe said: "We have had a few wintry showers but this is the first event where more people are going to be affected.
"There is a frontal system moving in from the west meeting the quite cold weather we have been having over the last few days.
"A yellow weather warning will be in place from 12pm today until 9am tomorrow covering high ground from Scotland down the east coast to the Midlands and we could see snow to lower levels below 200 metres of around 2cm (0.7ins).
"Obviously there will be a risk of difficult driving conditions on high routes over the Pennines and in Scotland and people will have to scrape the frost from their windscreens so it will be quite slow getting out and about on Wednesday."
But while the public has been warned to be aware of the conditions, the beauty of a wintery Tuesday morning was not lost on many - including Manchester United footballer Chris Smalling...
Many others posted pictures on Instagram...