If Tory attacks on "crony capitalism" could count towards GDP, the UK productivity problem would be solved overnight.
Michael Gove alone has given three speeches in the past few weeks calling for reform to the current economic system – arguing that many voters hear the word 'capitalism' and immediately think of the 2008 financial crash.
The sprouting of new think-tanks on the centre-right seems driven by a desire to – at the very least – repackage capitalism for those politicised in the wake of the banking collapse.
The face of capitalism should not be the terrible bankers who placed it all on red, lost, and recouped their losses from taxpayers, but the disruptive tech start-ups such as Tinder, Uber, and Deliveroo, the argument goes.
Put more bluntly, you can arrange a hook-up, take a taxi to their flat, and order some food for when you get there, all without looking up from your smartphone, and that, dear millennials, is the magic of capitalism.
"It's the digital economy, stupid," could well be a future campaign slogan for those who want to attract the next generation of voters.
Alongside the acknowledgment capitalism has something of an image problem are attacks on those seen to be disproportionately benefiting from the current system.
Speaking at the Policy Exchange think tank on Wednesday morning, Gove said: "Economic power has been concentrated in the hands of a few and crony capitalists have rigged the system in their favour and against the rest of us."
It is a sentiment that wouldn't be out of place at a Momentum rally – although John McDonnell would perhaps go further and argue capitalism is in itself 'rigged' to benefits the cronies.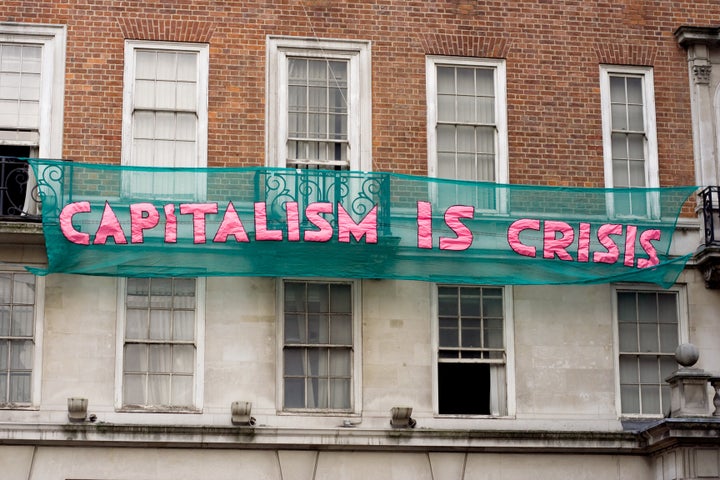 The desire to reshape the narrative around capitalism – and the Conservative Party's relationship to it – did not begin with the recent outbreaks of speeches from Gove.
It was Theresa May, in her brief leadership campaign before being crowned Prime Minister, who identified the problems of modern capitalism, and she also put forward some potential solutions.
In a speech delivered just hours before her only remaining leadership rival Andrea Leadsom handed her victory by pulling out of the race, May said: "If we are going to have an economy that works for everyone, we are going to need to give people more control of their lives. And that means cutting out all the political platitudes about 'stakeholder societies' – and doing something radical."
That "something radical" involved putting workers on the boards of big companies, making shareholder votes on the pay of bosses "binding" and reforming competition law.
Nearly two years on, and it is Theresa May who can be accused of "political platitudes". Within months, the workers board pledge was downgraded to a hope, the "binding" vote on bosses' pay was watered down by the time a Green Paper was launched in November 2016, and as for competition law reform – that seems to have gone missing in action.
Playing a seemingly never-ending round of Deal or No Deal with Brussels has taken all of May's attention, meaning reforming capitalism will just have to wait until the Irish border problem can be solved.
No wonder the letters making up 'A Country That Works For Everyone', May's slogan for reforming capitalism, fell off the wall behind during her conference speech last year. Why should they cling on when she had clearly given up?
The Prime Minister's spokesman of course rejected such an accusation after PMQs on Wednesday.
"She has spoken on many occasions of the need to build an economy that works for everyone, and if there is something that needs changing, she will do that," he said.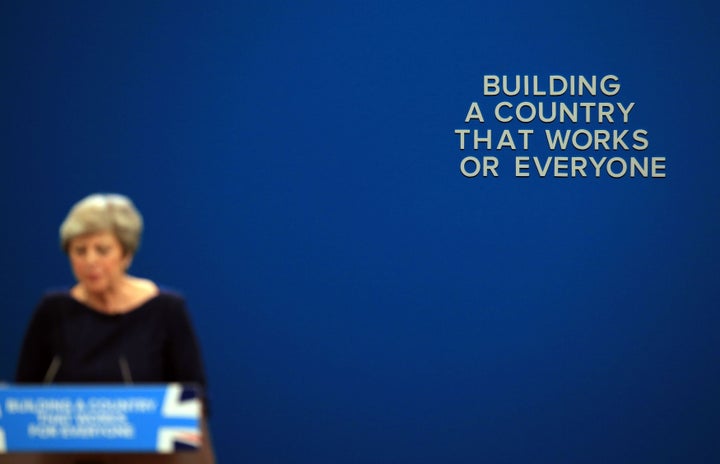 Gove, and others who are keen to position themselves as Tory modernisers, are filling the void left by the PM, but while the diagnosis has been forthcoming, the course of treatment required is still unclear.
Both May and Gove have talked up the ladders needed to help people from all backgrounds rise to the top, but there has been precious little mention of the snakes needed to penalise those born into wealth and privilege who don't work hard, who constantly fail to send them down from the top table to allow others to take their place.
"When it comes to opportunity, we won't entrench the advantages of the fortunate few," said May on the steps of Downing Street when she became Prime Minister.
"Competition and innovation drive up standards for all, but they most benefit the outsiders and the excluded, who are discriminated against by those who benefit from maintaining the status quo," Gove said at Policy Exchange on Wednesday morning.
But where are the policies to break the political, financial, corporate and cultural elites? Will anyone dare to take on those established cliques through radical measures such as additional taxation – be it inheritance, asset or wealth?
Will workers truly be able to prevent exploitation and excess by company bosses with stronger trade union rights?
Will young people finally be able to own their own homes thanks to a dynamic and focused house building programme – driven by those at the top of Government without a care for NIMBYism and the established house building market?
There has been enough talk of the need for the Tories to have radical ideas.
They now need to have some radical ideas.