Pictures released from the Italian Navy show migrants desperately clinging to the overcrowded wooden boat, and jumping from the vessel as it begins to sink below the surface.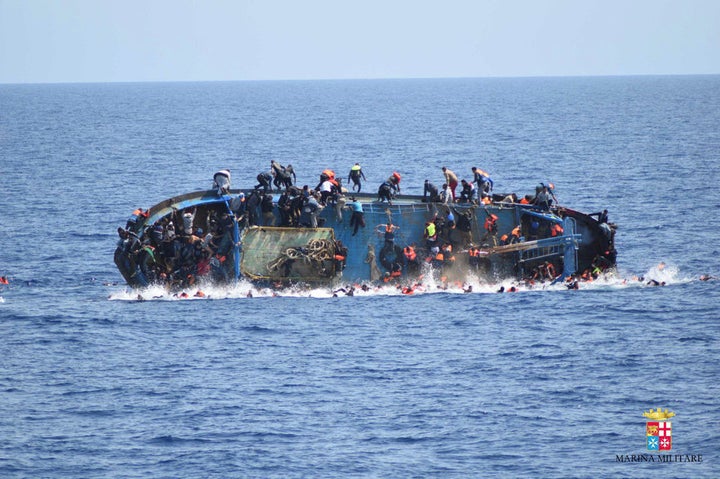 Five people died and 562 were rescued, but the death toll could rise even further.
Such catastrophes are becoming horrifyingly common, a point poignantly made last month with a floating memorial to the estimated 4,000 Syrians who have lost their lives at sea fleeing civil war.
Such common headlines will always generate a certain amount of fatigue, but some responses to the graphic images expose just how toxic the debate around refugees and migrants has become.
A number of themes occur:
1) They should stay and fight
Those fleeing Syria, Libya and Eritrea have increased in number as a result of recent conflicts. Thousands of Syrians fleeing their country have decided to leave after seeing family members killed, or their communities destroyed, global charity Mercy Corps found.
Eritreans interviewed at Calais say they had no choice but to leave the military dictatorship, "I want to study in England,"one told The Telegraph. Many migrants say they fear persecution, arrest and even death if they were to return - claims backed up by the UN.
2) They're all men
The majority of refugees who have travelled to Europe by sea are indeed young males.
According to the United Nations, of the over 800,000 people who have made the journey, 62% are men, 22% are children and only 16% are women.
Far from being an "invading force" like many right-wing groups claim, there is a quite simple explanation.
TIME's Karl Vick wrote in September of last year: "Placed one atop the other on a map, the number of people moving to join Syria's civil war would appear as a barely visible black thread in the wide, wide arrow pointing out from the country: 20,000 people going in against 4-million headed out.
"And while most of the foreign fighters are young men, the same is true of those fleeing the fighting. Many doubtless are escaping conscription into the Syrian armed forces, which President Bashar Assad in a July speech admitted faces major manpower shortages.
"Almost all are a vanguard for families waiting to follow them. You don't send a mother or a grandfather to scout a route to a new home. You send the hardiest and least vulnerable—males in their late teens to middle age."
3) They only want to sponge off the UK taxpayer
To those claiming asylum, the UK government makes clear that it is highly unlikely they will be accommodated in London or the south east of England. While asylum claims are processed, applicants are not eligible to work – unless their claim takes longer than a year to process.
4) They're another reason we need to leave the EU
The debate around "control of our borders" is far more complex that simply "if we leave the EU we can stop people coming over here".
In fact, a Brexit could escalate the refugee situation in Calais.
EU policy analyst, Pawel Swidlicki, wrote: "While the lack of borders between most EU member states does make it easier for migrants (be they asylum seekers or economic migrants) to reach Calais in the first place, the UK is not in the Schengen area and so it is still able to police its borders.
"EU free movement does not mean that people coming into the UK are no longer subject to border checks. In fact, as a result of the 2003 bilateral treaty between the UK and France (the Le Touquet Treaty), the UK border has effectively been moved to Calais.
"In the current context this arrangement benefits the UK more than it does France and if the French were to withdraw from it – and Brexit would arguably serve as a good pretext – it would make it much easier for migrants to reach the UK. It is perfectly legitimate to criticise the Schengen border-free arrangements in the rest of the EU, but UK withdrawal would not, in of itself, change this at all.
"Migrants would still be able to travel to Calais and if the treaty were revoked and the border moved back from Calais to Kent, they could simply amass there.
Regardless of all the facts, people still write things like this...