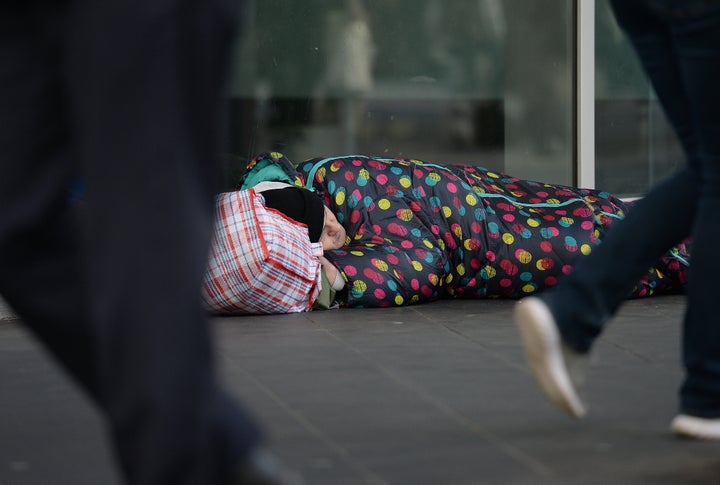 Councils are being urged to help avoid a "moral, humanitarian and public health catastrophe" caused by a rise in rough sleeping as result of migrants having no access to state benefits.
Migrant rights organisations are leading a call for local authorities to continue to provide shelter to those they have housed during the coronavirus pandemic after a huge effort to end rough sleeping.
In a letter to local authorities, they warn about the impact of the "no recourse to public funds" (NRPF) rule as lockdown eases.
NRPF is a condition the government places on individuals who have not yet been granted indefinite leave to remain, meaning they cannot access welfare.
The letter – which is signed by Refugee Action, The Big Issue Foundation and local politicians among many others – asks councils to protect people affected by NRPF and suspend evictions.
They write: "As lockdown measures are eased, we are extremely concerned that some homeless people, particularly those with NRPF, may be evicted from council-provided accommodation and be forced to return to destitution.
"This would be a moral, humanitarian and public health catastrophe, especially given that many shelters will be unable to reopen due to ongoing social distancing requirements."
While acknowledging local authorities are "overstretched" after little financial support during this crisis and years of austerity, councils are asked to commit to supporting everybody at risk of sleeping rough, advocate for the removal of all NRPF restrictions, and provide assurances that homeless people's data will never be shared with the Home Office.
It adds: "Nobody should be forced to sleep rough, regardless of their immigration status. Nobody should be forced to leave the country they call 'home'."
Last month, HuffPost UK reported how rough sleepers taken off the streets face being made homeless again because councils have not been given sufficient funding from the government to support them.
When the outbreak hit Britain in March, ministers asked local authorities in England to house all rough sleepers and those in hostels and night shelters, with hundreds of people being put up in hotels in a bid to isolate them from infection.
But in evidence to a parliamentary inquiry, councils warned the initial £3.2m provided by central government fell well short of the actual cost they incurred.
They added the £3.2bn the Ministry of Housing, Communities and Local Government (MHCLG) has handed to all councils to pay for the entire impact of Covid-19, including homelessness, was not enough and could lead to "a surge in people ending up on the streets".
Earlier this month, the government was accused of a "woeful lack of understanding" of rough sleepers, after the housing minister suggested people be asked to move in with friends or family.
Luke Hall has written to local councils asking them to put in place plans to support rough sleepers as the lockdown restrictions were eased. In the letter, first reported by Inside Housing, Hall called on them to now "seek to encourage people, where appropriate and possible, to return to friends and family".