On the 12th floor of a tower block in Barbican, three mismatched tables are pulled together in a stranger's living room, filled with fresh ingredients, pots, pans, utensils and hot plates.
Jess Thompson is holding one of her regular cooking classes. She's held 50 so far since last July through her not-for-profit social venture Migrateful, which organises cookery-class-come-supper-club events led by asylum seekers, refugees and migrants in London.
This evening's event is a masterclass in Iranian cuisine hosted by mother and daughter duo Elahe and Parastoo. Someone has kindly donated their flat for the evening so these two women can spend three hours teaching us how to cook, sharing their stories and earning some money.
They are a long way from home. And life is hard when you're an asylum seeker who's unable to find work or claim benefits. Elahe is highly qualified - she's a trained psychologist - however she's unable to get a job as her qualifications don't count here in the UK. She has also struggled with the language barrier, something hosting Migrateful cookery classes has helped her overcome.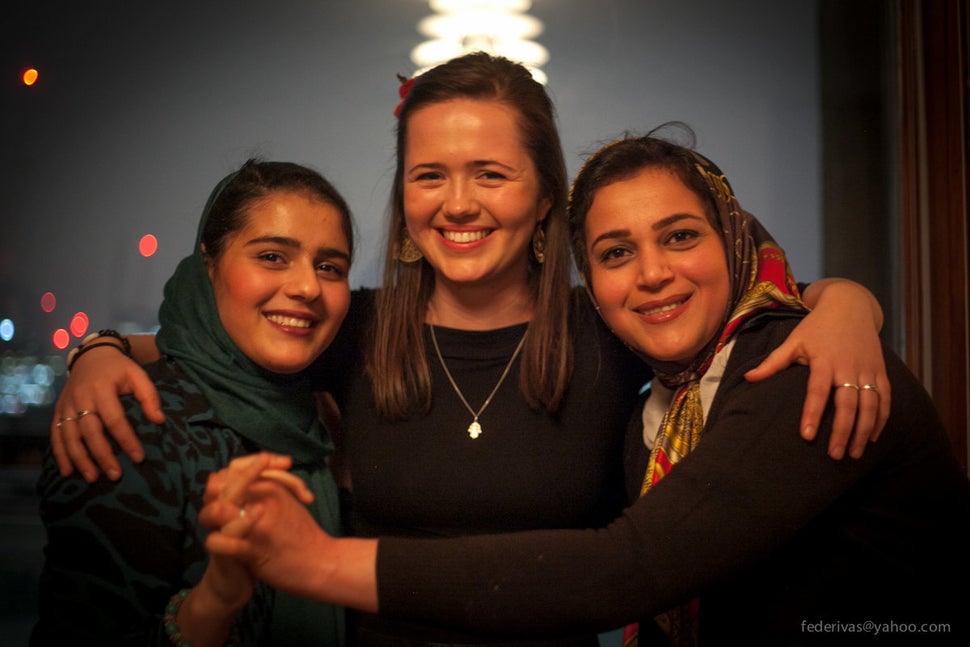 There's a strong smell of onions in the air when I first walk through the door. Jess is frantically trying to put a sheet down on the carpet to protect it, Elahe and Parastoo briefly come out of the kitchen to say hello before rushing back to their preparation work. It's all hands on deck, and by the time the rest of the group arrives, everything is laid out on the table ready to be created into something special.
When the drinks have been poured (it's a bring your own booze event), Elahe and Parastoo stand proudly before the group and explain what we'll be making. Parastoo is the talker, full of energy, while her mum is more reserved. When the talk is over, everyone washes their hands and gets into position - poised like they're on Masterchef. Some begin chopping quince, others craft meatballs and the hot plates are turned on. Throughout the evening, both women walk us through how to make two dishes that are close to their hearts: Beh Aloo and Adas Polo. Elahe finds her voice and begins shouting instructions, peering over people's shoulders and nodding her seal of approval. Parastoo takes photos, turns on some Iranian music and oversees salad preparation.
There are people from all walks of life taking part in the cookery class, which costs £35 to attend - from marketing managers to filmmakers. Chefs are paid £10 an hour and the rest of the money goes towards paying for equipment, ingredients (roughly £70), travel costs and chef training (the latter costs £300 a week). Jess, who founded the social enterprise in July 2017, says they are just about breaking even. Her work is all unpaid and she runs the evenings in her spare time - during the day she works for a homelessness charity.
She set up Migrateful after spending some time in refugee camps in Morocco and then Dunkirk. On her return to the UK she joined a course in setting up social enterprises. "You pilot different ideas with the group that you're trying to help," she explains. "I was doing a time bank project with a refugee charity where the community exchanges skills. So I'll give you an hour of my time to teach you something if you give me an hour of your time.
"All of the refugee women were highly qualified but were unemployed because their qualifications didn't count and they didn't speak English very well. They all came to this time bank group and wanted to share their recipes because that was a skill all of them had and they'd been taught from a young age."
It was then she realised that other people would love to learn these cooking skills and recipes, and thus Migrateful was born. "I started off by inviting them [the women] to my house and inviting some friends around, so they could teach us some dishes. And it grew from there."
The key focus of Migrateful is integration and education. Everyone is learning, everyone is communicating, and it makes for a really buzzing atmosphere. Jess truly believes celebrating migrant cultures and encouraging people from all walks of life to mix has the potential to boost happiness across the UK.
"When the Brexit vote happened and I discovered that 52% of the country weren't happy with the rate of migration and there was a lot of anti-migrant sentiment, it was really upsetting because it wasn't something I identified with," she says. "The migrant population has doubled in the past 20 years and there haven't been many initiatives which facilitate the mixing of the different ethnic groups and that's why we have a build-up of racism and ignorance.
"So the more we get people to mix, the happier society will be."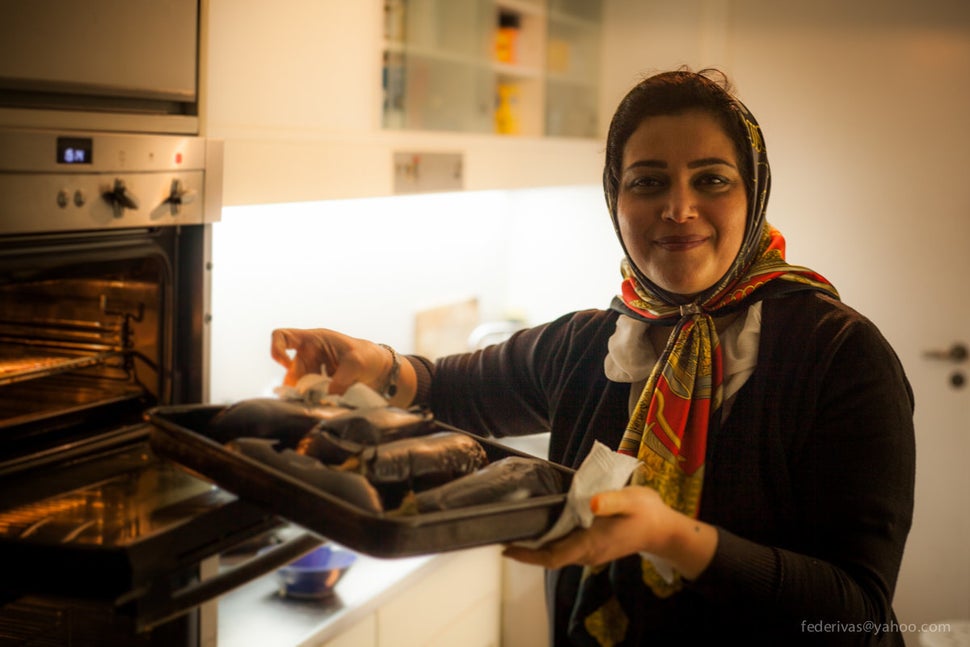 Elahe says hosting the classes has helped her to improve her confidence and self-esteem. She also has greater belief in her capabilities. "I am cooking with love and passion again like in the old days," she says. "It is hard not to love Iranian food."
Typical Iranian dishes combine rice with meat, vegetables and nuts. The dishes are often sweet, featuring fruits such as plums, pomegranate, quince and apricots. Herbs and spices used include saffron, cinnamon, turmeric, coriander and parsley. These smells fill the room as we cook.
Once the food is ready and Elahe has given the thumbs up, the group clears the table, sits down and tucks in to a hearty meal. It's delicious: there are meatballs on a bed of cinnamon rice; an aubergine, garlic and tomato dish; and a sweet quince number that blows my socks off. People who were strangers just hours before sit down and chat, enjoying the food that's been created, and giving praise to Elahe and Parastoo who have worked nothing short of a culinary miracle. Afterwards, it's all hands on deck to clear up. And then, as fast as it begins, the evening is over.
For Jess, every cookery class is a huge deal because she knows it's changing lives. "The chefs seem to love it so much," she says the next day. "Elahe and Paratoo sent me a message after the event saying they had the best night ever and can't wait to do it again. It's such a powerful thing, with everything they've gone through, to be able to share their knowledge of food in that way and to feel celebrated."
HumanKind is HuffPost's celebration of kindness, featuring people who do incredible things for others or the planet – transforming lives through small but significant acts. Get involved by joining us on Facebook or telling us about the people who you think deserve recognition for their kind works. You can nominate them here or share your personal story by emailing natasha.hinde@huffpost.com.