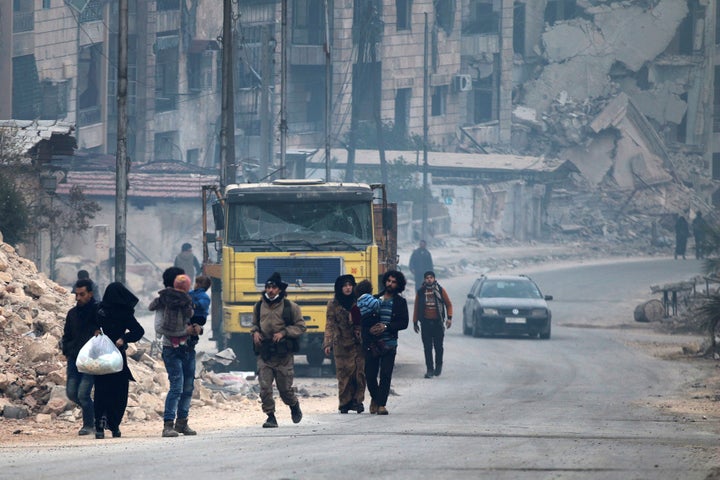 Labour MPs have united in a chorus of condemnation of the left-wing Morning Star newspaper after it labelled the imminent fall of Aleppo, Syria's largest city, a "liberation".
The opposition forces hold just a small sliver of territory following a war that has cost tens of thousands of lives over four and a half years, with Assad's troops supported by Iranian-backed militias and Russian airpower.
Britain-based Syrian Observatory for Human Rights said more than 60 civilians and fighters were killed in rebel-held neighborhoods of Aleppo on Monday alone.
Amid the chaos, UN Secretary-General Ban Ki-moon raised the alarm "over reports of atrocities against a large number of civilians", and urged all sides - particularly Syria's government and its allies - to protect civilians.
Ban's spokesman Stephane Dujarric said "the secretary-general is alarmed over reports of atrocities against a large number of civilians, including women and children, in recent hours in Aleppo", the BBC reported.
In a statement she added:
"While stressing that the United Nations is not able to independently verify these reports, the secretary-general is conveying his grave concern to the relevant parties.

"He has instructed his special envoy for Syria to follow up urgently with the parties concerned."
The Guardian newspaper reported on its front page a sense of impending doom: 'This is a final distress call to the world. Save Aleppo.'
In its story, the Guardian quoted a voice message from Mohammad Abu Rajab, a doctor in the besieged areas of the city, warning Aleppo is "being destroyed and burned completely". He said:
"This is a final distress call to the world. Save the lives of these children and women and old men. Save them. Nobody is left. You might not hear our voice after this."
By contrast, the Morning Star, a daily tabloid with a proud hard left stance, reported the "final liberation of Aleppo is in sight" in a photo caption on its front page.
The sentiment prompted an instant backlash from Labour MPs led by John Woodcock, one of the fiercest critics of British government inaction over aid to the region.
He made reference to the newspaper's links to the pro-Jeremy Corbyn campaign group Momentum and the pro-Russia views expressed by Corbyn's director of communications, Seumas Milne.
Many other Labour MPs joined the criticism.
And Guardian columnist Owen Jones called the Russian-backed assault a "slaughter".