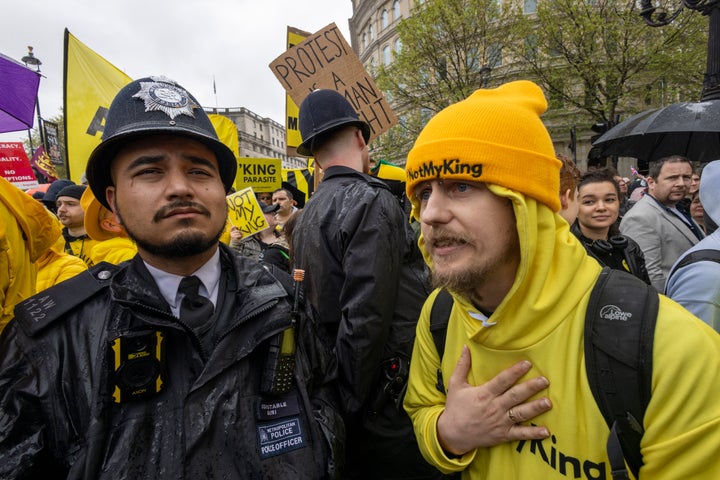 Furious MPs have criticised the police crackdown on anti-monarchy protesters during the coronation, describing it as "deeply disturbing".
Demonstrators wearing yellow "Not My King" T-shirts could be seen having their details taken by officers. Protesters also said "hundreds" of their placards were seized by police.
Just Stop Oil told PA around 13 protesters were also arrested on the Mall, five near Downing Street and one at Piccadilly.
Images of handcuffed demonstrators sparked fury among MPs who warned the Tory government's anti-protest laws were having a "chilling effect" on democracy.
The new law, given royal assent by Charles on Tuesday, means that protesters who block roads, airports and railways could face 12 months behind bars.
Anyone locking on to others, objects or buildings could go to prison for six months and face an unlimited fine.
Police can head off disruption by stopping and searching protesters if they suspect they are setting out to cause chaos.
Lib Dem MP and former Scotland secretary Alistair Carmichael described the scenes as "concerning" and added: "Whatever your view on the monarchy, the right to peaceful protest is essential to our country."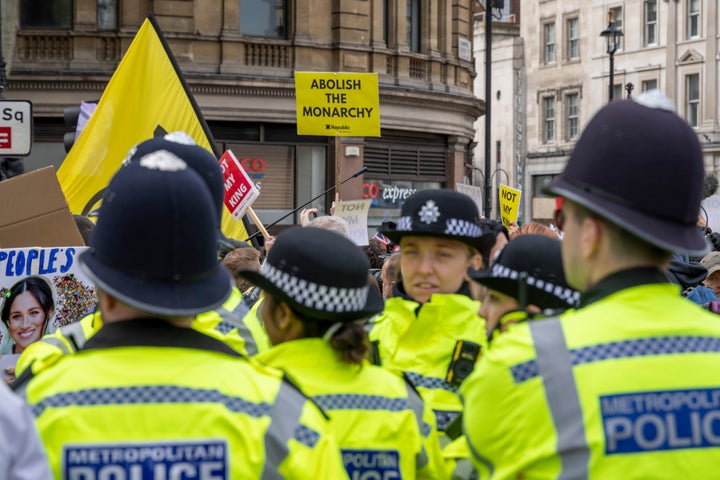 Former Lib Dem leader Tim Farron said he was "appalled" that demonstrators had been "denied" their right to peaceful protest: "We hear the Conservatives whining about people being cancelled…and then they do this. Utter hypocrisy."
SNP MP Joanna Cherry added: "This is not on. As the Human Rights Committee has repeatedly emphasised the state has a positive obligation to facilitate the right to peaceful protest. I shall be taking this up in parliament."
Labour MP Clive Lewis said: "Our gilded veneer of a democracy, on show for all the world to see."
Ian Byrne, Labour MP for Liverpool West Derby, added: "Whether you support the monarchy or would prefer a republic, a fundamental right of any functioning democracy is the right to protest peacefully.
"These actions by [the Met Police] should worry all who believe in this guiding principle."
Plaid Cymru Westminster leader Liz Saville Roberts said: "Peaceful protesters have been arrested and placards confiscated ahead of the coronation.
"The right to protest is fundamental to a healthy democracy. Whatever your stance on the monarchy, we must all defend that fundamental right."
Labour MP Nadia Whittome added: "Protest is fundamental to democracy.
"People must have the right to oppose having an unelected head of state, or more than £100 million of public funds being spent on a coronation when millions rely on food banks. These arrests should concern us all."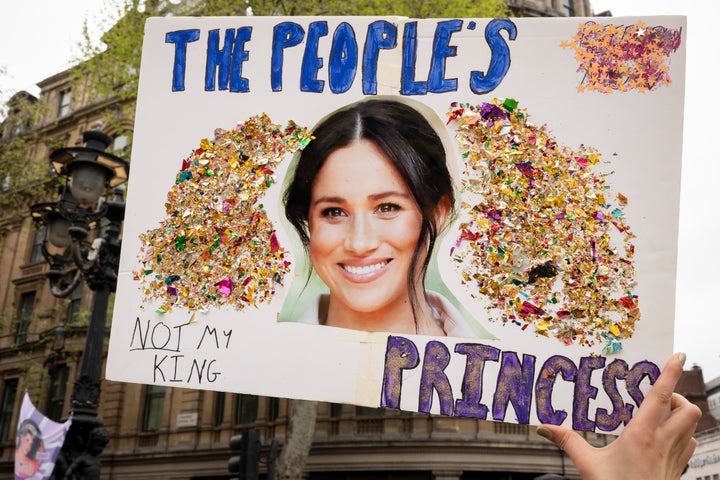 Another Labour MP Apsana Begum described the arrests as "disturbing" while her colleague Kate Osborne said their actions should "worry us all".
Green MP Caroline Lucas said: "Whatever your views on monarchy, arrest of anti-royalist campaigners for exercising right to peaceful protest is chilling.
"Many of us warned about exactly this when government rushed through the illiberal public order bill. This is not what democracy looks like."
SNP MP Angus MacNeil drily added: "What is happening in China? Oh it's London."
Labour MP Charlotte Nichols described the arrests as "farcical" and her colleague Zarah Sultana said it was "deeply disturbing".
Westminster SNP leader Stephen Flynn added: "Deeply disturbing and clarity urgently required. The right to peaceful protest is non-negotiable, irrespective of whom you are protesting."
This morning Scotland Yard said they arrested four people on suspicion of conspiracy to cause public nuisance and three on suspicion of possessing articles to cause criminal damage.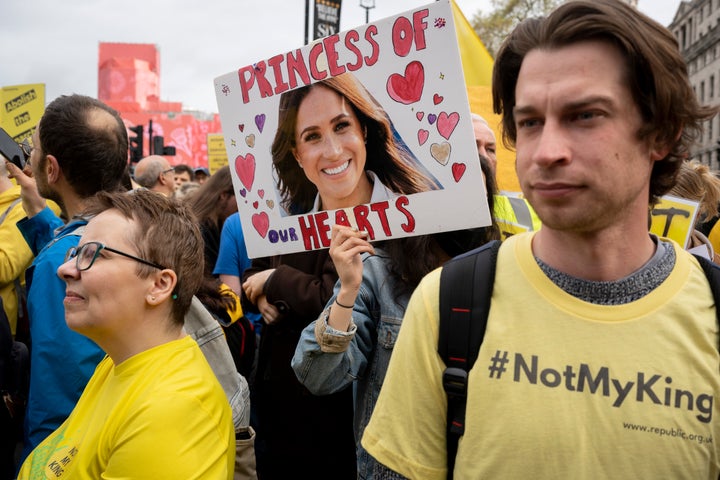 Human Rights Watch labelled the arrests "incredibly alarming", adding: "This is something you would expect to see in Moscow, not London."
Amnesty International's chief executive Sacha Deshmukh also raised concerns after police were reportedly given instructions to apprehend people with megaphones.
"We have made a number of arrests in the area of Carlton House Terrace. The individuals have been held on suspicion of breaching the peace.
"Earlier today we arrested four people in the area of St Martin's Lane. They were held on suspicion of conspiracy to cause public nuisance. We seized lock-on devices.
"A further three people were arrested in the area of Wellington Arch. They were held on suspicion of possessing articles to cause criminal damage. There will be further updates later today."