In a post on Twitter, Hana Ali thanked supporters and said that her father died surrounded by his family.
She said: "All of use were around him, hugging and kissing him and holding his hands, chanting the Islamic prayer."
His brother Rahman Ali also described him as a "kind, loving, considerate, wonderful" man.
He added: "A man who fought for us. He stood with King and Mandela; stood up when it was hard; spoke out when others wouldn't.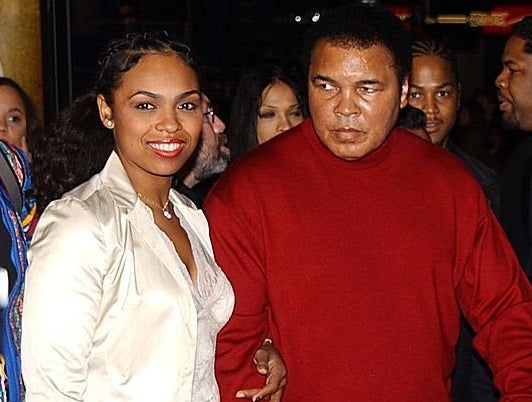 "His fight outside the ring would cost him his title and his public standing. It would earn him enemies on the left and the right, make him reviled, and nearly send him to jail.
"But Ali stood his ground. And his victory helped us get used to the America we recognize today."
The three-time world heavyweight champion, who had battled Parkinson's disease for 32 years, was admitted to hospital with a respiratory condition earlier in the week.
His family's spokesman confirmed Ali's death in Phoenix, Arizona, on Friday evening local time, saying his cause of death was septic shock "due to unspecified natural causes".
A family funeral will take place in Ali's home town of Louisville, Kentucky on Thursday.
This will be followed by a public funeral procession and memorial service the next day, which will include eulogies from ex-US president Bill Clinton and comedian Billy Crystal.