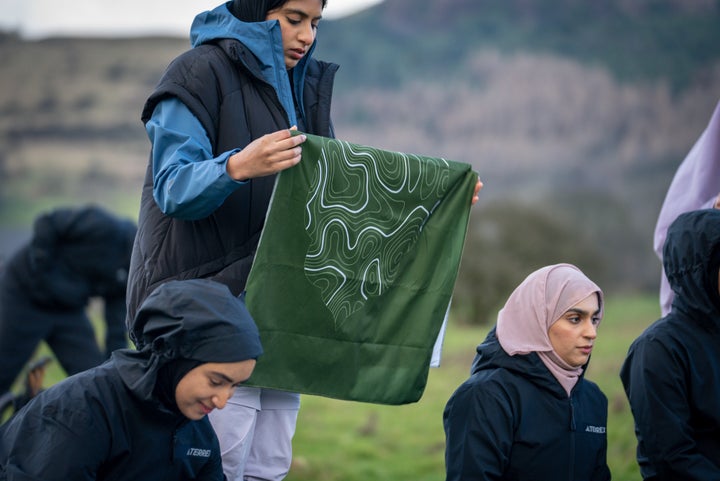 During lockdown, Haroon Mota set up a group called Muslim Hikers which has since grown in popularity, with hundreds of people from the group coming together across the UK to explore the great outdoors together.
However, on Christmas Day 2021, members of the group faced racist abuse online when they posted photos of their big hike. This abuse returned when Haroon appeared on Countryfile in September 2022.
These experiences, however, have only highlighted to Haroon how vital his community is and the need for more inclusivity in hiking.
Now, global sports retailer Wiggle and adidas TERREX have teamed up with the Muslim Hikers to identify the barriers that Muslims face when it comes to exploring the outdoors such as facilitating outdoor prayers and making the countryside feel welcoming to Muslims.
Practicing Muslims pray five times a day — dawn, noon, mid-afternoon, sunset and evening —and this collaboration has resulted in the creation of bespoke prayer mats specifically created for outdoor use, with hikers previously having had to resort to jackets and makeshift alternatives.
The prayer mats have been created using special materials to withstand the elements of the outdoors, allowing Muslims to comfortably pray while out hiking. The intricate design on the prayer mats is reflective of traditional Islamic art and topography, as commonly seen on hiking maps.
The mats have pockets in all four corners allowing for rocks or weights to keep the mat flat during prayer, they're lightweight, waterproof and created to withstand the elements of the outdoors. They can also be rolled into a compact size making them easy to carry during long hikes.
Haroon Mota, Founder of the Muslim Hikers Group said "Working with Wiggle and adidas TERREX has allowed us to take a huge step in the right direction when it comes to promoting inclusivity in the outdoors. Everyone should feel empowered to get outside and enjoy nature, and the prayer mats and signs have made it easier for us within the Muslim community to do this without having to worry about the practicalities of prayer."
Mecca Signs Along Popular Hiking Route
To further ensure inclusivity, comfort, and support to Muslim Hikers, first-of-their-kind signs have been placed along one of the Peak District's most popular hiking routes, Cave Dale, to ensure Muslims can incorporate prayer into their hikes. These signs serve to point the Muslim community in the right direction to prayer and further highlight to a wider audience that the outdoors is for everybody.
Available to buy from April 2023
100 prayer mats have been created and donated to Muslim Hikers as part of the partnership and more will be available to buy next month for just £20. All proceeds will go to Wiggle's charity partners.