When the NHS began to show signs of strain during the first coronavirus lockdown, the late 100-year-old army veteran Captain Sir Tom Moore raised £32m for the cause by hobbling laps of his garden.
And as the pandemic continues to unfold in the UK, the isolated, sick, elderly and lonely are being tended to by mutual aid groups, which have sprouted to fill the gaps left by a lack of state support.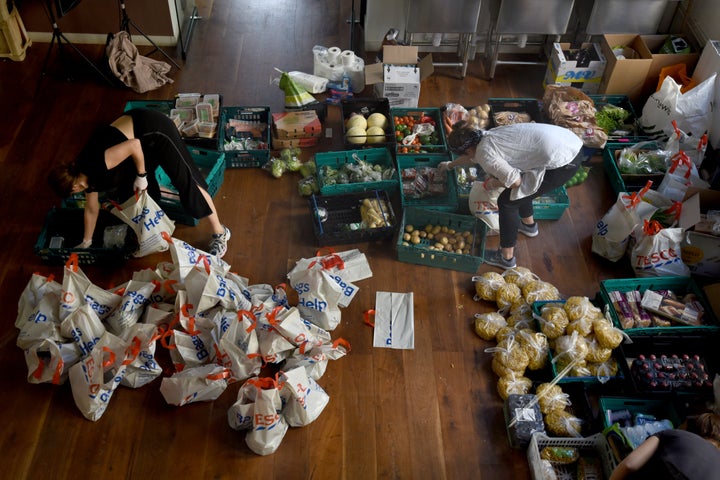 The British public has long been inching towards a central role in response to disasters and emergencies – so much so that it has now become embodied in government policy through community resilience programmes enabling them to complement the work of emergency responders. It was also the centrepiece of former prime minister David Cameron's Big Society concept more than a decade ago, where "people... don't always turn to officials, local authorities or central government for answers to the problems they face... but instead feel both free and powerful enough to help themselves and their own communities."
Professor John Drury at the University of Sussex is leading a project on community support and mutual aid in response to the pandemic.
He told HuffPost UK: "For many years, until you had the idea of community resilience, the dominant discourse was that the public simply get in the way. In an emergency you've got mass panic and you've got an apathy and all these pathological responses which mean you have to leave it to the experts.
"After 9/11 and in the UK after foot and mouth and the floods and terror attacks, the government realised it had to formalise this adaptive public response and that's what community resilience is. It's a recognition of the capabilities of the public as well as the limitations of the official response. Community Resilience is premised on the idea that you haven't got enough professional responders in place, in time to help everybody."
Professor Stephen Reicher, from the School of Psychology and Neuroscience at the University of St Andrews, has spent years researching people's behaviour in crises, emergencies and disasters, and has also found this to be true.
He said: "There is a widespread notion that in crises people effectively crack, they panic, they behave in irrational ways, they behave in negative ways.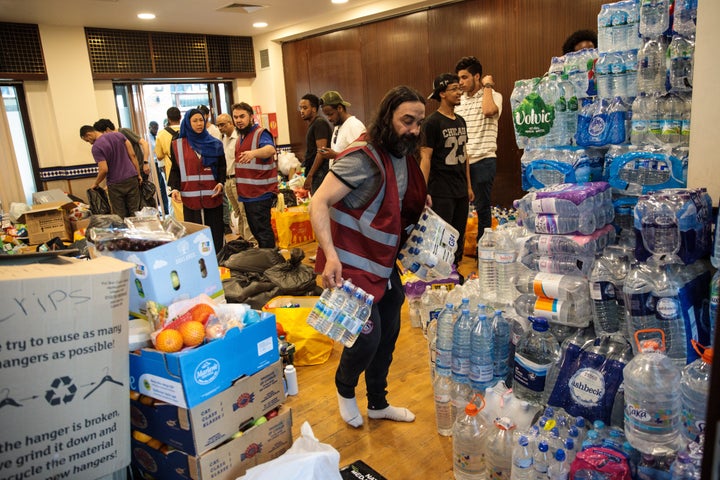 "You wouldn't have a decent Hollywood disaster film without people rushing to the exits and blocking them up and turning a crisis into a tragedy.
"But actually when you look at disasters and crises, that's not what you find."
What you do find, he said, is that people tend to stay calm and look after each other. He added: "The fact that they have a common experience, common dangers, common fears, creates a sense of 'us', of shared identity that leads people to support each other. And actually, that's what has happened in this pandemic."
Steve Bird is one of a trio who set up West Norwood mutual aid in response to the pandemic back in March last year.
He said: "We feared that many vulnerable people would be left behind because of the slow reaction of those at the top. As the death toll in the UK rose, this has proven to be correct and we have received calls and texts from isolated individuals with nowhere to turn and no adequate infrastructure to meet their needs.
"Eleven months later, the group has 770 volunteer members and has helped hundreds of people, some of whom are now getting regular support from 'buddies.' The group has self-funded the printing of 19,000 leaflets and distributed them. We have 10 online groups based around neighbourhoods. If this sounds amazing, it is. It is an amazing tribute to the willingness of local people to support each other even at the cost of personal risk."
"But we can't call it a success, it has just given us a better idea of who the victims are and how many there might be. The victims are the elderly with no friends or family, who have not left their homes for a week; they are the patients with lung problems referred to us by GPs because they would otherwise have no way of getting a prescription; they are the blind woman whose principal carer is a friend who is now also at risk; a woman who is painfully lonely but also wants to help others like herself.
"These are people with few internet skills, little money to make mobile phone calls, and no experience of online banking or payment – they have been used to spending cash and often paying bills in the local shops."
Bird said the group is aware it is only reaching certain sections of society, and fear others are forced to go out – to buy food, get medication or pay bills – or suffer in silence.
"We are left wondering, why is a group that has only existed for 11 months being viewed as the sole lifeline for these people?" he said. "And what about the tens of thousands of others in our borough who haven't seen a local leaflet?"
What Professor Drury's research has shown is that these so-called disaster communities typically decline over time.
In the case of the pandemic, data shows most activity took place in the first two or three months, then began to decline before increasing again around the time of the second lockdown. Declines also matched with furloughed workers being put back to work – thus decreasing their volunteering opportunities.
The project aims to predict how such organisations will continue to develop and endure and much of that will depend on how long it takes before the pandemic is under control.
"We know this pandemic will last," said Professor Drury. "These groups will be needed again and again. What are the practical and psychological factors that will allow these groups and allow people to continue to be part of them over time?"
Organisers of mutual aid groups talked about the importance of self-care to deal with the emotional stress, but also feeling a new sense of purpose, identity and wellbeing through their volunteering.
Professor Drury is also keen to stress that relationships between mutual aid groups and local authorities can be vital.
He said: "How does a mutual aid group know who is vulnerable and who is in need?"
Smaller groups function well without local authority input, but councils can assist with larger projects by providing information on who is in need and material resources – though some mutual aid groups purposefully do not work with the state as an ideological stance.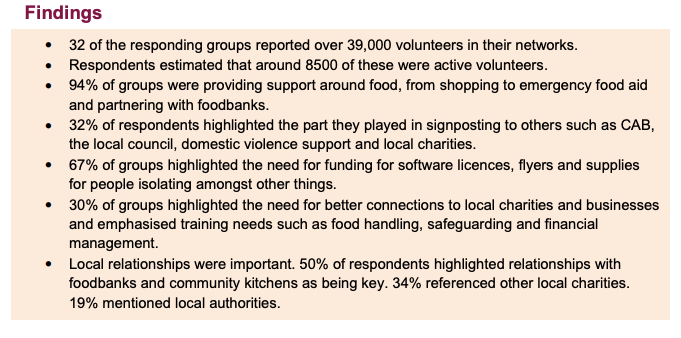 It concluded: "In all examples there was a clear niche that mutual aid groups were filling which set them apart from other local services. This was essentially the hyperlocal nature of support and trust built on neighbourliness."
It also made the point that mutual aid groups help by "effectively bypassing the bureaucracy of more structured systems."
Volunteers in Islington have been helping Lilly B to collect shopping and prescriptions while she self-isolated. She said: "I was very impressed by how quickly the group organised themselves to support me.
"Personally, I needed the help quickly as my family is abroad and they responded very well. I'm very glad I had the help, it felt like a real community and that is not a very common feeling in cities like London."
Dr Daisy Fancourt, from the UCL Institute of Epidemiology and Health Care, is lead author on a Covid-19 social study. She told news agency PA: "Humans have actually been much better at responding as a collective and doing what's needed for the greatest good within society.
"So I think there's been a real message coming through here about how humans actually are perhaps not as selfish as people thought but in general are really happy to play their part, and to help in times of emergencies and crisis.
"And we've seen that as well with the outpourings of mutual support, mutual aid, social cohesion and volunteering that we've seen across this pandemic as well, and selfless gestures that we've heard so much about."
Dr Fancourt added: "It's been awe-inspiring to see how well humans respond in emergencies collectively."