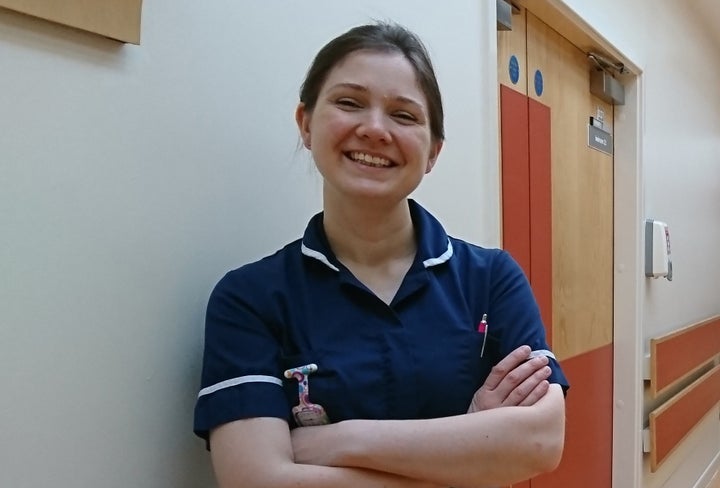 Tom and I found out we were expecting our first child in May 2014. I had lost my wonderful Dad to Oesophageal Cancer in January. Finding out I was pregnant gave the whole family hope, a light in the total darkness. I listened to 'Here Comes the Sun' by The Beatles.
I was a midwife working for Birmingham Women's Hospital's Homebirth team, and Tom and I thought it would be lovely to welcome our baby into the world at home.
One autumnal evening, I went to Mum's. A dear family friend was there and while chatting, all of a sudden, he gave me a serious look. A professor in medicine at the university, he asked me if he could feel my neck and then became sober. He told me I needed to have my thyroid checked urgently.
The subsequent thyroid function tests were normal but he was right, I had a visible lump or 'goitre'. I hadn't seen it before, it was just part of my neck. I was sent for a scan, the sonographer took a biopsy.
One day, at work, I was telephoned by an endocrine doctor from the local hospital, she needed to see me that day. A brilliant friend and colleague came with me, held my hand and took notes, I look back at her handwriting now, so grateful for its clarity. There was a 90% chance I had cancer. I felt myself fall through the floor. I was 31 weeks pregnant, 29 years old, still in the throes of grief and this was a complete surprise.
The phone call to Tom was hideous. I had held it together until that point. We tried to remain calm and get our facts straight before telling Mum.
Our fab consultant reassured us that my pregnancy could progress as normal and he would do a partial thyroidectomy when our baby was three months old. He wanted a follow up scan in five weeks.
Before we knew it, Christmas was nearly upon us and my scan was due. That night Tom was doing a gig with his band in Manchester and I was with Mum when I got the call. My obstetric consultant told me calmly that the cancer had spread to my lymph nodes. It wasn't possible to carry on with my pregnancy and induction of labour was necessary. My treatment plan would change to a full thyroidectomy as soon as possible and radioactive iodine treatment – a form of radiotherapy. I asked her to tell my Mum, because I couldn't. She did and was so kind.
I attended for my induction the day after Boxing Day. My wonderful colleagues at Birmingham Women's spent 48 hours trying to get me into labour. I spent 24 hours on Syntocinon, the contraction inducing drip, but only got to 2cm dilated. The reluctant decision was made to perform a caesarean section.
So we met our beautiful Esther. We became determined to do whatever we had to put this horrible saga behind us. Esther made me feel empowered and motivated. I threw myself into breastfeeding, determined to do so for as long as possible.
We spent three months in the sleep deprived, love-struck bubble that is new parenthood. I had follow up scans but I pushed thoughts of cancer to the back of my brain or used them as fuel for my breastmilk banking. Our freezer was so full of milk by the time I was finally admitted for my operation, a week after mothers' day. Esther had a 'Happy Mother's Day' baby grow to wear. The operation went well and that evening my surgeon visited me, squeezed my toe and told me they had got everything out. I'd had a full thyroidectomy and left neck dissection (removal of lymph nodes from the neck).
About 24 hours after my operation I began to feel strange, I had tingling in my hands and feet. Before long I could feel tingling everywhere, even inside my head. My muscles went into spasm. Tom arrived and found a doctor, I needed calcium infusions. Tom remembers the doctors squeezing huge syringes of calcium into my cannula. He tried to place Esther in my arms, to give me strength, but I could not move my arms. He held her next to my face. I have never been so frightened. Eventually, the spasms began to ease. I held Esther and breathed. But the tingles slowly returned. They told me I needed to go to Coronary Care for another infusion. After treatment, I was transferred back to my ward at 2am and within the hour I was expressing milk again! I later learned the spasms were a symptom of bruising to my parathyroid glands, tiny organs situated close to the thyroid that regulate calcium levels, vital for muscle control. This was very serious and cardiac arrest could have followed.
A week later, I was home, incredibly relieved and back with my family. Another three months of tired bliss went by and then my oncologist told me I had to stop breastfeeding. I cried a lot. Not only does radioactive iodine make your milk poisonous but breastfeeding whilst going through treatment means that your chances of developing breast cancer increase hugely. I took drugs to dry my milk up.
In September I was admitted for Radioactive Iodine treatment. I was given a pill, sat in a lead lined room with a DVD player and a phone, but no human contact for three days. I missed everyone so much. Once discharged, I was not allowed contact with children for two weeks, so faced a horrible separation from Esther. I lived with my lovely Mum and her excellent wine cellar, which helped. My friends visited and fed me cheese.
When I returned to Esther I had prepared myself for a happy or angry baby but what I got was a shocked baby. She was in disbelief and subdued. It was incredibly hard to think that I had done that to her. But we have made up for it since.
It is three years this March since my thyroidectomy. I went back to work at Birmingham Women's after a year of Maternity leave (and treatment!) and I am now privileged enough to be part of the Birth Centre team, a midwife-led unit. Being part of One Born Every Minute was fantastic. I loved working with the team and meeting the One Born mums and dads. I nervously looking forward to watching my episode.
Harriet will feature on One Born Every Minute on Wednesday 7 March at 9pm on Channel 4.