It's a rare thing to have people picking apart your TV show before anyone's even seen a single episode, but unfortunately for the team behind 'Insatiable', the chatter in the lead-up to the show's release wasn't exactly favourable.
'Insatiable' focuses on unhappy high school student Patty (played by Debby Ryan in a fat-suit), who is bullied by her classmates because of her size, until an incident requires her to have her jaw wired shut, after which she loses a lot of weight.
Following her weight loss (at which point Debby Ryan ditches the fat-suit), she's accepted by her peers, who she seeks revenge on.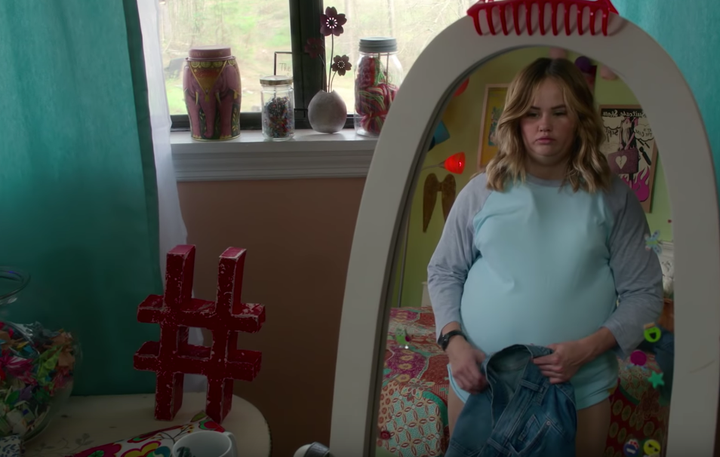 The show's trailer sparked a huge backlash, and while many suggested we should wait until we've actually seen the show before we pass comment, others - including more than 200,000 people who signed a petition for Netflix to axe the show entirely - suggested 'Insatiable' was dangerous and should not be shown at all.
With 'Insatiable' set to begin streaming on Netflix this Friday (10 August), the reviews are in… and critics are not impressed.
Here is just a selection of the most scathing lines from the early reviews of 'Insatiable'...
"The 'good' news for 'Insatiable', the new Netflix comedy that started a controversy the moment the streamer dropped the trailer and cries of "fat-shaming" led to outrage (and a Change.org petition), is that fat-shaming is only one of its many problems."
"Having watched the first six episodes of 'Insatiable', we can say that the way it portrays body image is more nuanced that what the trailer suggests. But more nuanced certainly doesn't mean good, or even valuable."
"I don't know who 'Insatiable' was made for, but it was certainly not me. After watching six episodes (of a 12-episode season) that all exceeded an agonising 46 minutes, I felt awful and gave up."
"I crave stories that show fat people living their best lives, being happy, and most of all, being treated with respect and dignity. Like the hole in Patty's soul, it's a gaping void that can't be filled. Not least because I keep being served hollow, harmful, and hateful shows like 'Insatiable'."
"After watching all 12 episodes of the debut season of 'Insatiable', I can safely and confidently report that the show is much weirder than advertised — and, in many instances, much worse."
"In reality, 'Insatiable' isn't skewering the ridiculous expectations placed on teen girls; it's merely reiterating them. It doesn't provide a sensitive and humorous reflection on the experience of binge eating disorder; it's placing Debby Ryan in a fat suit for cheap laughs."
The first season of 'Insatiable' begins streaming on Netflix on Friday 10 August.