The UK's 2.2m people who have been "shielding" from Covid are unlikely to see any resumption of government-backed food parcels this winter, Downing Street has signalled.
Charities hit out over the lack of support after new guidance was issued to those with cancer, respiratory or other serious illnesses, who are classed as "extremely vulnerable" to the virus.
Many of those affected saw their food deliveries stop in August, when the government "paused" its shielding programme.
And when asked if those who had shielded would get food packages this winter, the prime minister's official spokesperson said: "In terms of a return to the previous scheme, I'm not aware of anything in that regard, no."
A return to a formal shielding program will only occur in very specific circumstances, at the request of chief medical officer Chris Whitty, and only for a very short period of time for a tightly defined group of people.
In a big shift from advice earlier in the pandemic, people most at risk will be told to maintain their distance from others and meet socially outdoors if possible – but they will not have to effectively quarantine themselves.
A return to home isolation practice will only apply if the spread of the virus becomes exceptionally bad in specific "high risk" areas of the country, and even then for a short period of time rather than months as previously.
The new advice, issued by deputy chief medical officer Jenny Harries, is a "softer" approach to the harder measures seen at the height of the coronavirus outbreak and reflects confidence that mask-wearing and the "rule of six" limiting social contact are having an impact.
The decision follows concerns that many of those most at risk "over-interpreted" the guidance in March and April, taking it as an instruction or requirement rather than guidance.
Many of those involved didn't leave home for many months until the system was paused on August 1 and some felt "imprisoned", which was never the intention of the guidance, insiders said.
But charities attacked the government for failing to have any proper plan in place for the winter amid increasing worry among those most at risk due to underlying health conditions.
Sarah MacFadyen, head of policy at Asthma UK and the British Lung Foundation, said: "It's important that the clinically extremely vulnerable group are able to access food in a safe way through priority deliveries or volunteer networks.
"However, if this is not possible, the government and councils should be providing a fallback option, such as food parcel deliveries."
James Taylor, executive director of strategy, impact and social change at disability equality charity Scope, said: "Disabled people have been routinely forgotten throughout the pandemic, and many will now feel they are being abandoned.
"The lack of clarity in this guidance will only create more anxiety, worry and confusion for those most at risk.
"Anyone told to shield who cannot work from home or survive on Statutory Sick Pay would have to quit their job so they can claim benefits. This is not a solution, and will have disastrous consequences for disability employment. The government must act now to protect the jobs of those most at risk, so nobody is forced to choose between their health and wages.
"Two thirds of all those who have died from Covid-19 were disabled people. We need a plan for supporting disabled people with their health, wellbeing and finances."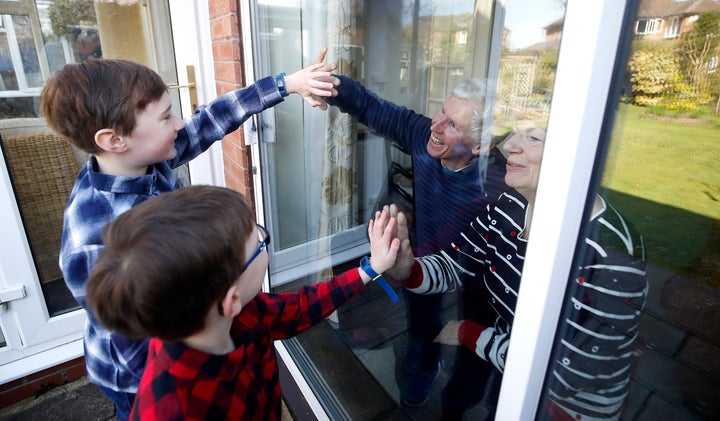 Gemma Peters, chief executive of Blood Cancer UK, said: "The government needs to urgently revise this guidance and give financial support to people with blood cancer who cannot work from home.
"This guidance also fails to offer specific mental health support. The mental health toll of the pandemic on people who have been shielding has been great, and so it is extremely disappointing that, six months on, there is no extra mental health support for people who are vulnerable to the coronavirus."
And the MS Society said vulnerable people deserved to know they would be supported through the crisis.
Labour's shadow disabilities minister Vicky Foxcroft told HuffPost UK:"The updated guidance for people shielding is just too vague, seven months on, this is simply not good enough. People need to be able to plan and understand the support they will receive – they need clarity and urgently."
The new guidance will be tied into the new Local Covid Alert Levels framework, meaning those at the highest risk of serious illness from the virus will receive specific advice depending on the level of risk in their local area, as coronavirus rates continue to rise.
The "clinically extremely vulnerable" group includes those with conditions affecting the immune system, certain cancers and organ transplant recipients amongst others.
Harries said: "Over the last few weeks, we've seen a sharp increase in the prevalence of the virus across the country and we know those who are clinically extremely vulnerable are looking for practical advice on how they can carry on their lives while the virus remains in our communities.
"The new system will provide clarity on how best those in this group can keep themselves as safe as possible depending on the rates of transmission in their local area. Whilst advisory, I would urge all those affected to follow the guidance wherever they can and to continue to access health services for their medical conditions.
"We will continue to monitor the evidence closely and fine-tune this approach to make sure everyone in this group is clear about the safest way to go about their daily lives, particularly over the coming winter months."
Health secretary Matt Hancock said: "Today's announcement will mean every person most at risk from serious outcomes from the virus will have specific advice targeted to local levels, which they can follow to keep themselves as safe as possible, while ensuring they can also keep as much normality in their lives as possible."