Brenton Tarrant appeared before a closed session at the city's district court on Saturday morning local time, the day after the massacre, which also injured 42, including a four-year-old child.
Tarrant, handcuffed and wearing a white prison suit, stood silently as he was remanded without a plea. He is due back in court on April 5 and police said he was likely to face further charges. The judge ruled his face must be pixelated in photographs.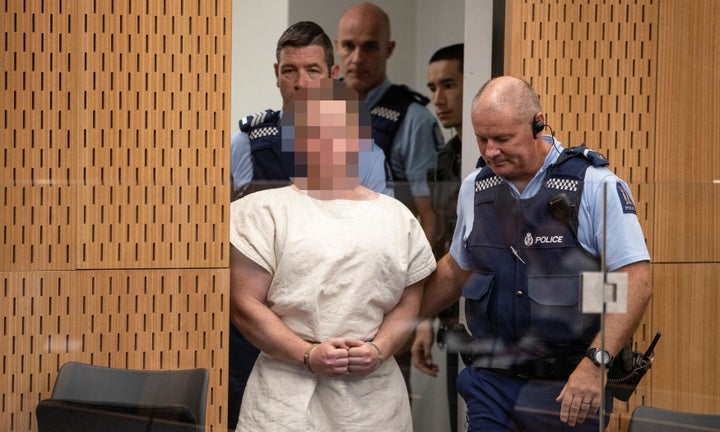 The country's prime minister, Jacinda Ardern, earlier told a news conference that Tarrant was an Australian citizen "who travelled sporadically to New Zealand and stayed for varied amount of time".
New Zealand police tweeted: "While the man is currently facing only one charge, further charges will be laid. Details of those charges will be communicated at the earliest possible opportunity."
Police added that 45 additional officers were deployed to Christchurch from other districts, with another 80 being drafted in today.
The force tweeted: "A complex investigation is underway into this terrible attack, and Police have a number of a priorities today in terms of investigation and intelligence gathering.
"However another absolute focus for us is to ensure that the victims of this attack, including family members and loved ones of those killed and injured, have the best possible structures in place to provide support and welfare."
Two other suspects remain in custody, and police are still trying to "build a picture of any of the individuals involved and all of their activities prior to this horrific event".
A fourth person arrested on Friday who was in possession of a firearm, but with the intention of assisting police, has since been released.
None of those arrested had a criminal history or were on watchlists in New Zealand or Australia.
Police Commissioner Mike Bush said earlier: "There is no guarantee the risk is limited to Canterbury and we need all New Zealanders to be extra vigilant.
"Police is aware there are distressing materials related to this event circulating widely online. We would urge anyone who has been affected by seeing these materials to seek appropriate support."
He said there will be a heightened police presence at community events on Saturday "for safety and reassurance".
This article has been updated with further information from the court and police.