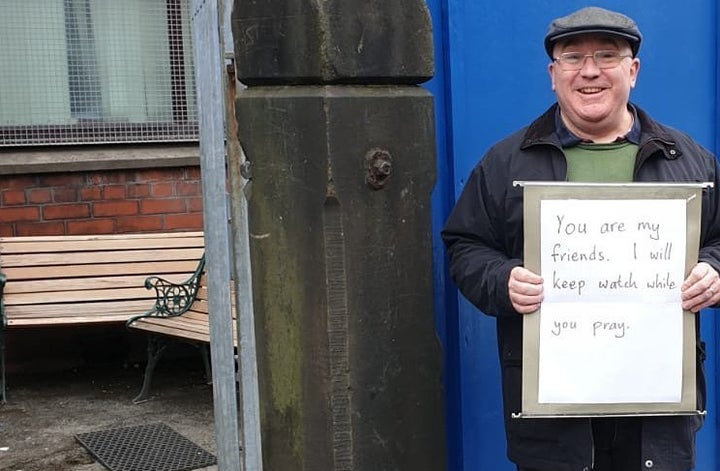 A Manchester man's act of solidarity following the New Zealand mosque attacks has been shared across the world.
Andrew Graystone, 57, stood outside his local mosque during Friday prayers with a sign which read: "You are my friends. I will keep watch while you pray."
Graystone, from Levenshulme, told HuffPost UK that initial trepidation from those turning up for prayers at the Medina mosque was quickly replaced by elation at his presence.
"As people walked up you could sort of sense that they were looking at me thinking 'oh no, is this a protest' or something and then when they got to me and they read my little board which said they were my friends you could see them soften," Graystone said.
"Apparently, the Imam mentioned that I was there during the prayers and when people came out, everybody wanted to say hello and shake hands and a few wanted photographs. But then, to be honest, after that I just thought 'oh, that was good' and went home."
Just hours later, an image posted on social media which showed Graystone stood outside the mosque's entrance began being shared by hundreds of people on Facebook. A further post on Twitter by Graystone's daughter, Ruth, propelled the picture across the world after it was shared over 25,000 times.
Speaking a day later, the Christian charity boss explained how he came up with the idea.
"I got up on Friday morning and heard the terrible news from Christchurch, New Zealand, and I just thought 'if I was a Muslim in Britain, in my community, how would I feel today?'," Graystone said.
"I thought I might feel that things were hostile, insecure. If it can happen in Christchurch, it can happen anywhere. So I thought this was a little thing that I can do. I just scribbled a notice on a piece of card and went down to the mosque at the beginning of Friday prayers and stood by the door."
Graystone wasn't alone, with similar acts of solidarity in Sunderland and elsewhere going viral too.
Mass shootings at two mosques in Christchurch claimed at least 49 lives on Friday, while a further 42 people were injured.
But asked what his message would be following the attacks, Graystone said people can choose between "fear and friendship".
"The fantastic thing is, since yesterday, I've had, I think probably 10 or less negative messages and something like 100,000 positive messages," he said. "If you put those together, you think 'friendship's going to win here'."