A senior News Corp employee has sent an explosive "reply-all" email to her colleagues accusing Rupert Murdoch's media company of the "dangerous" propagation of "climate change denial and lies".
Commercial finance manager Emily Townsend was responding to a senior executive who had highlighted a number of initiatives the organisation had launched in response to the devastating fires that have destroyed large swathes of Australia.
In the email, Townsend said any positive action the company was taking now could not make up for the "misinformation campaign" waged by its publications, which include The Australian, The Daily Telegraph and Herald Sun.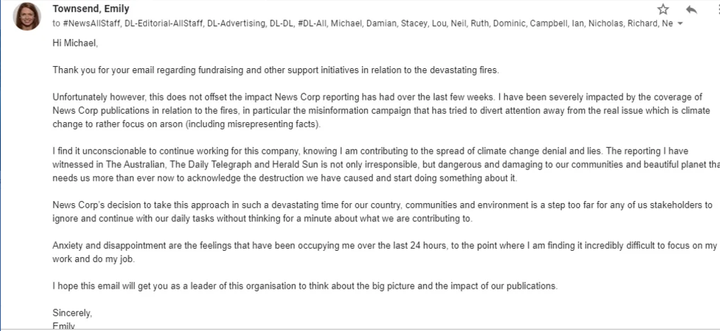 She said: "I have been severely impacted by the coverage of News Corp publications in relation to the fires, in particular the misinformation campaign that has tried to divert attention away from the real issue, which is climate change, to rather focus on arson (including misrepresenting facts).
"I find it unconscionable to continue working for this company, knowing I am contributing to the spread of climate change denial and lies.
"The reporting... is not only irresponsible, but dangerous and damaging to our communities and beautiful planet that needs us more than ever to acknowledge the destruction we have caused and start doing something about it."
Murdoch's News Corp is the largest media company in Australia, reaching 16m of the country's 24 million citizens. It also owns news brands around the world, including News UK, which runs British titles including The Sun and The Times.
Townsend's claims of coverage that plays down climate change are backed up by a recent study showing articles in The Australian that have argued – falsely – that this year's fires are no worse than in previous years and that arson is to blame rather than climate change.
News Corp executive chair Michael Miller said he stood by the coverage, adding: "Ms Townsend resigned in December and was due to leave News Corp shortly."
The unprecedented fire crisis in south-east Australia has claimed at least 26 lives and destroyed more than 2,000 homes since September and has focused many Australians on how the nation adapts to climate change, PA Media reports.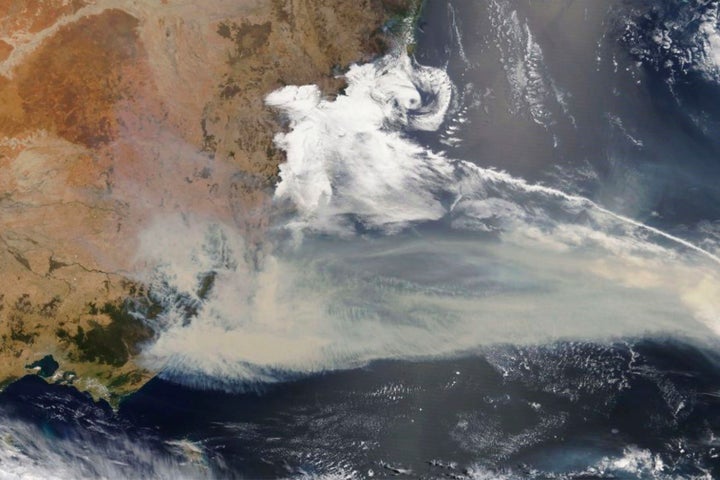 Prime minister Scott Morrison has come under blistering criticism for downplaying the need for his government to address climate change, which experts say helps supercharge the blazes.
Asked whether he expected fire emergencies of the same magnitude to become more common in the future with climate change, Morrison did not give a direct answer.
"There'll be the reviews that take place as you'd expect and I've indicated in response to questions that we'll be working closely with state and territory authorities on how they're undertaken," he told reporters. "The links and implications here have been acknowledged."
Morrison brushed off criticism over what many Australians perceive as a slow, detached response to the crisis.
"What we've got here is the single largest federal response to a bushfire disaster nationally that the country has ever seen," he said. "The government's responding to an unprecedented crisis with an unprecedented level of support."