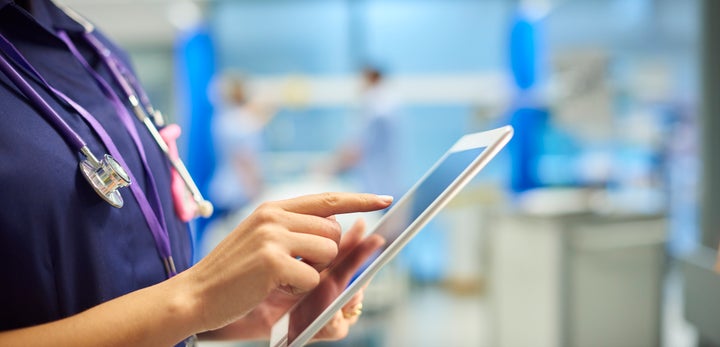 To have your life saved once by the NHS is a rare privilege. I have had my life saved on two occasions.
In the week that marks the 70 Birthday of the NHS, I recognise that I have both real personal experience of the difference that NHS care makes and the scars to show the successful surgery.
For this, and for so much more, I want to wish the NHS a happy 70 birthday.
My grandmother was an NHS matron, and improving our health service has always been an issue close to my heart. All those years ago when it was created, the NHS was a radical but beautiful idea that underpins everything that the values of British society and our national compassion stand for. It should not be just this week, but every day, that we celebrate this amazing institution.
As a steeplechase jockey, I was quite good, but I did not always stay on my horse in a 20-year career. Once, I wandered into A&E with a broken collarbone and four bones sticking out of my shoulder. And I discovered only too often that when you come off a horse at 35 miles per hour the consequences are severe. And the effects are far worse if you get crushed by the falling horse as happened to me at Stratford races 15 years ago. On that occasion, my entire left side was staved in, giving me 14 broken ribs, a kidney cut in half, a perforated spleen and a nasty pneumothorax – when you pop a rib through your lungs. That combination hurt! I was lucky to survive and have a consultant, Mr Mike Stellakis, of Warwick hospital who saved my life that night.
I retired as a jockey, and was elected to be the MP for Hexham in 2010. After having been an MP for just 11 months, I was at a point where I felt that I was starting to make a real difference in my job. I was 45, fit and in reasonably good health. On the day in April 2011 that it all changed, I had even gone out for a three-mile run.
For three months or so I had begun to notice that I was getting more tired in the evenings and suffering regular headaches. But, I dismissed my tiredness down to the pressure and exhaustion of work, and travelling up and down from my constituency in Northumberland.
That evening when I came out the chamber, my vision had begun to blur and I was violently sick. In that moment it all seemed to stop, and I knew that it was much more than exhaustion. I sat in Central Lobby and my Conservative colleague and friend Dan Poulter, MP, who himself is a doctor, was called to my side. He saved my life. He sent me immediately to St Thomas' Hospital just a few hundred yards from Parliament across the Thames. There, a young A+E surgeon performed a brain can.
Immediately, I was told I had a brain tumour the size of a woman's fist. In that moment the world stops. I looked at the scan which showed a horrible white mass of cancerous tumour. I was numb with fear. You never think cancer will knock on your door.
I had a meningioma – which is a slow growing tumour that starts just inside your skull and presses down upon the brain. Fortunately, thanks to amazing NHS treatment, my tumour was removed completely, with no after effects whatsoever – aside from a big horseshoe shaped scar on my left side behind my hairline.
My surgeon at the National Neurosurgical Hospital in Queens Square, North London, was Mr Neil Kitchen. Neil is a quiet but deeply skilled consultant neurosurgeon. He performed 2 operations on me – a cerebral angiogram and embolization of the tumour followed by a craniotomy where he opened my skill with a circular saw – of the medical kind – and then xcut the tumor out. He then stapled my head back together. Post operatively I have to thank the nurses and physios who got me well and back to work as an MP. They cope with the tremendous pressures of the job with good humour. They do so much to change the lives of their individual patients that must be championed. It is right that we recognise their enduring contribution to the quality of NHS care. And after a long campaign I was delighted that this Conservative government was able to award wage rises of at least 6.5 percent for more than 1 million NHS workers in England earlier this year, and sign off the 20 billion increase in NHS funding.
Having been seriously ill and disabled, with a potentially life threatening brain tumour, I have resolved to campaign and fundraise for the NHS locally and nationally in a variety of ways from political activism to charity hikes. Illness brings perspective.
For my part, it is great to be back full time doing a job I love. I owe the NHS an incredible debt. I will spend the rest of my life trying to pay it back. Happy Birthday NHS.
Guy Opperman is the Conservative MP for Hexham