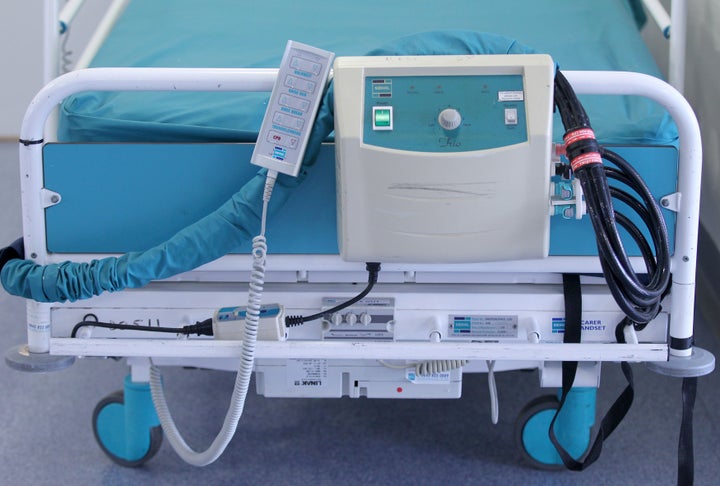 The NHS is at a "breaking point" as the number of overnight hospital beds in English hospitals has dropped by a fifth over the last ten years.
The warning comes from the British Medical Association (BMA), who today released a new analysis of the state of England's health service.
The report warns the social care crisis is driving up bed occupancy rates, and in some cases hospitals are operating at over 100 per cent capacity – leading to people waiting on trollies for long periods over time.
Labour said the report should serve as a "wake-up call" to Government, while NHS Improvement – the health body responsible for driving up standards – acknowledged hospitals faced "real pressure this winter".
BMA council chair Dr Mark Porter said: "The UK already has the second lowest number of hospital beds per head in Europe per head and these figures paint an even bleaker picture of an NHS that is at breaking point.
"High bed occupancy is a symptom of wider pressure and demand on an overstretched and underfunded system.
"It causes delays in admissions, operations being cancelled and patients being unfairly and sometimes repeatedly let down.
"The delays that vulnerable patients are facing, particularly those with mental health issues, have almost become the norm and this is unacceptable.
He added: "In the short term we need to see bed plans that are workable and focused on the quality of care and patient experiences, rather than financial targets.
"But in the long term we need politicians to take their heads out of the sand and provide a sustainable solution to the funding and capacity challenges that are overwhelming the health service."
The report, State Of The Health System; Beds In The NHS: England, paints a worrying picture about the capacity of hospitals in cope with above average levels of demand.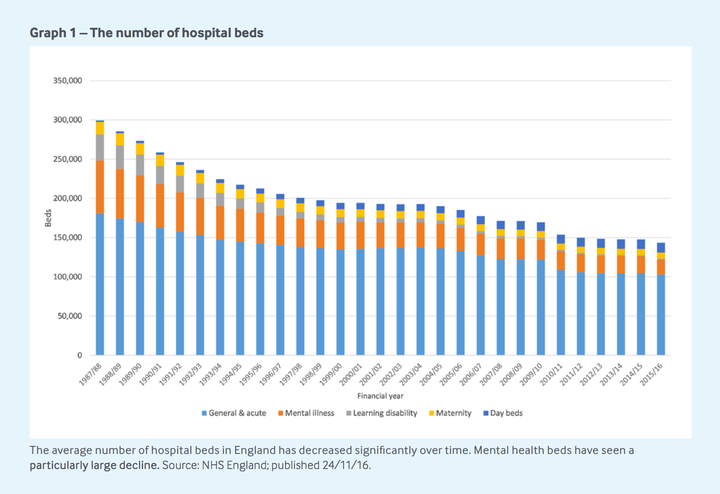 The document states that "it provides evidence of the underlying cracks within the NHS, such as funding constraints, changes and increases in demand, disjointed care and workforce pressure."
A drop in the number of beds, delays in discharging older patients and the time it takes to make a bed ready for the next patient are all adding to the growing crisis.
The report also warns "there is a concern among doctors and other healthcare professionals that staff may feel pressured to free up beds.
"In the worst-case scenario this can lead to patients being discharged before it is safe or appropriate to do so.
"Not only does this compromise patients' care at the time, but evidence suggests it leads to an increased chance of emergency readmission, which is something that has increased notably in recent years."
Between 2006/7 and 2015/16, the number of overnight hospital beds has decreased by a fifth.

In 2000 there were an average of 3.8 beds per 1,000 people. This dropped to 2.4 beds by 2015;

In the first week of January 2017, almost three quarters of trusts had an occupancy rate of 95 per cent on at least one day of that week;

There is a mismatch between the supply and demand for beds which is causing bottlenecks in emergency departments. In November 2016, 15 per cent of patients – almost one in seven – spent more than four hours waiting for a hospital bed;

The pressures on mental health services are particularly acute. There has been a 44 per cent decrease in the number of mental health beds since 2000/01. Between March and October 2016 an average of 726 mental health patients had been given out of area placements each month.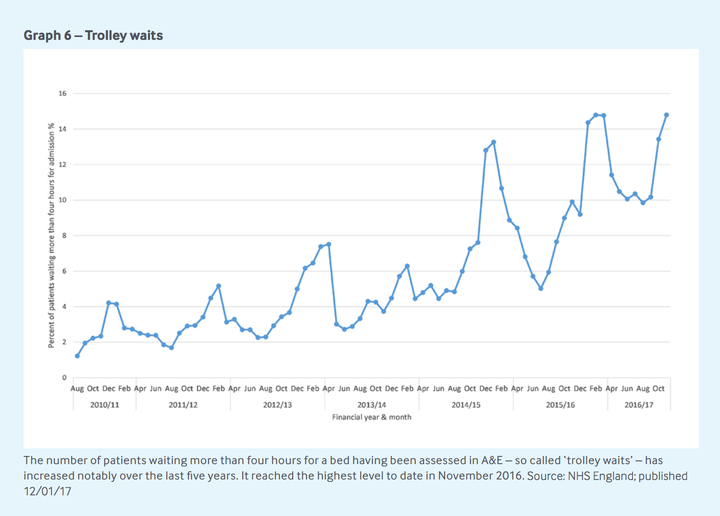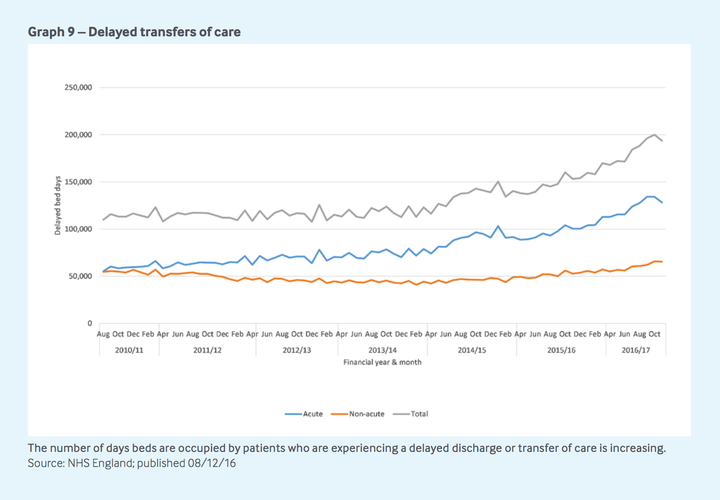 Labour's Shadow Health Secretary Jonathan Ashworth accused the Government of trying "bury their heads in the sand" over the crisis.
He said: "This report from the BMA should be a wake-up call which Theresa May must not ignore.
"Thanks to Tory mishandling of our NHS, patient numbers in hospitals are now routinely above the levels recommended for safety.
"The shameful reality is this overcrowding puts patients at risk and blows apart Ministers' claims to be prioritising safety."
A spokesperson for NHS Improvement said: "The NHS has been under real pressure this winter, as it copes with a surge in demand for emergency services the knock-on effects are felt throughout our hospitals.
"Our hospitals are extremely busy but we are working tirelessly alongside providers to help them manage and to support more efficient use of the number of beds available."
Related