Boris Johnson's test-and-trace crisis has worsened after official figures showed that just one in 10 Covid tests got a result within 24 hours.
The figures for the week between September 10 and September 16 showed that only 10.4% of all types of test met the PM's own target of being completed within a day.
Johnson had told parliament earlier this year that he wanted a 100% completion rate by the end of June, but that ambition has never been met.
The latest figure is even lower than the 14.3% of the previous week, itself seen as a major failure. The week before that, the overall "within 24 hours" figure was 32%.
The proportion of "in-person" tests - conducted at regional, local and mobile test centres - has also fallen once more, from 33% to just 28.2% week-on-week.
With the public complaining of huge delays in even booking a test, the latest figures suggest the system run by Baroness Dido Harding is still struggling to cope as coronavirus begins to spread across the UK once more.
The median time taken to receive a test result at Regional Test Sites increased to 30 hours from 27 hours in the previous week.
Similarly, Mobile Testing Units increased to 31 hours up from 26 hours. Times for results from local test sites decreased slightly to 34 hours from 35 hours during the same period.
Turnaround times for satellite test centres - used for care homes - and home testing kits improved, but are still well behind all other types of testing.
Crucially, the total number of test results processed decreased by 19% compared to the previous week.
Government insiders said this was more about results taking longer to be communicated to people, rather than a fall in tests being processed.
The number of tests processed in hospitals and at in-person centres increased by 22% from 1,254,066 last week to 1,531,950.
The overall 10.4% figure for tests done within 24 hours is the lowest since the week to June 10, when the figure stood at 18.4%.
Just 1.8% of people in England who used a home test kit for Covid-19 received their result within 24 hours in the week to September 16.
The proportion of Covid-positive people reached fell again too, to 77.7% from 83.9% the previous week.
The percentage of "close contacts" of those who test positive edged up 73.9% to 74.7% - but is still well short of the 80% that experts say is needed to make the service viable.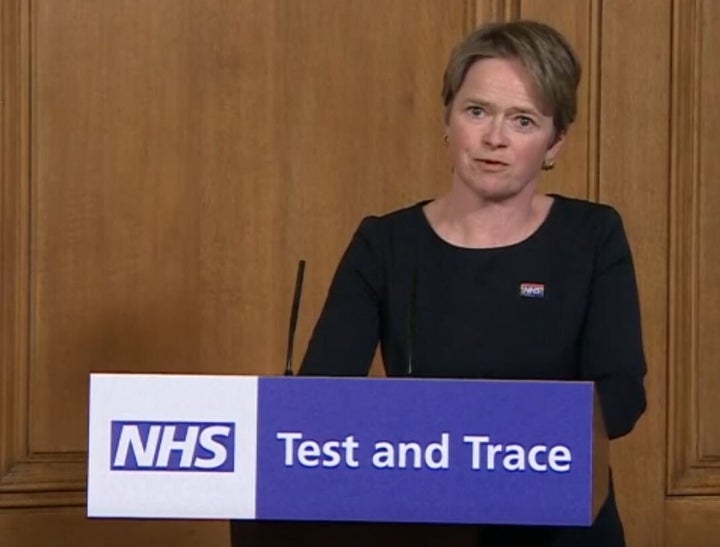 Shadow health minister Justin Madders told HuffPost UK: "On just about every measure the system is going backwards.
"It is clear that the Government has wasted the last few months and has failed to get test and trace ready for the increase in cases that they should have anticipated.
"Ministers need to get to grips with fixing the system before things get even worse."
Johnson told the House of Commons on June 3 he would get "all tests turned around within 24 hours by the end of June, except for difficulties with postal tests or insuperable problems like that".
Much of the problem appears to centre on commercially-run labs that carry out the in-person tests.
NHS labs in hospitals have a much better record, with 88.4% of tests results returned within the 24 hour target.
The government's Scientific Advisory Group for Emergencies (Sage) has stressed the importance of delivering rapid test results, ideally within 24 hours, to help limit the spread of coronavirus.
In the week to 16 September, 19,278 new people had a positive result, continuing the upward surge seen in recent weeks. Since the end of August there has been a substantial increase of 180% in positive cases compared to the most recent week.
But Harding defended the service, pointing out that since its launch it had now reached nearly half a million people (497,367), including both those testing positive and their contacts.
In a bid to improve compliance, people asked to self-isolate who are on low incomes and are unable to work from home will be eligible for financial support of £500 to stay at home, while those breaking the rules risk fines of at least £1,000.
Harding said: "NHS Test and Trace has reached a milestone moment this week, successfully reaching almost half a million people and advising them to self-isolate.
"We are supporting those testing positive and their contacts to stay at home to stop transmission.
"The new COVID-19 app launched today will help us go even further, alerting users if they have been in close contact with someone with the virus, even if they don't know each other."