Nicola Sturgeon is having a bit of a wobble as she clambers on to the outdoor ice rink in Aberdeen city centre.
Her media team is terrified, their popping eyes flitting between the first minister and a clutch of TV journalists whose cameras are perfectly poised to capture any slip-up.
If the SNP leader is nervous, it does not show. She smartens her tartan scarf, flashes the TV cameras a cheeky grin and begins gliding round the arena like nothing had happened.
Ex-SNP leader Alex Salmond is also set to face a trial for multiple charges of attempted rape and sexual assault next year.
Hence, this election is vital for Sturgeon. Should Jeremy Corbyn's Labour defy the polls and return a hung parliament, the SNP will almost certainly hold the balance of power and have more say over when a new Scottish referendum will take place.
"To be in that space, we have got to firstly make sure Boris Johnson doesn't get a majority on Thursday and Scotland can play a big part in that," Sturgeon told HuffPost UK as the SNP battle bus travelled north to West Aberdeenshire.
"The SNP is the challenger in all of the Tory seats here so my message and ask of people is if you don't want Boris Johnson to have 5 years, even if you are voting tactically, is to lock them out."
"If people are worried about Jeremy Corbyn then better to have the SNP in there being a progressive influence in there making sure not just that the right policies are being pursued but the right values are to the fore in any minority Labour government too"
Sturgeon has faced repeated calls to insist that Corbyn, who has been dogged by claims of failing to tackle anti-Semitism, stands down.
But the SNP, Sturgeon says, will not enter a formal coalition and would only offer their support on a supply-and-confidence basis.
So, what does Corbyn get out of the deal?
"He would get to govern," she says. "I'm not Jeremy Corbyn's number one fan. I have a lot of criticisms of him, particularly his lack of leadership on Brexit.
"If people are worried about Jeremy Corbyn then better to have the SNP in there being a progressive influence in there making sure not just that the right policies are being pursued but the right values are to the fore in any minority Labour government too."
She adds: "I'm a party leader and it is for parties to choose their own leaders. If I was choosing the leader of the UK Labour Party I would not have chosen Jeremy Corbyn, but I'm not the one who gets to choose."
Whether the SNP will enter an electoral pact for a full five-year term is also not clear.
"I want Scotland to become independent over that period and that is one of the things that could change, but you can only deal with the immediate things that are before you," says Sturgeon.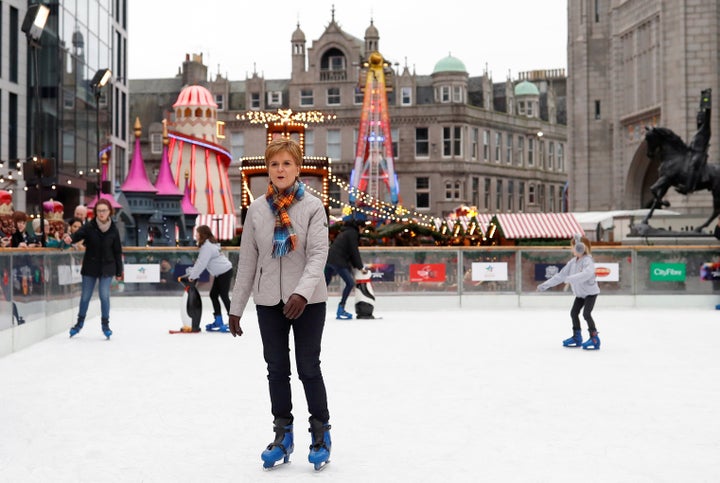 Labour and the SNP have been involved in a tussle over when a second referendum would be held, with Sturgeon insisting it should be next year and Corbyn suggesting it would not in "the early years" of a Labour government.
Failing to back them would mean a general election re-run in which the SNP would be "annihilated", he said.
Sturgeon hits back at this assertion.
"I have heard over the last 10 years, all sorts of Labour people threatening to annihilate the SNP and it hasn't really worked out like that yet," she says.
"I say this with as much diplomacy and humility that I can: I run a minority government. I probably know more than any other politician active in this election right now of what it takes to put a minority government together.
"I think John McDonnell's comments are probably revealing of the fact that he doesn't have that experience. I would never have the SNP vote for a Tory Queen's Speech or a Tory budget so we would never put Boris Johnson or the Tories into govt.
"But if Labour wake up on Friday morning with the ability to put together a minority government, nobody is going to convince me they are going to turn their back on that opportunity."
Her main focus in the final days of the campaign, however, is on beating Johnson.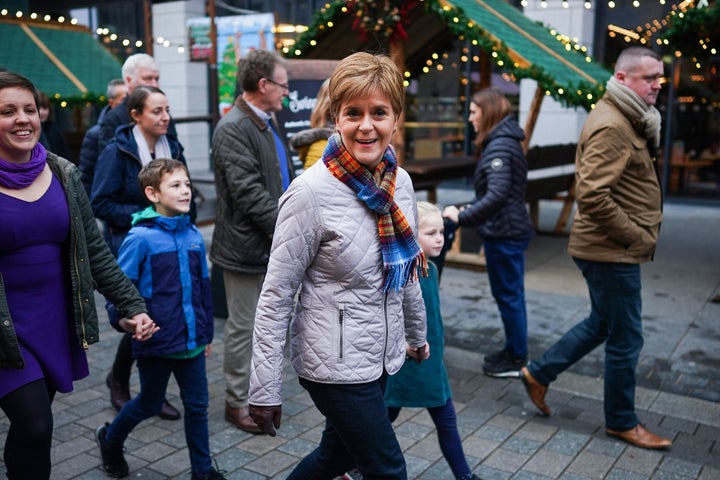 The SNP battle bus tour will take in Tory-SNP marginals in the country's rural north, where in 2017 her party lost seats, including Angus Robertson's and Salmond's to a Scottish Conservative party led by Ruth Davidson.
Davidson's successor, acting leader Jackson Carlaw, like Boris Johnson is a Brexiteer, offering Sturgeon an easy route to motivating her base.
She reserves her strongest criticism for Johnson's refusal to be interviewed by veteran BBC journalist Andrew Neil.
All other leaders, including Sturgeon, Corbyn and the Lib Dems' Jo Swinson, were subjected to a grilling but the prime minister is staying away.
"I think he is weak, and I think his behaviour during this campaign has shown that he thinks he's weak because he doesn't have the confidence for that kind of scrutiny," says Sturgeon.
She adds: "I think it speaks volumes about his lack of confidence in the ability of his argument and the positions and policies he has taken to withstand forensic scrutiny, and I think people should be worried about that.
"These interviews, from somebody who happily - maybe 'happily' is not the right word - but willingly does them, they're not easy.
"But if you are leader putting yourself forward in an election like this, I think you have a duty to open yourself up to that kind of scrutiny, and if you're confident in your argument take that opportunity to get it across to as many people as possible."
One of the main reasons Johnson may be avoiding an interrogation is a number of Johnson's past comments which have emerged in recent days.
He has called the children of working mothers "unloved and undisciplined" and likely to "mug you on the street corner", targeted working class men as "feckless" and branded single mothers "uppity and irresponsible".
Sturgeon says: "Of course people can change, I'm just not convinced he has. I have never heard him really properly address what was wrong with what he said and actually demonstrate he understands it was wrong, he just kind of brushes it off.
"I'm not saying what I'm about to say lightly, because in politics just chucking statements around willy nilly is not the right thing to do, but I think Boris Johnson is unfit to be prime minister," she says.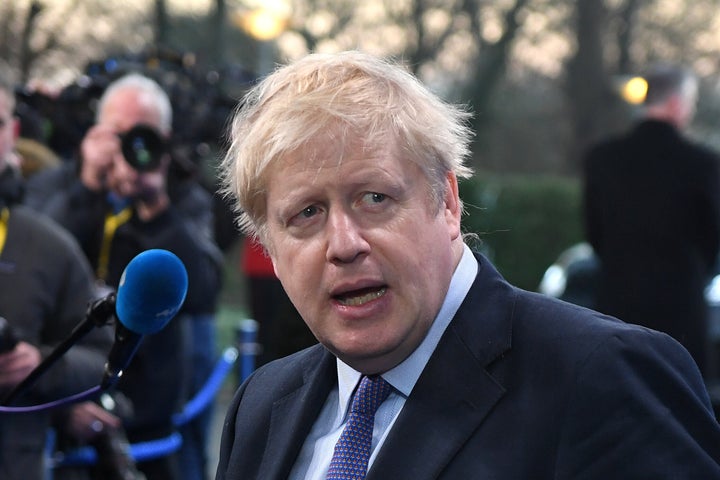 "I think he is deeply unfit to hold that office. The way he has, for cheap headlines or easy stories or just to get attention, been gratuitously offensive to Muslims, to women, to single parents, to working class people, makes him unfit to be PM in addition to the fact of course that he doesn't seem to worry about whether what he says is true or not."
Truth, and the bending of it, has been a central issue of the election with claim and counter claim of "fake news" an almost-daily part of the debate.
"I do think there is a real issue which has manifested itself in the UK, which we see in some other countries as well, of leaders, so-called strong men leaders who think they can say what they like and not bother about the relationship of what they say to the truth or to the facts," says Sturgeon, as she called Johnson's campaign "Trumpian".
It has also proved to be a tough campaign for Lib Dem leader Jo Swinson, whose revoke Article 50 policy and initial claims that as leader of a struggling small party she would be the next PM.
Sturgeon, who has herself faced torrents of sexist abuse, says: "I think there is always a degree of sexism when you have a woman leader. I suffer from it. I think some of the commentary I get about what I wear and how I'm looking.
"So, yes, I do think there is an element of that."
Would she choose a different career if looking to enter politics as a young woman today?
"A young Nicola Sturgeon probably would [still go into politics] because she is pretty bloody-minded about what she wants to do," she says. "But I do have a worry about young women looking at politics today and thinking it is not for them."
She adds: "I do think we are seeing women put off politics because of some of the abuse and the toxic nature of some of the debate.
"I think we all have a responsibility to change that."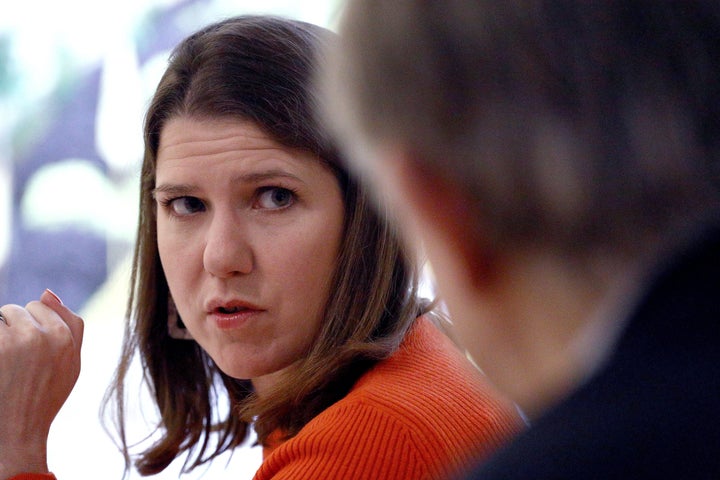 But of the Lib Dems' campaign, she adds: "I think [Jo Swinson] has two more fundamental problems. At the very outset, she put forward an incredible proposition: that she was going to be prime minister. I think if you start with an incredible proposition, people are not going to listen to anything else you are going to say.
"Secondly, people still remember that she was in David Cameron's government. Her personally and the Liberals generally were partly responsible for austerity and welfare cuts and the bedroom tax. these policies, like the pension changes that led to the WASPI women's problems, were introduced by a Liberal minister.
"People don't trust them and I don't trust them if there is a hung parliament not to put Boris Johnson into Downing Street."
Sturgeon has also faced questions about her own future, but insists she has "no imminent plans to depart the political scene" and that she will lead the next campaign for an independent Scotland.
She says: "No politician is around forever and I think anyone who thinks that they are, is mistaken, but I hope to be around for quite some time yet."