Nigel Farage has told Fox News in the US that the only people resisting Brexit and a Donald Trump presidency are "full-time professional protestors" who didn't vote in the first place because "they can't get out of bed".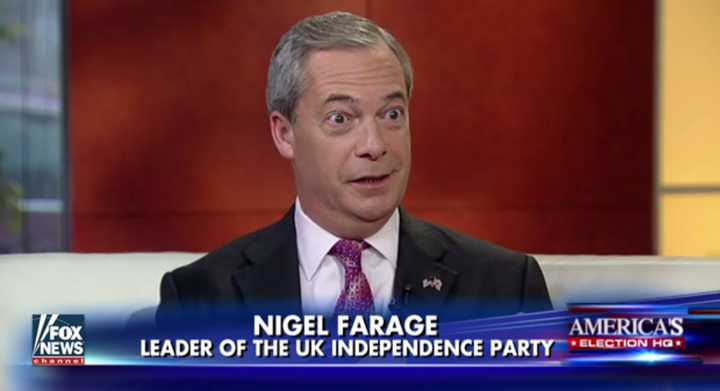 Farage's extraordinary meeting with Trump - before any other British politician, or other world leaders - came amid a series of street protests in New York and other major US cities.
On Fox News, Farage said:
"The only people who are moaning (about Brexit) are the full-time professional protestors, like the lot we saw here (gesturing to New York). By the way, none of them voted because they can't get out of bed. And yet they're happy to protest.

"Generally in the UK, people are accepting of the vote. There are some who will go on moaning, there are some who will go on protesting. I have no doubt we are getting back our independence."
Farage's assessment of post-Brexit angst is that it was led by "people like Bob Geldof and various rock stars I haven't got much time for". "Yeah, they've been out protesting outside Trump Tower - I think they're the same people," he added.
Farage, who has so far failed in his attempt to step down as Ukip leader, went on to claim he had been assured of a positive US-UK relationship following the vote. He said:
"Donald Trump and the team around him get what we've done in the past. And they want us to have a good relationship in the future.

"Obama came to Britain and told us we would be at the back of the line. I want to thank President Obama because he made the people so angry that it added 2% to our vote.

"What 'Team Trump' have made clear is we'd be at the front of the line."
And he seemed to explain the shock nature of the Brexit and Trump victories as as failure of polling.
"It's all about opinions polls. They're wrong. Why are they wrong? Because they don't measure the non-voter. The man or woman who have never voted in their life, they say I'm going to go and vote for Trump. They can't measure these people. If they ring them up and say can you join our list, they're probably going to get verbals down the phone before it's slammed down.

"(Because of) the domination of the liberal left media, people are now nervous about expressing conservative views. They'll say one thing to the pollster, and do another in the polling booth."
"What Trump was offering, just like Brexit, was a once in a a lifetime opportunity to change a system that has not been benefitting ordinary people."
The three Fox News presenters repeatedly praised Farage for his foresight and insight. "We love having you here, Nigel Farage," said Pete Hegseth at the end. "Man of history, no doubt."