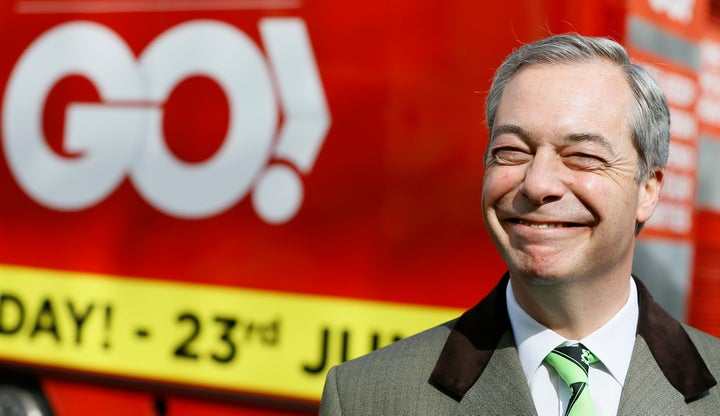 Nigel Farage has said he will not be publishing his tax return, as pressure builds for all MPs to reveal their financial details.
The Ukip leader said the details of tax payments were a "private matter" for people.
Last week David Cameron took the unprecedented step of publishing details of his tax return in the wake of revelations about an offshore fund run by his late father. This afternoon the prime minister is expected to come out fighting in the Commons, hitting back at Labour attacks.
Farage told BBC Radio 4 on Sunday evening he would not be doing so. "The answer for me is no. Big no," he said.
"I'm worried where we're going with this. If we want to have party leaders publish their tax return, that means MPs must do so; presumably then all councillors must do so, bishops of course must do so, generals must do so, BBC presenters must do so."
Farage added: "Actually, I think in this country what people earn is regarded as a private matter."
On Monday morning, Conservative backbencher Jacob Rees-Mogg said it was inevitable that MPs would have to follow Cameron's lead as "Caesar's wife be above suspicion".
"I think I am going to have to. I think the mood has become one in which I think all MPs within a year or two will be publishing their returns and I am not going to be the one holding out against that," he said.
"If you are managing the country's affairs the electorate want to know that you are doing it properly and independently."
He added: "I think it is a pity we have lost privacy but it is to some extent it is politicians' fault because we have lost the trust of the public as much as anything over the expenses affair."
Defence minister Penny Mordaunt has also said MPs publishing their tax returns "will have to happen" if the voters want it.
However energy secretary Amber Rudd told has said forcing all MPs to do it might not "necessarily the right way to go"
Speaking to the Andrew Marr programme on Sunday, Corbyn said "money and politics have to be treated with the greatest sense of openness possible" and people in public life should open up their finances to closer inspection.
"I think we are moving in that direction, I think it's probably a good thing if we move generally in that direction so everybody knows what influences are at play," he said.
"I think we need to consider how far it goes, how far it goes to other people involved in public life."
Corbyn told Marr: "I mean you are involved in public life as a very important commentator on the BBC, as many others are. I think we need to know what influences are at work."