A young girl gave a tearful speech protesting against the killing of Black Americans by police that left everyone stunned.
Zianna Oliphant had to climb a step-ladder to speak at a tense council meeting in the city of Charlotte, North Carolina, where a state of emergency was declared following fierce demonstrations over the latest shooting of a Black man.
The 9-year-old girl addressed a room full of angry residents on Monday wearing a t-shirt decorated with hearts.
"It's a shame that our fathers and mothers are killed and we can't see them anymore," Zianna said through tears.
"It's a shame that we have to go to their graveyard and bury them. And we have tears. We shouldn't have tears. We need our fathers and mothers to be by our side...
"We are black people and we shouldn't have to feel like this. We shouldn't have to protest because y'all are treating us wrong. We are doing this because we need rights."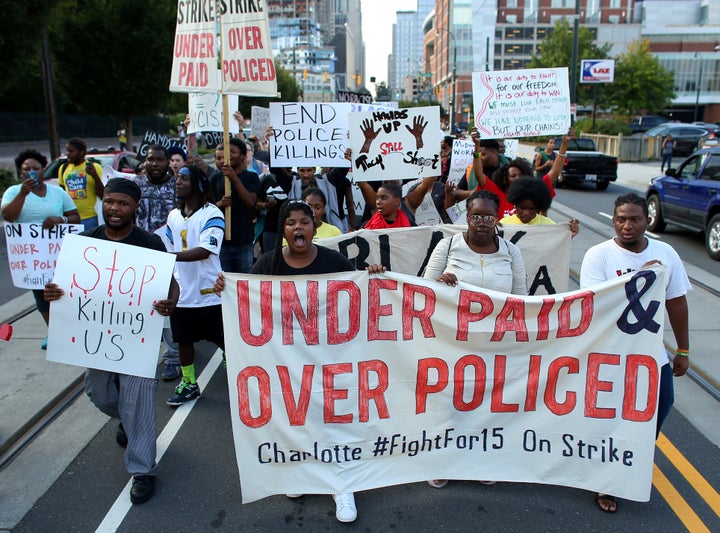 It left on-lookers stunned and won huge plaudits when clips of her speech were posted on social media.
Zianna spoke out again after the event, saying she had been "a little nervous" but "decided to just go up there and tell them how I feel".
"I was just feeling like what the police are doing to us, just because of our skin, is not right," she told NBC.
Zianna spoke with her brother, Marquis, at the first Charlotte City Council meeting since Keith Scott was shot by police earlier this month.
Three shots were fired and Scott was killed. His death sparked days of protests and a state of emergency being declared.
READ MORE: