Boris Johnson has paused no-deal preparations and the controversial 'Get Ready For Brexit' on October 31 ad campaign.
The news emerged after Brussels confirmed its offer of a flexible extension to January 31 as the Brexit crisis continues to rumble on.
It means the government has accepted the UK is not leaving the EU at Halloween, but the impact of the decision is likely to be controversial.
Michael Gove, the cabinet minister responsible for no-deal planning, announced the government would be stepping up preparations last week after MPs ripped up Johnson's fast-track timetable to get the Brexit deal bill through parliament.
On Monday, the reintroduction of Operation Brock, which focuses on tackling potential gridlock in Kent related to the Dover-Calais crossing, caused long traffic jams after morning roadworks overran into rush hour. A crash later compounded problems.
"The ad campaign will be paused," the prime minister's official spokesman said on Monday.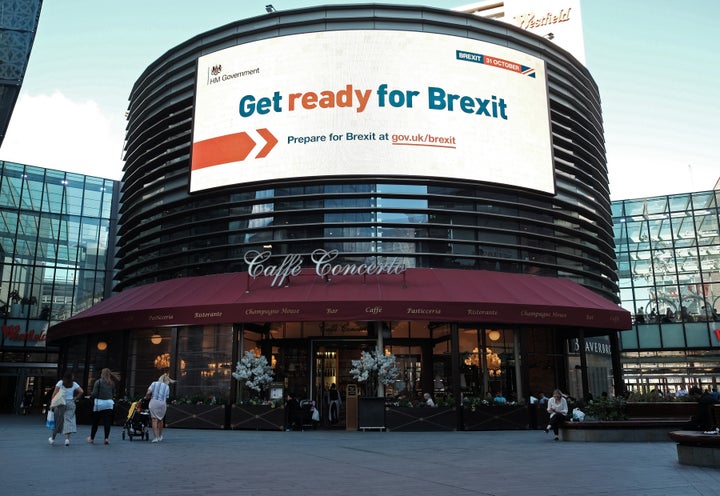 Operation Brock involved setting up a lorry park on the M20 but a complicated contraflow system could take up to 48 hours to sort out, it is thought.
A cross-party group of MPs, led by Lib Dem leader Jo Swinson, previously accused Johnson and Gove of breaching the ministerial code over the ad campaign. They claimed the cash was effectively used for "nakedly political" campaigning.
Speaking after the campaign was 'paused', Lib Dem MP Tom Brake said: "These adverts were the latest example of the Conservative government pouring money down the drain in reckless pursuit of Boris Johnson's do-or-die 31st October Brexit deadline.
"The money spent on these adverts could have, and should have, gone into our NHS, our schools, and tackling the climate emergency. Instead it was wasted.
"Brexit is a national embarrassment. It has taken far longer and cost far more than anyone ever said it would."
The ministerial code states that 'ministers must not use government resources for party political purposes'.