The number of people arrested for being too drunk at UK airports and on flights has soared by 50% in the past year, a BBC 'Panorama' investigation has found.
A total of 387 people were arrested suspected of being drunk between February 2016 and February 2017 - up from 255 the previous year.
'Panorama' contacted all 20 police forces with a major UK airport on their patch and the 18 that responded formed the investigation results.
Airlines can currently limit the amount of alcohol holidaymakers purchase while on board, but in response to the survey, some have called for tighter controls on purchasing alcohol in airports.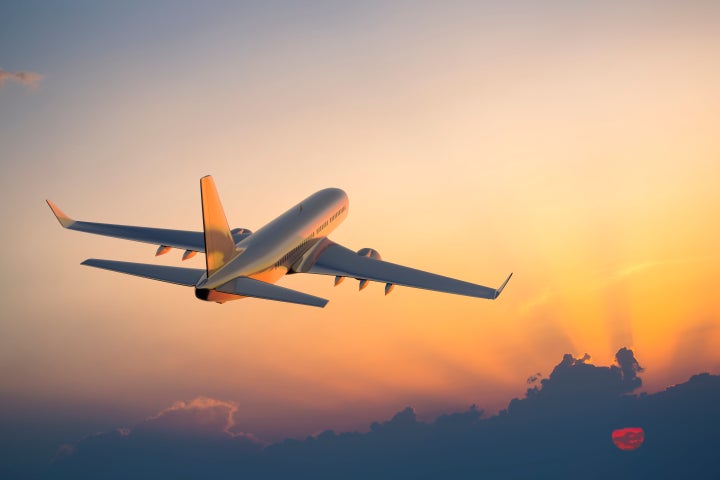 Dr Clare Morrison, from online doctor MedExpress, explained that you can sometimes feel more drunk when flying than you would do when drinking on land.
"When on a plane, the barometric pressure in the cabin of a plane is lower than it normally is. This decreased pressure means that the body finds it harder to absorb oxygen - this can produce light-headedness or hypoxia. In other words, the lower level of oxygen in your blood means that you may seem more drunk in the air than you would on the ground after consuming the same amount of alcohol," she told HuffPost UK.
"As well as this, you could become dehydrated very quickly as the air in an aircraft is very dry, so you may become dehydrated faster than you would on the ground."
Ally Murphy, a former cabin crew manager, told 'Panorama' such drunkenness is contributing to abusive behaviour by customers.
"People just see us as barmaids in the sky. I was pulled into an upper-class bed by a passenger who was feeling particularly lucky I guess. They would touch your breasts, or they'd touch your bum or your legs, or I mean I've had hands going up my skirt before," she said.
"It's rage-inducing, and you shouldn't have to deal with that.
"I guess I never reported it to the police because sadly, and this is completely wrong and only really occurring to me now, you kind of just accept it as part of the job. And it shouldn't be."
Another former cabin crew manager, Laura Hodge, was a passenger on a flight to Ibiza in June this year.
She told the show: "We noticed that there was a bar right next to the gate, which looked maybe like a temporary bar or something that wasn't normally there. And they were serving beer predominantly I remember.
"When people were getting on the plane, I mean clearly very drunk when they got on the plane [sic]. In my peripheral vision, out of the corner of my eye, I could see one of the ladies was obviously sat on the guy's knee. They were definitely doing stuff you probably shouldn't be doing on a plane."
In a separate survey commissioned by 'Panorama', Unite the Union surveyed 19,000 of its cabin crew members, to which 4,000 responded.
More than half said they had either experienced or witnessed verbal, physical or sexual abuse on board a UK flight and one in five said they had been physically abused during a UK flight.
Airlines UK, which represents carriers such as Virgin, British Airways and EasyJet, told the BBC it wants the government to amend the law and make it a criminal offence for passengers to consume their own alcohol on board.
Similarly, RyanAir has called for tighter restrictions around purchasing alcohol at airports.
The company's chief marketing officer, Kenny Jacobs, said: "It's completely unfair that airports can profit from the unlimited sale of alcohol to passengers and leave the airlines to deal with the safety consequences. This is a particular problem during flight delays when airports apply no limit to the sale of alcohol in airside bars and restaurants.
"This is an issue which the airports must now address and we are calling for significant changes to prohibit the sale of alcohol at airports, particularly with early morning flights and when flights are delayed.
"Given that all our flights are short-haul, very little alcohol is actually sold on board, so it's incumbent on the airports to introduce these preventative measures to curb excessive drinking and the problems it creates, rather than allowing passengers to drink to excess before their flights."
Last year the UK aviation industry brought in their "voluntary code", which recommends that airports and airlines should work together to limit disruptive behaviour and sell alcohol responsibly. Most of the big airlines and airports signed up to this.
In response to the 'Panorama' findings, World Duty Free said it "has been and continues to be proactive in developing and implementing initiatives to address the social issue of drunken and disruptive passenger behaviour".
"World Duty Free has introduced a number of measures to ensure it complies with its obligations under the Code of Conduct on Disruptive Passengers, including but not limited to verbal warnings and displaying clear advisory notices at till points, on till receipts and carrier bags that remind customers that alcohol purchase cannot be opened until their final destination is reached," it said.
"Retail staff are also trained on procedures to follow when selling alcohol and retrained every three months to ensure they are clear on these policies. World Duty Free remains committed to working with other industry stakeholders to tackle the social issue of drunken and disruptive passengers."
Meanwhile the Home Office told the BBC it is "carefully considering" calls for tighter restrictions and "will respond in due course".
For any passengers wishing to consume alcohol while at the airport on while flying, Dr Morrison gave HuffPost UK the following advice: "Make sure you drink water with every alcoholic drink. Also, reduce your intake of salty food as this could make you more thirsty and encourage you to drink at a faster rate."
'Panorama: Plane Drunk' is on Monday 14 August on BBC One at 20:30 BST.