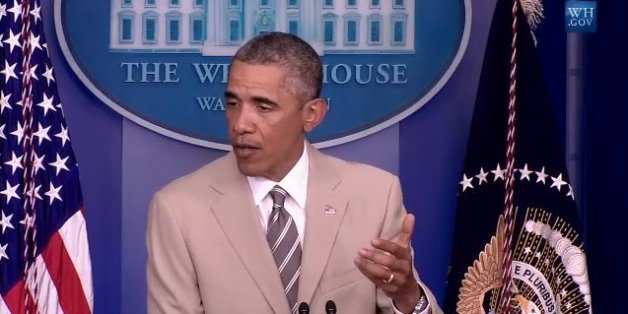 President Obama's tan suit created a sartorial stir and the social media sphere shared it's feelings all over Twitter, of course.
No, the contrast on your television wasn't broken -- on Thursday afternoon, the President of the United States held an important press conference on foreign policy and all anybody could talk about was the "audacity of taupe." And yes, it became a hashtag. Although our commander-in-chief is known for his dad jeans and occasional Canadian tuxedo, it's safe to say his wardrobe has never attracted this much attention.
Unlike women, male politicians are rarely scrutinized for their wardrobe choices. Welcome to FLOTUS' world, Barack.
That is, a fashion statement. #obamasuitpic.twitter.com/DeY2GLqG6f

— Ian Harber (@ianharber) August 29, 2014
RT @jaredbkeller: The Audacity of Taupe pic.twitter.com/gpvHxrdemH

— Chris Cillizza (@TheFix) August 28, 2014
Apparently, nothing that happens in the Ukraine or Syria is nearly as important as the color of our president's suit. #facepalm#obamasuit

— Dennis M Willman (@irondeadstudios) August 29, 2014
"This is my desert camo suit."

— Greg McNeal (@GregoryMcNeal) August 28, 2014
Madras would've broken the whole internet RT @ngjennings: Seersucker would have broken Twitter.

— Elise Foley (@elisefoley) August 28, 2014
Dear world: I do not give a flying rodent's posterior what suit *anybody* wears. Can we get with the serious stuff, please? #obamasuit

— Linda McIver (@lindamciver) August 29, 2014
Who gave President Obama that old church suit from my dad's closet?

— Wesley Lowery (@WesleyLowery) August 28, 2014
Over 1,000 tweets about Obama's suit, passes House lawsuit against White House for most "Obama suit" tweets in a day pic.twitter.com/GjBPnwJtsG

— Kia Makarechi (@Kia_Mak) August 28, 2014
@WesleyLowery it's the Easter suit! pic.twitter.com/0iga4mUIno

— Cicely K. Dyson (@cicelydyson) August 28, 2014
Nothing says to the int'l community that Pres. Obama means business better than a tan suit. http://t.co/PnmsZAeeLUpic.twitter.com/ze1LJp8mTs

— @mdecambre (@mdecambre) August 28, 2014
"You'll see I wear only gray or blue suits," Obama said. "I'm trying to pare down decisions." http://t.co/AC0MYspxtLpic.twitter.com/Pf1kG8DQP9

— VANITY FAIR (@VanityFair) August 28, 2014
"And now for our church announcements. Whoever boxed in Sister Cora's Pinto, you're being towed." pic.twitter.com/oZM8rv6jPB

— Tracy Clayton (@brokeymcpoverty) August 28, 2014
I can't hear what Obama is saying over his suit.

— Amanda Terkel (@aterkel) August 28, 2014
Strangely excited that a man is being criticized for the irrelevant detail of what he was wearing, rather than a woman for once. #obamasuit

— Catherine Q. (@CatherineQ) August 28, 2014
I see no problem with the suit. pic.twitter.com/ZFFt75FedU

— John Dingell (@john_dingell) August 28, 2014
Obama be like: "Let me be clear. Taupe rhymes with 'DOOOOOPE.'" pic.twitter.com/01Jq8nODjr

— Jian DeLeon (@jiandeleon) August 28, 2014
Obama's jacket is a needed distraction. #potuspic.twitter.com/NtgEzXvmOb

— lizadonnelly (@lizadonnelly) August 28, 2014
Message from senior White House official: 'He loves that suit.'

— Susan Page (@SusanPage) August 28, 2014
President Obama is wearing a #tansuit this afternoon. That is all. pic.twitter.com/t0SaYY5k2W

— Mashable (@mashable) August 28, 2014
Obama's suit gets more attention that his words? WELCOME TO EVERY DAY IN @FLOTUS' LIFE.

— Laura Bassett (@LEBassett) August 28, 2014
President Obama is here to sell you tornado insurance pic.twitter.com/RYeWlKAm79

— Jared Keller (@jaredbkeller) August 28, 2014
Last time Obama wore a tan suit was on 4/20, that has to mean something.

— Jon (@Jomnnn) August 29, 2014
Ok back to the press conference and muting the people chatting about President Obama's suit....

— sfpelosi (@sfpelosi) August 28, 2014
Instagram isn't working. Thanks Obama.

— Thanks Obama (@dangitobama) August 28, 2014