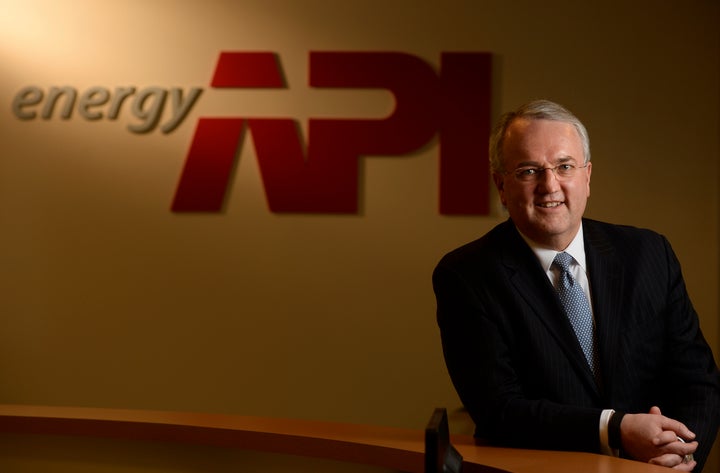 The largest share of the money comes from the American Petroleum Institute, the country's largest trade organization for oil and gas producers. It reportedly spends $65 million annually in efforts to block climate policy. API is followed by Exxon Mobil, which spends $27 million, and Shell, which spends $22 million a year on anti-climate advocacy.
The rest of the money comes from smaller fossil fuel companies and trade organizations.
These figures dwarf the amount spent by supporters of climate change legislation, which is estimated at about $5 million annually, according to the report. They're also bigger than sums spent by other major advocacy groups, like the pro-gun lobby, which reportedly spent nearly $10 million to "influence" Congress in 2014.
While $115 million spent on advocacy efforts is a lot of money, the report's authors consider it a low estimate. "While we regard our estimations as conservative, they still represent significant use of shareholder funds to obstruct ambitious climate policy," researchers wrote in their report.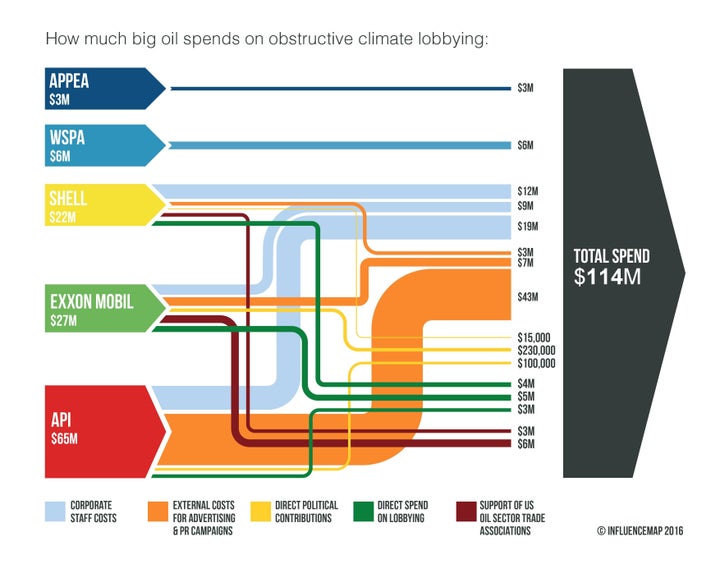 The report was created on the basis of tax records, lobbying registers and corporate reports. Researchers labeled activities funded by fossil fuel companies and trade groups as either "supportive" or "obstructive" to policy reforms aimed at reducing greenhouse gas emissions. They then calculated the total amount spent on "obstructive" advocacy around climate change.
While the report was not published in a peer-reviewed journal, experts say the research methods appear sound. "On first glance, it looks rigorous and well documented," Justin Farrell, a sociology professor at Yale, told Bloomberg last week.
The report comes as fossil fuel companies face growing pressure. Plummeting oil prices have hurt oil and gas stocks, and supporters of the fossil fuel divestment movement have encouraged large institutional investors to dump shares in oil and gas companies. More and more investor groups have also adopted shareholder resolutions demanding that fossil fuel companies disclose their strategies for dealing with the rise of renewable energy.
In addition, Exxon Mobil is under investigation over whether it misled investors about the risks of climate change. The company, as well as API, conducted research in the early 1980s documenting the global warming effects of fossil fuel use and then spent millions lobbying against efforts to curb greenhouse gas emissions.
Related