In fact, alcohol contributes to over 12,000 cancer cases in the UK each year, according to the charity's expert on cancer prevention Professor Linda Bauld.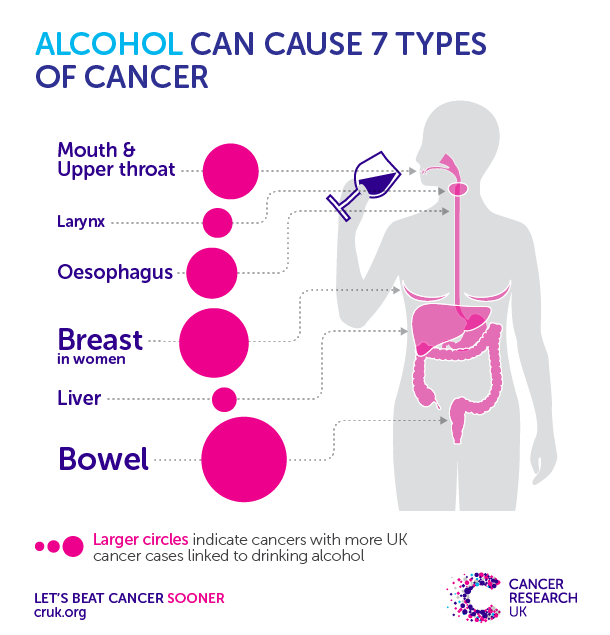 Professor Bauld told HuffPost UK: "Alcohol is an established cause of cancer but this survey clearly shows that the vast majority of people don't know this, which is very worrying.
"We urgently need to raise awareness. Requiring warning labels on alcohol products making clear the cancer link would be one way to do this."
They gave ethanol to mice and analysed their chromosomes before and after. The analysis revealed acetaldehyde, a harmful chemical produced when the body processes alcohol, changed the animals' DNA sequencing.
Acetaldehyde was able to break and damage the DNA leading to permanent rearrangement of chromosomes. This is important because such faulty cells give rise to cancer.
The research also suggested that some groups of people might be more vulnerable to this cellular-level damage than others.
More than three million Brits will be taking part in Dry January 2018, which involves giving up alcohol for a month. Other benefits of going booze-free include boosting mental health, improving heart health, aiding liver recovery and (eventually) helping you sleep better at night.
AHA's survey revealed it's not just public knowledge surrounding the health dangers of alcohol that is lacking. Just 16% of people are aware of the weekly alcohol guidelines (14 units a week for both men and women), which were announced two years ago.
Meanwhile just one in 20 people are aware of the official advice on children's drinking, which is that an alcohol-free childhood is best. England's Chief Medical Officer said that if children do try alcohol, they should be at least 15 years old and in a supervised environment.
Eight out of 10 people want alcohol labels to include the weekly guidelines and a warning that exceeding the guidelines can damage health.
Professor Sir Ian Gilmore, chair of the AHA, said: "It is clear from our polling that the public want to be informed of the risks linked with alcohol, including the link with cancer, and that they want to see clear warning information on alcohol labels about the drinking guidelines and the risks of drinking at levels above these guidelines.
"To this end, the government should introduce mandatory labelling of all alcoholic products, to ensure that the public and parents are fully informed about the risks."
Caroline Moye, head of World Cancer Research Fund UK (WCRF UK), said: "AHA's new research shows a clear public call for alcohol product labels to carry a warning about the link between alcohol and cancer, and the Government should put these warning labels in place. Government cannot leave the communication of cancer risks to the alcohol industry."