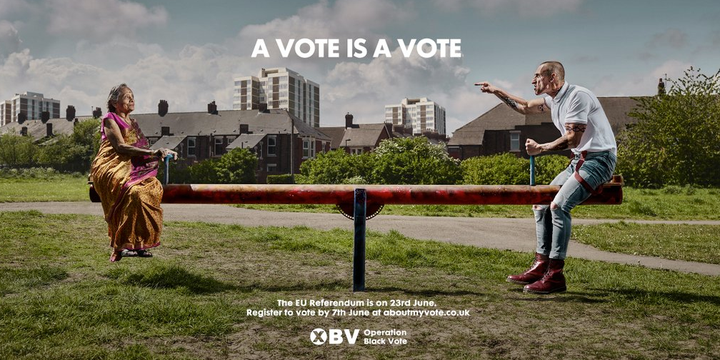 A provocative EU referendum poster featuring an elderly Asian woman being berated by an "aggressive thug" has been condemned by Nigel Farage as "divisive".
The campaign group Operation Black Vote, which wants to increase the turn-out among black, Asian and ethnic minority voters on June 23, said it was trying to reflect the "demonisation of foreigners" that has marked the debate over 'Brexit'.
It recruited advertising giant Saatchi & Saatchi to produce the bill it unapologetically calls "hard-hitting".
The aim of the "a vote is vote" campaign appears to be true, as its release has prompted a fierce reaction from the Ukip leader, whose Eurosceptic, anti-immigration language has been criticised repeatedly for dividing communities.
Speaking to the BBC, Farage said the image was "deplorable, divisive and willfully so". He added:
"It's sending us down a route of sectarian politics and that's not good at all.

"I've supported Operation Black Vote, I've been to their events. I've spoken up for them. I want to engage all communities to get involved in our democracy.

"But I'm afraid this advert is a really big mistake."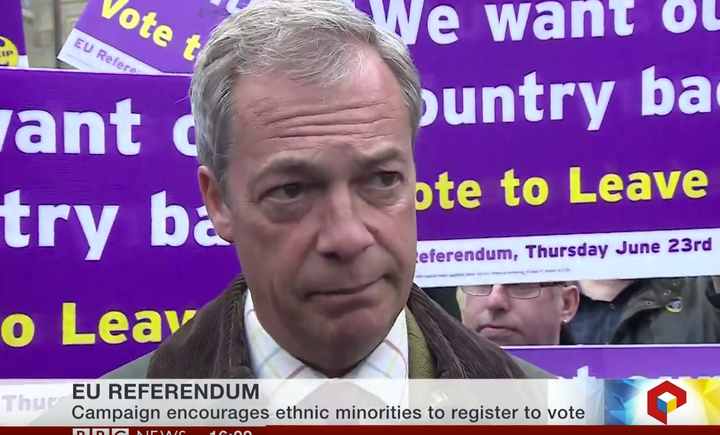 The Operation Black Vote press release to accompany the poster makes little attempt to hide its intent.
"The poster features an Asian woman being berated by an aggressive looking thug.

"The pair are seated on a see-saw - demonstrating the balance of their equivalent power - with the strap-line: 'A vote is vote'

"Many people feel that this debate, whether it's the Remain or the Leave camps, has been characterised by anger, not much objective information, and at times the demonisation of foreigners and in particular people of colour.

"Our campaign poster illustrates that."
The image will appear on digital poster sites in London and Manchester and feature in a social media campaign. The idea is to get has many of 4 million BAME voters in the UK, and another 400,000 from the British Commonwealth, to register to vote.
Simon Woolley, director of Operation Black Vote, said: "Perhaps the greatest thing about democracy is that one person's vote has no more value than another person: A vote is a vote.
"With some Black and minority ethnic communities still unlikely to be registered to vote we need to change their mind.
"These potential voters could easily decide one of the biggest questions of the last three decades - whether we remain in the EU or leave."
Magnus Djaba, CEO of Saatchi & Saatchi London, added: "As a member of the BAME community, I understand better than most why mainstream political campaigning fails to cut through with this audience.
"This campaign turns its back on the usual political posturing and talks to the BAME community in a language we understand."