Parents are campaigning for safer parking provision for families, after a report revealed 90% of mums and dads have felt that they or their children were at risk in a car park.
Lisa Roberts, mum-of-two and owner of a baby gift business, launched the 'Give Me Space' campaign, because she had grown frustrated with the current situation faced by parents.
Roberts conducted a study of 2,000 parents and caregivers, which revealed four in five share her frustration and 83% would like the government to introduce change.
She now plans to rally parents to join her in lobbying the government to introduce official recommendations regarding parent and child spaces in public car parks - similar to guidelines already in place for disabled drivers.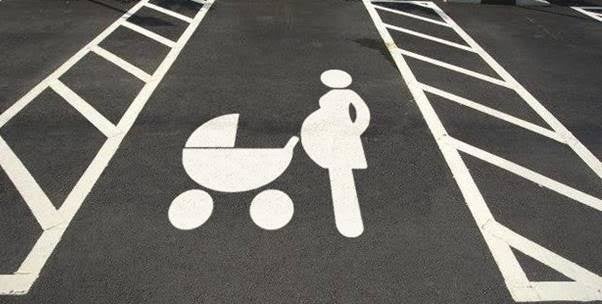 "In the UK there are 1.2 million public parking spaces, of which 37,000 rightly allocated to disabled drivers," explained Roberts.
"This allocation is based on a recommendation set out by the Department for Transport, based on the Equality Act 2010. The recommendation stipulates the location and dimensions of the spaces to best benefit their users.
"Currently, there is no official recommendation set out by government for parent and child spaces, forcing millions of parents to put their children, including unborn children, at risk. This is what the Give Me Space campaign hopes to change."
Parents who answered the survey told Roberts of the difficulties they encountered when using regular parking spaces - especially regarding not having enough space for their children to stand in safely without fear of being hit by a passing car.
Liz Booth, who is a grandmother-of-two, said: "When I realised that the adjacent car had parked so close to my car that there was no way I could get the baby's car seat through the gap I had two choices, either leave the baby with a stranger so I could reverse my car or give my car keys to a stranger and ask them to reverse it for me - neither were very appealing choices."
What's more, 52% of pregnant women who answered the survey said they have been forced to apply excessive pressure on their unborn child when trying to get back into their vehicle, due to lack of space.
Suzie Hayman, trustee of charity Family Lives supports the parent-led campaign.
"Ambiguity around parent and child parking spaces is a real issue, with some families receiving unnecessary and often difficult to afford fines as a result," she said.
"Safety is the most important issue and the 'Give Me Space' campaign is designed to ask government to introduce clear guidelines that will keep families safer, by way of more suitable provisions for the people that need them most.