The parents of a teenager critically injured in a stabbing have bravely released a picture of their son fighting for his life in hospital to show the "devastating impact that carrying and using a knife can have".
Jamel Boyce's family on Thursday showed a picture of the 17-year-old almost two weeks after he was stabbed multiple times in the chest and leg by a group of young men who ambushed him behind a Sainsbury's in Clapham, south London.
The St Francis Xavier Sixth Form College student's mother, Pansy Boyce, said it "breaks my heart" to release a picture showing her son so close to death, "but it shows plainly the devastating impact that carrying and using a knife can have".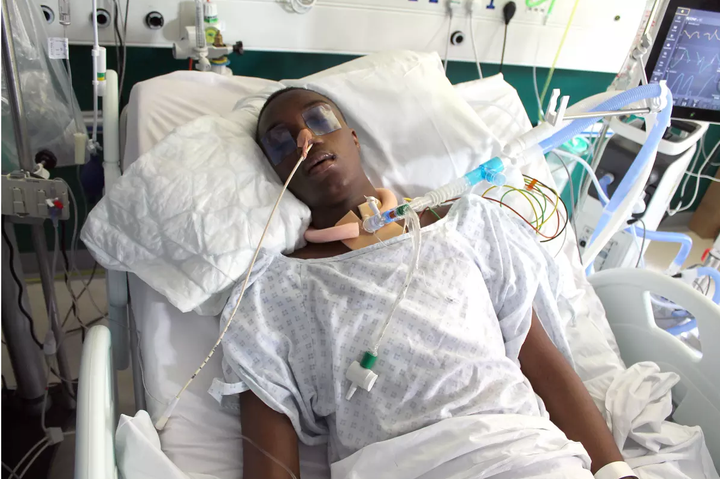 She added: "It is impossible to describe the pain our family is suffering at this time as our son lies in hospital fighting for his life."
Boyce's mother urged anyone with information about her son's stabbing, in Triangle Place around 7.10pm on 14 October, to contact police: "I would hate for any other mother or family to go through what we are going through right now; if you know what happened, and who did this to my son, please look into your conscience and speak to police."
In London, knife crime has risen by 16% in the past two years, with 13 young people under 25 being killed this year. In the 12 months to August 2016 there were 3,877 victims of knife crime who were injured, 1,749 of whom were under 25, a knife crime conference was told earlier this month.
Detectives investigating Boyce's attack on Thursday renewed their calls for witnesses to come forward after making a further four arrests, bringing the total number of those questioned over the knifing to seven.
Last Wednesday a 16-year-old was arrested and taken to a south London police station for questioning. The following day, on October 20, three males, all aged 17, were also arrested and questioned.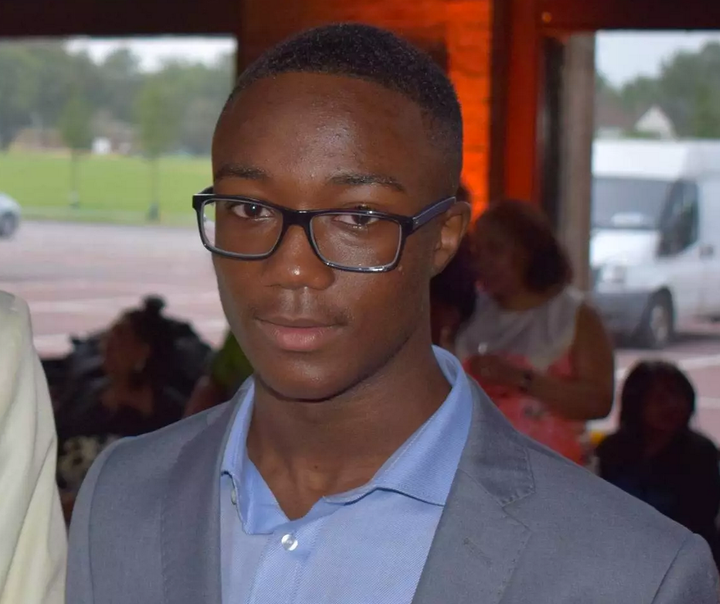 On the evening of the attack two 20-year-old men were arrested, and on the Monday following the incident, a 17-year-old was arrested.
Police said the men were all arrested on suspicion of attempted murder and have been bailed to return to a south London police station in January 2017 "pending further enquiries".
Detective sergeant Paul Graves, who is heading the investigation, said that having analysed witness statements, police believe the stabbing "would have appeared innocuous at first glance and people may not have realised he (Boyce) had been stabbed".
Graves said the business student was initially involved in an altercation involving four other males adjacent to the Sainsbury's supermarket car park in Triangle Place.
He said the area is often used to access the supermarket "and it may be that people have witnessed what appeared to be a minor scuffle and dismissed it as a trivial event".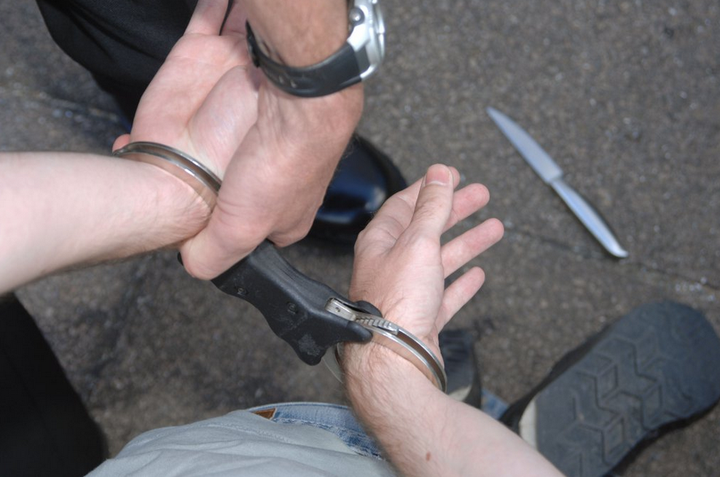 He added: "However, Jamel has received injuries that have left him critically ill and I would appeal to anyone who was in the vicinity at around 19:00hrs that evening to come forward and speak to police."
Graves said detectives had established that Boyce was also with a group of people in a McDonald's restaurant in Clapham High Street at around 3pm on the day of the stabbing when a "dispute" took place. He appealed for anyone who was there "who can shed light on what happened to come forward and speak to us"
"Any information, no matter how insignificant it may seem about either incident, could prove vital to this investigation," Graves said.
After the stabbing it is understood the group involved fled the scene on foot in the direction of Nelson's Row, Clapham Park Road or Clapham High Street as a number of members of the public provided first aid to Boyce until emergency services arrived. Police also want to speak to those that cared for Boyce who remains in hospital in a critical condition.
The release of Boyce's pictures comes after police completed a week-long operation targeting knife crime in London in the hopes of reducing the carrying of knives, knife injuries and fatalities and the illegal sale of knives.
Although the results of the Operation Sceptre are still being finalised, as of Friday, police had made 249 arrests in relation to knife-related crime and seized 112 knives and 64 other offensive weapons.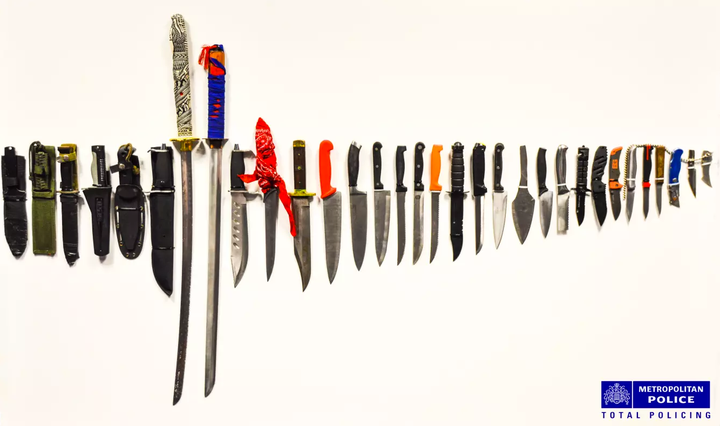 Detective inspector Gary Anderson, of the Met's Trident Gang Crime Command, who led the operation, said while "challenging" knife crime was "business as usual for the Met" the operation was activated to target knife crime and weapon carriers "at key points in the calendar when knife crime has historically shown an increase in victims".
Anderson warned: "A knife being present in any confrontation hugely increases the chance of fatal injury and often, people are injured by the knife that they, themselves were carrying.
"In addition, new legislation now dictates that if someone is found to be carrying a knife more than once they will be going to prison. These two reasons alone should be deterrent enough but additionally 15 people under the age of 25 have lost their lives this year as a result of knife injuries; there simply is no good outcome for knife carrying."
Anderson added: "Knife carrying and gang culture are not something that can be combated by police alone. Youngsters need to be made aware that carrying a knife is not 'normal behaviour' and is against the law."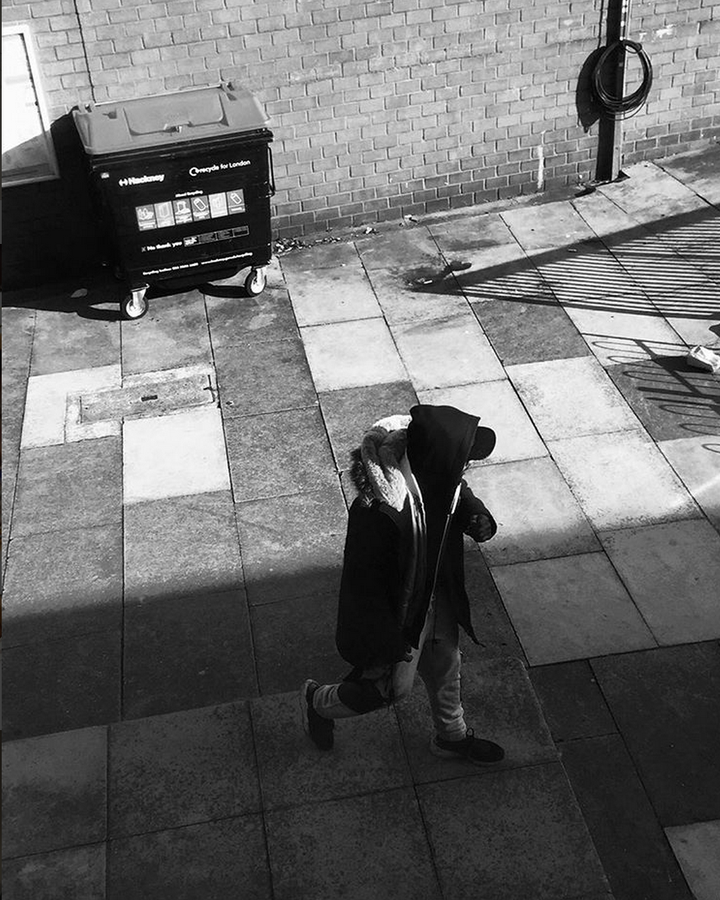 Sir Bernard Hogan-Howe told the capital's first knife crime conference that the offence was no longer simply gang-related.
The Guardian quoted him as saying: "We've seen an increase in the number of other young people carrying knives, young people with no links to gangs. So at the moment, some 75% – three quarters – of all knife injuries among the under-25s are not gang-related. The 25% that are – this is around 450 offences in the last year, so about one a day – tend to be more serious, and gang members remain the most dangerous knife carriers, but the changing trend is clearly a concern."
Hogan-Howe told the conference that police believed that young people were now carrying knives for "protection, status, protecting criminal interests – such as a drugs business – and a culture of fear".
As of Friday, police involved in the London knife crackdown had conducted more than 1,100 knife crime prevention and enforcement activities, with weapon sweeps being conducted on estates and public places across the city.
Test purchases were also undertaken in an effort to reduce the illegal sales of knives to those under the age of 18.
Five earlier phases of the same operation, run since July 2015, saw police carry out a total of 4,729 weapon sweeps, 155 searches of known knife carriers and 533 test purchase operations that resulted in 132 illegal sales.
During those operations almost 600 people were arrested following 3,738 stop and searches undertaken in crime hotspots resulting in 597 arrests. In total there were 1,939 arrests - 341 of which were for possession of a knife or weapon - and 475 knives, 53 firearms and 263 weapons were recovered.
Detective Chief Superintendent Jim Stokely, Head of Trident and Area Crime Command, said: "Operation Sceptre is run to prevent more families from living with the devastation of losing a child or loved one to knife crime.
"We will not stop in our efforts to rid the streets of London of knives in dangerous hands by proactively targeting known violent offenders and stopping and searching people to detect and deter the carrying of weapons."
Anyone with any information on Boyce's stabbing is asked to contact Lambeth CID on 101 or Crimestoppers anonymously on 0800 555 111.
Popular in the Community