As a mum or dad it can feel like your every decision is being judged.
Whether it's choosing to breastfeed or bottle feed, being a stay-at-home parent instead of returning to work after parental leave or the expectation to get "back into shape" post-baby, we've heard it all.
But more and more of you are speaking out in defence of your parenting choices, to prove there is no one "perfect" way to do things.
Here are nine parents who have made a stand in 2016.
Breastfeeding
Siobhan Rennie, from Australia, struggled to breastfeed her daughter due to latching problems and suffering from postnatal depression.
Rennie initially felt guilty about having to bottle feed her daughter, but then took a stand and told the "mum guilt to F off".
"You have to do what's right for you and your whole family," she wrote.
"Whether that be breastfeeding until they're toddlers or never being able to even start. Tell mum guilt to just F off."
Co-Parenting
Rosie Dutton, from Tamworth, Staffordshire, said her daughter had painted a family portrait, in which her dad had a sad face. She realised it wasn't too late to try and get along with her ex.
"Well, it was possible and it is possible and it's never too late to make peace," she wrote on Facebook in November 2016.
"This doesn't mean we have to forget the things people do that have hurt us, but we can forgive them. We make that choice and we can choose kindness.
"Over the last two years we have slowly rebuilt our relationship and as parents (and friends) we are stronger than ever for our daughter."
Post-Baby Bodies
Lexi Sinclair, a waitress from Missouri, US, was at the swimming pool with her four-month-old son Christian when a woman in her 50s struck up a conversation with her.
The woman told Sinclair that "men at the pool would feel more comfortable" if she was in a swimsuit.
She responded with the selfie above.
Travelling
Who is standing in the way of you taking your kids travelling for a year? No one, according to mum blogger Courtney Adamo.
Adamo and her partner Michael, took Easton, 11, Quin, nine, Ivy, seven, and Marlow, three, on a year-long gap year.
"Michael and I have always had relaxed views on formal education," she told HuffPost UK in July 2016.
"Rather than focusing on academic standards, grades or test results, we've been more interested in encouraging our children to play and be creative."
Stay-At-Home Parenting
At a wedding, a man's wife was "belittled" for being a stay-at-home mum and the dad was not having it.
Brad Kearns, from New South Wales in Australia, took to Facebook to remind people how hard being a stay-at-home parent can be.
"I am really fucking proud of her and everything she's achieved, which was more accolades and awards for service than this bloke ever will.
"Yet he somehow managed to judge before he asked. I love that she wants to take this time to raise our beautiful children. She will never get this time again."
Gender Stereotypes
A mum took a stand when her six-year-old son was teased for wearing nail varnish to school.
Devon Berryann, from Pennsylvania, USA, said she wanted to let her son do and be who he wanted to be.
"He tells me about the boys he likes at school. He says he will marry them and adopt babies. Maybe he will outgrow it. Maybe not.
"I love and accept him for who he is, I always thought that doing that would protect him from the pain of hurtful words and bullies, and I didn't worry."
Single Parenting
Aly Brothers, from the US, said people should stop belittling single parenthood after a particularly tough day with her kids.
"Motherhood is hard. Single-motherhood is hard. These tears started as the cashier of Giant Eagle handed me my receipt and continued for the entire drive home.
"Please don't glare with judgement. And to all mums out there having a day like mine... I see you, I know you, I love you.
"You are strong and you are doing just fine."
Pregnancy Discrimination
Women proved what they could achieve while seven months pregnant after a mum-to-be had an invitation to give a speech retracted because of her "late stage" of pregnancy.
British scientist Dr Samantha Decombel, who was preparing to speak at a conference in at the European Commission, posted an email she received on Instagram which retracted her invite.
Caesareans
WARNING: Some readers may find the photo below graphic.
Jodie Shaw, from the US, was determined to change people's views and let them know her scar saved her life.
"I've decided to post this picture to see if it may make people understand that despite what our birth plans might say, sometimes we don't get a choice.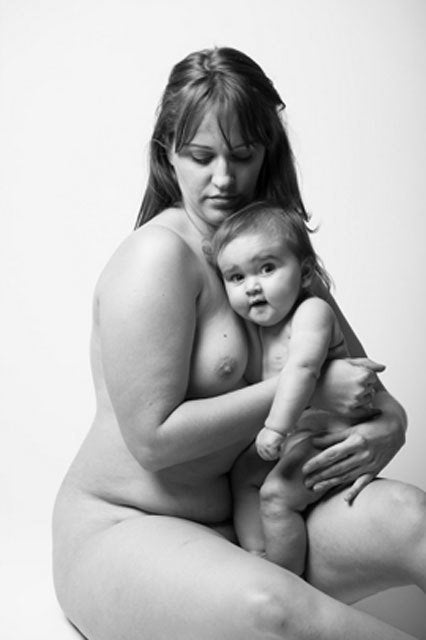 Mums Beautiful Bodies