LATEST: Islamic State has claimed responsibility for the attack.
Some 29 people were injured in the incident, which took place at 8.20am at Parsons Green station, on the London Underground's District Line.
Emma Steventon, 27, who lives in Parsons Green told HuffPost UK she heard "lots of screaming" and was told to run but didn't know why.
She said: "You just run when people say that."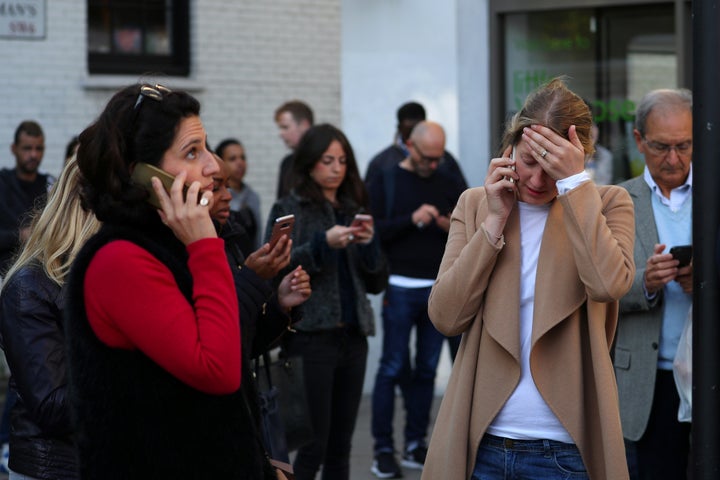 "Everyone just got crushed on the stairs, it was like a human pile-on, stampede, it was horrendous.
"I had a lady underneath me shouting that she was pregnant and the pressure of more and more people falling on top because we couldn't get down the stairs quickly enough.
"This poor little boy had his face smashed in and he was screaming. It was just like, just hold on, just try and breathe, try not to break anything, it was awful."
Steventon said there was no information from staff who told everyone to go back to the platform "so we were all crushed trying to get out".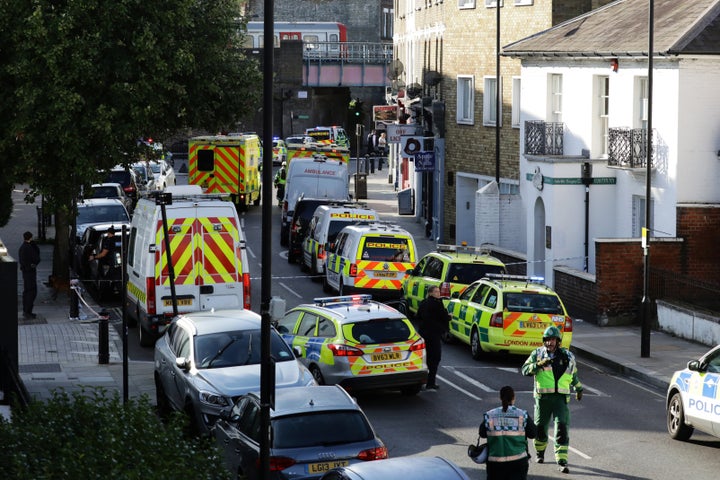 Christine Charitono, who lives nearby, described the panic which ensued following the explosion.
She told HuffPost UK: "I think we all thought 'kids being kids' but then adults joined the mob and it got worse and worse. No one was telling us what was going on but people were just screaming at the top of their lungs. Some were saying 'fire' some were saying 'run'."
"I was holding a coffee and i kind of ran towards the stampede and I thought 'I'm going to get more hurt in this than I am in anything else'.
"So I wriggled out, went to the side of the train just where the driver is and I jumped on the tracks. I jumped with another 15, 20 people.
And we just started to run, just run really. We didn't know why we were running, we just ran.
""We were hailing down the train that was coming in the other direction because I think we were all thinking if it's a bomb then we dont want that train to get there, if its a gunman we need to run as fast as we can and hide somewhere."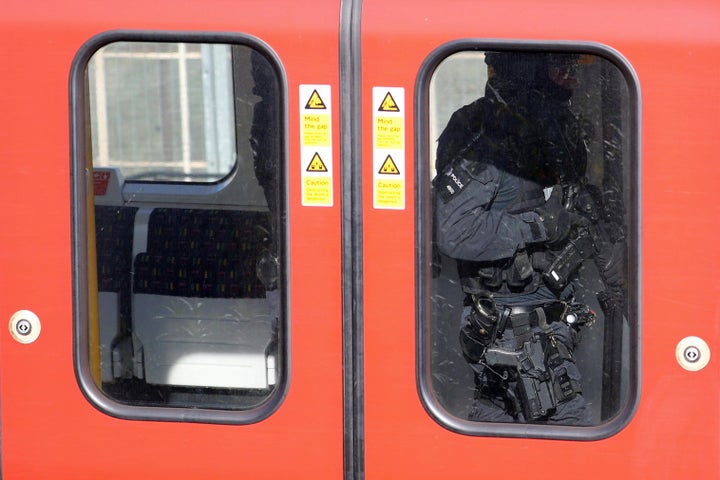 "All of this happened within 15 seconds," Olaniyi Shokunbia, another witness, told HuffPost.
"It's just crazy. I'm thinking I'm lucky that train was stationed what if this has happened if the train was leaving. I was in the middle of the train I think it happened at end of train.
"I saw masses of people running so I started running myself. I'm saying to you we're running down stairways I see people jumping into people.
"Parsons Green has small stairways are small people jumping not caring if they break their bones. I've never seen such a thing in my life it's just crazy. I phoned a friend saying I don't feel safe taking the train if something like this can happen at Parsons Green of all places."
Another woman described being pulled out of the crush by a man:
Charlie Craven was just getting on the tube when the explosion happened. He told HuffPost UK: "I got on, I was going to work in the city. I stepped in, within two or three seconds there was a massive explosion. There was a massive fireball encompassing the whole carriage.
"We managed to get off, but there was mass hysteria and people shouting and screaming. A few of us ducked under the fence and ran down the track. We thought there could be a second bomb or a gunman - I thought that was us gone. The emergency services were there within 2 or 3 minutes."
The Met's Counter Terrorism Command confirmed they were investigating after pictures on social media showed a fire in a bucket inside a Lidl bag with what appeared to be wires sticking out.
Deputy Assistant Commissioner Neil Basu, the senior national coordinator for counter-terrorism policing, declared it a terrorist incident nearly two hours after it happened on Friday morning.
Firefighters were called at 8.21am and the London Ambulance Service has sent a hazardous area response team. Fifty firefighters are at the scene.