Theresa May's cabinet reshuffle got off to a chaotic start as the Tories bungled the announcement of their new party chairman.
Patrick McLoughlin has left the role he has held since July 2016, however, there was confusion over who would replace him after the Conservatives hastily deleted a tweet announcing Transport Secretary Chris Grayling would take the position.
Brandon Lewis, the Immigration Minister, has been officially announced as the new chairman.
Braintree MP James Cleverly has been appointed deputy chairman, No 10 also confirmed.
In a second error, the official No 10 tweet naming Lewis misspelled 'portfolio'.
And at 1pm, May was due to appear on the steps of Downing Street with Lewis and Cleverly to celebrate their promotions, but for reasons unknown she missed the key photo opp.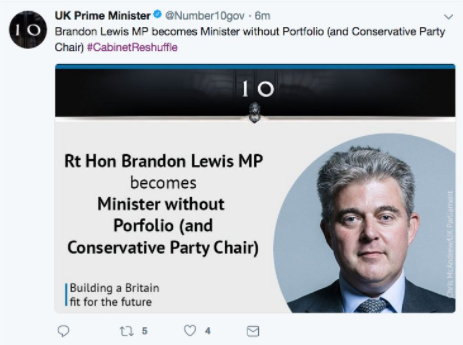 Iain Carter, CCHQ's political director, is reportedly behind the error. It is believed he saw a tweet by the BBC's Norman Smith discussing Grayling's potential move on TV.
Speaking to Sky News after the blunder over Lewis' appointment, Cleverly said: "I think that's someone at CCHQ getting a little bit over-excited."
Earlier today the Conservatives' website was also down.
It is thought the party failed to update their online certificate.
A number of MPs have also been appointed as vice-chairmen as the Prime Minister aims to shake-up CCHQ party structures and broaden the Tories' appeal:
Chris Skidmore,has been appointed vice-chair for policy

Kemi Badenoch vice-chair for candidates

Ben Bradley vice-chair for youth

Maria Caulfield as vice-chair for women

Helen Grant and Rehman Chishti as vice-chairs for communities

Andrew Jones as vice-chair for business engagement

Marcus Jones as vice-chair for local government

James Morris as vice-chair for training and development
Amber Rudd is to stay on as Home Secretary, while Philip Hammond remains Chancellor of the Exchequer and David Lidington, formerly Justice Secretary, becomes Chancellor of the Duchy of Lancaster and Minister for the Cabinet Office.
David Davis will remain as Brexit Secretary, Number 10 has also confirmed.
McLoughlin was appointed by May in 2016 and was tasked with winning over northern working class voters.
But in the wake of the Tories losing their majority at the General Election and a disastrous security breach at the party's conference, many regarded McLoughlin's exit inevitable.
It comes after membership of the Conservative Party fell to around 70,000 on McLoughlin's watch. It had been around 250,000 when David Cameron took the reins in 2005.
Labour's membership, meanwhile, has swelled to around 570,000 as the affiliated group Momentum became a huge success and Jeremy Corbyn rose to become leader.
It is expected that May will install a number of new MPs to serve alongside him in vice-chairman roles.
McLoughlin, the MP for the Derbyshire Dales, has been a minister as far back as the Thatcher government.