In What Works For Me – a series of articles considering how we can find balance in our lives – we talk to people about wellbeing and self-care.
In the space of a 15-minute FaceTime with The Body Coach Joe Wicks, he manages to drop a glass on the floor, then tread in said glass.
He hops across the room to wrap his foot in tissue and find some sandals. His wife, Rosie, appears in the background but doesn't seem overly concerned – this kind of chaos is usual in the Wicks household, it seems.
"I can't believe I've done that. It's bleeding, but only a little bit," he reassures me. "If it was proper sharp glass that would be well bad!"
He's not wrong. The fitness instructor has an audience of millions relying on him right now, since he's stepped up to become the nation's unofficial PE teacher. His daily 30-minute live classes have struck a chord with those trying to stay positive and active during the coronavirus pandemic.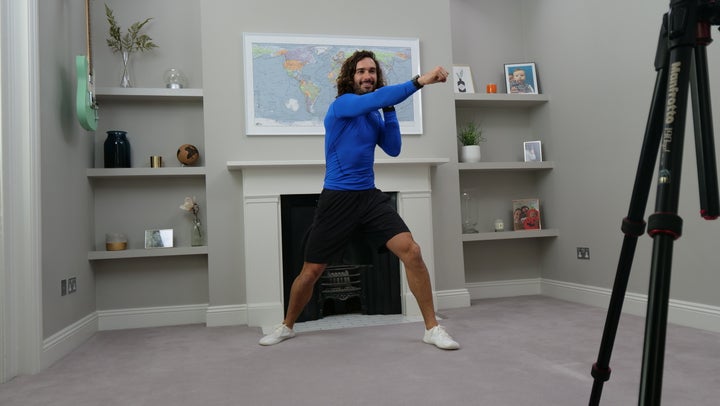 Wicks designed the PE classes with kids in mind, but adults – parents and non-parents alike – have thrown themselves into the sessions, too, bringing his YouTube channel 13 million new views in just five days.
"I had no idea it would get this big," he admits. "It's not a pressure, necessarily, but it's been overwhelming."
He definitely didn't anticipate the videos being such a hit with the big kids and has loved hearing from fans joking that they "can't walk up the stairs" or "shake when they sit on the toilet" after his workouts. Apparently, having a burning pain in your thighs is a good thing.
"It means you know you've worked hard and your muscles will recover stronger," he says. "I love knowing that mums and dads, especially, are encouraging and inspiring each other, because right now, we need it the most."
"It's been one of those things, as time's gone on, it's really built up, hasn't it?" he says. "It's tough, we've got two kids, but I just think, imagine if you've got three or four kids and you're in quite a small house. I know that's emotionally and mentally challenging."
Fans of The Body Coach are used to seeing the inside of Wicks' home; he tends to shoot cooking clips in the kitchen and workouts in the living room. Because of this, his usual routine hasn't changed too much. "My office is my house," he says. "So I don't feel in my head that I've been quarantined."
Still, he's missing the little things, like going for a nice coffee with Rosie, or taking his children – Indie, who's two in July, and Marley, three months – to the play area in the park. Both are too young to understand the virus, but Wicks and his wife have found ways to keep Indie amused while she can't see friends, with crayons on the patio and finger painting sessions indoors.
Today's activity is 'shopping'. "She's got a mini shopping trolley and she's got her rucksack on," he says. "We wrote her a list of things and she's going round the kitchen collecting her herbs and satsumas. We're just trying to stimulate her as much as we can."
An hour-long daily family walk is also helping to keep spirits up. "We go together and leave our phones at home so there are no distractions, because it's important to disconnect," he says.
Unfortunately, the lockdown has forced him to disconnect with his hairdresser. "I've got such a big mop on at the moment," he laughs. "If it comes to it, Rosie will have to give it a little trim, I'm sure."
One silver lining for Wicks, though, is that he's able to enjoy family time more frequently. They're eating breakfast and dinner together every day and he and Rosie have established a new bedtime routine for the kids: giving Indie a bath together, sorting Marley's bottle, then having storytime and laying in bed.
"We haven't really made time for that before, but now we're all doing it every night as a routine and it's so lovely to have that moment of interaction as a family," he says.
Filming the daily PE classes has also boosted his own mental wellbeing. "It keeps me active, it keeps me accountable and it keeps me productive, so it's really helping me as well," he adds. "I'm staying optimistic."
Cut foot aside, with no clear end date to the pandemic, will we be enjoying PE with Joe for the duration? "I'm committed to doing it long-term," he says. "As long as the schools are closed and you need this support, I will be here."