A 10-year-old child actor and his aunt have been named as the victims of a horrific crash in which a stolen car being chased by police ploughed into a group of pedestrians.
Makayah McDermott and Rozanne Cooper, 34, died whilst walking along Lennard Road in Penge, south-east London on Wednesday afternoon.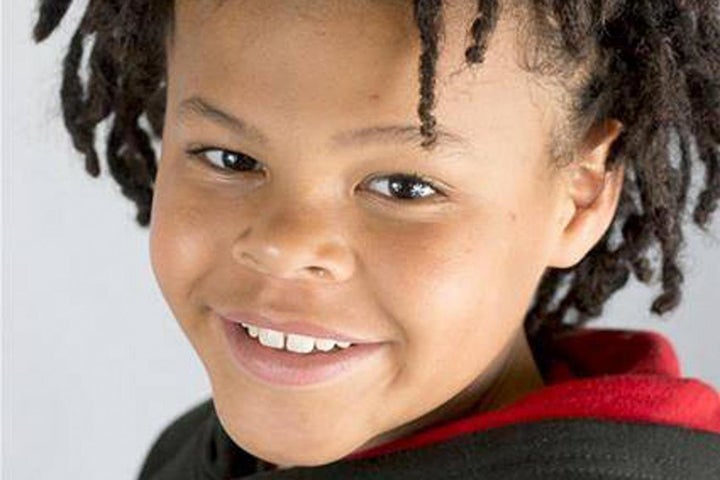 McDermott's twin sisters, Niyah and Yahla, 13, both child models, and Cooper's daughter, 11, were also injured in the incident and taken to hospital with multiple injuries.
They were discharged Thursday morning after treatment.
Witnesses described the horror of the aftermath of the smash one of whom said around 20 passers-by were "were trying to lift a car off a little girl".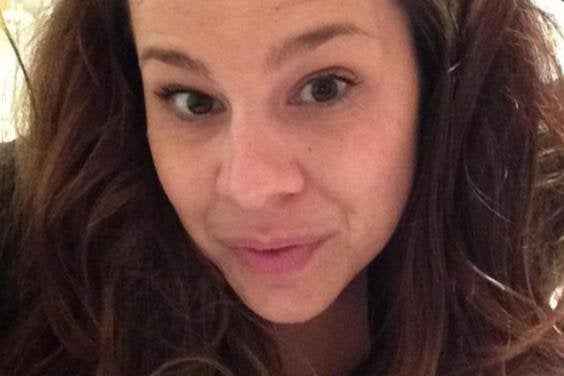 Venissa Vassell told the BBC that one of the girls was taken into an ambulance screaming: "I can't feel my legs."
One man who lives near the scene said: "It was a horrific scene on a sunny afternoon in a sleepy place."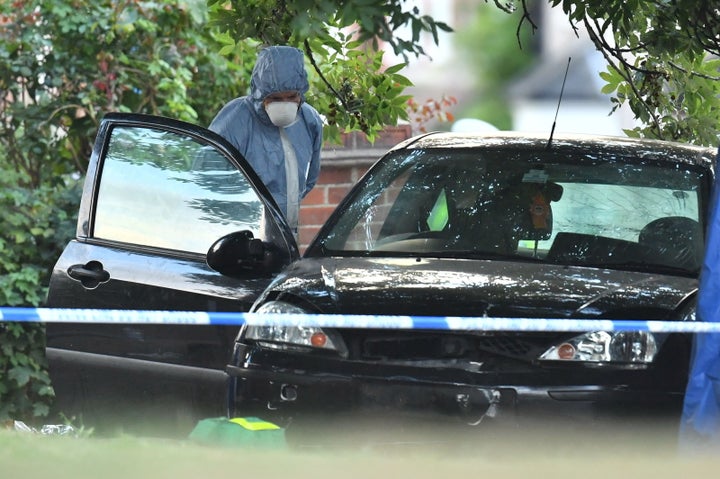 The witness said that a black Ford Focus was being chased by two police BMWs when the driver lost control as he turned into Lennard Road, reports the Press Association.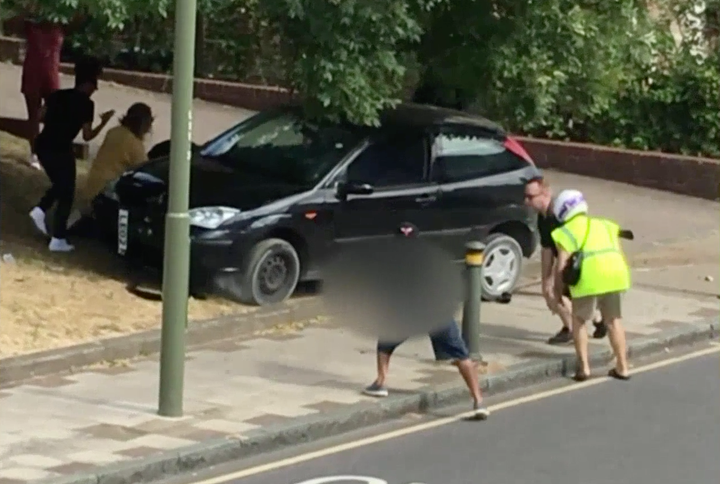 "He lost control and ploughed into a family that was walking on the pavement down Lennard Road.
"People were trying to lift a car off a little girl. The police officers that were chasing were distraught."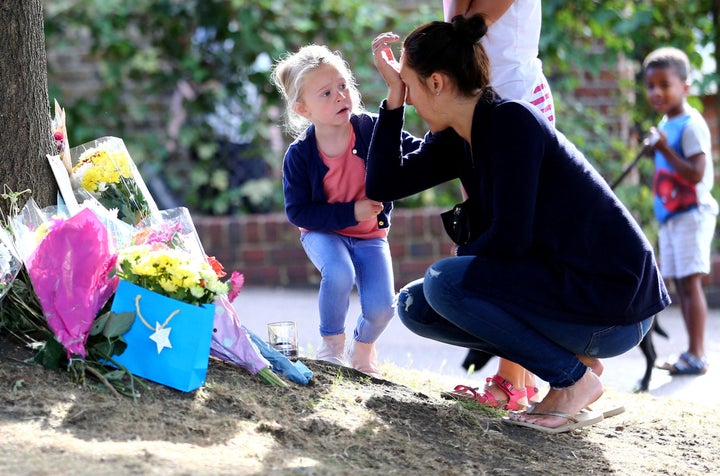 McDermott had starred in a production of Wizard of Oz spin-off The Wiz last month and had also auditioned for a part in a major television series.
Kirsty Dennis, 33 told the Evening Standard: "He gave a fantastic performance. Bless him, he was so handsome and funny and he's such a lovely boy.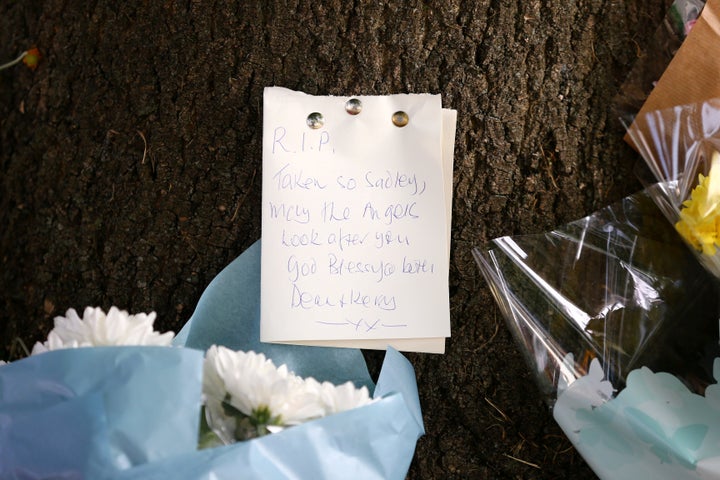 "All three of them are really nice kids, really well-behaved and happy. They were always chuckling together, looking after the little ones at the school.
"We'd see them in the shop every morning and they'd always stop in to say hello to my two.
"I'm praying that the girls are okay. The poor family, it's devastating."

"He was a very talented young boy and we were delighted to sign him. His twin sisters have been in the business a while."
Another eyewitness, who also did not want to be named, said that apart from the two people who died, he saw two casualties who were children being taken away by ambulance.
A 23-year-old man has been arrested and remains in custody. He was found hiding in bushes near the scene as shown in the video below.
Police confirmed that officers were pursuing the car after the vehicle had been reported stolen.
A spokesman for the London Ambulance Service said they treated three girls at the scene for multiple injuries and they were all taken to hospital.
Tayla Goodman told Sky News she had approached an officer who informed her there had been a road accident.
She added: "But upon speaking to eyewitnesses, a chase from police started out at Penge East at Sainsbury's and they said a child had been taken - how true this is I'm not sure, but then they moved up to Parish Lane and ploughed into a family.
"Some of the eyewitnesses said a man has been killed, I saw children running away from there in absolute tears, unable to speak, and then a lady ran out from across Penge East station, ran through the police tape shouting 'that's my baby, that's my baby that's been taken. That's my baby over there'.
"It just looked like complete carnage, it was awful to see."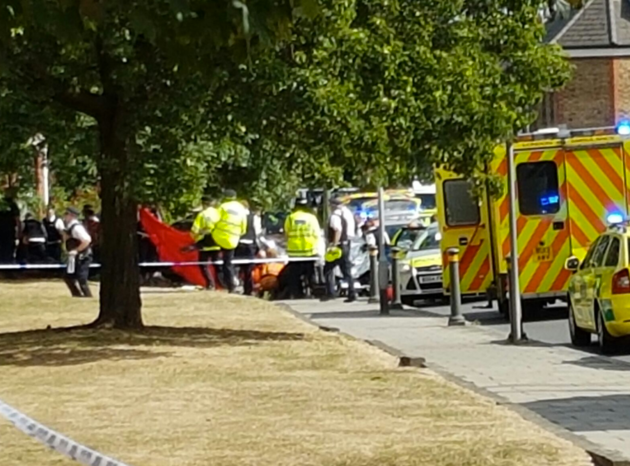 A witness told The Sun Online they overheard police officers saying they were chasing the car because of a potential child abduction.
He said: "I was in the junction and a police car came past, following another car and basically as it went around the corner, it just lost control and went into the pavement.
"On the pavement was a woman with two children and a man and it dragged the man underneath the car."