A prisoner was killed and two others were left in a critical condition following a stabbing at Pentonville Prison, north London, on Tuesday.
The inmate, in his 20s, was pronounced dead at the scene at 4.25pm following the attack at about 3.30pm.
He has not yet been formally identified and a post-mortem is due to take place in "due course".
Two men, aged 21 and 30, were taken to an east London hospital where they are in a critical condition, police said.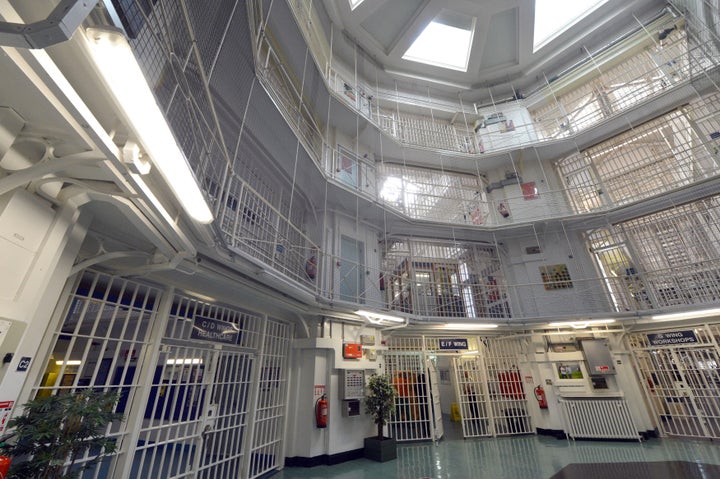 Police have launched a murder investigation.
Two men aged 34 and 26 have been arrested in connection with the incident and have been taken to a north London police station.
A Prison Service spokesman said: "Police are investigating an incident at HMP Pentonville this afternoon.
"It would be inappropriate to comment further at this stage," the Press Association reports.
Responding to the stabbing the Prison Governors Association told the BBC: "Our members, uniformed staff and prisoners are working and living in squalid and brutal conditions which should not be tolerated in a country that is one of the richest in the Western world.
"If a society is judged by how it treats those it locks up, then we are in a very dark place."
HMP Pentonville is a category B Victorian prison which opened in 1842 and holds more than 1,200 adults.
According to a HM Inspectorate of Prisons report in February last year, the prison sees a rapid turnover with more than 100 new prisoners a week and it was "performing poorly" as a result of staff shortages, overcrowding and prisoners' easy access to drugs.
Nick Hardwick, then chief inspector of prisons, also noted in his report: "Most prisoners felt unsafe; levels of violence were much higher than in similar prisons and had almost doubled since the last inspection."
Popular in the Community