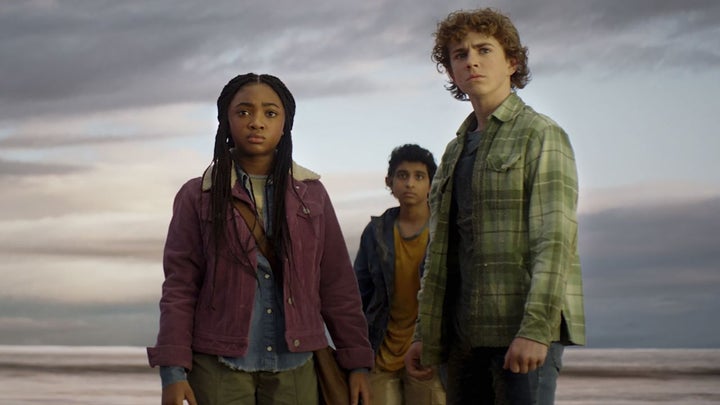 In 2010, a film adaptation of Rick Riordan's YA fantasy novel Percy Jackson And The Lightning Thief was released, starring Logan Lerman as the titular son of Poseidon.
A follow-up based on the second book in the series – Percy Jackson And The Sea Of Monsters – was released three years later, and was similarly 'adapted', meaning that despite a huge fanbase for the series, the deviation from the source material left critics and viewers hungering for a more accurate on-screen version of Camp Half-Blood.
That's where the Disney+ series Percy Jackson And The Olympians steps in. This time developed in close relation to author Rick Riordan, the various glimpses of the show have been very promising.
After its first full length trailer was released last week, here's everything you need to know about the Percy Jackson And The Olympians...
What is Percy Jackson And The Olympians about?
The premise of the books and series is that all stories about Greek Mythology, – including the gods and the monsters – are true.
It also turns out that Olympians sired countless demigods (half human, half gods) with various humans over millennia.
Those demigods exist in grave danger in the mortal world, choosing to spend their summers at Camp Half Blood, a dedicated haven used to train them up to survive constant monster attacks.
Also crucial to the plot is the stipulation that the Big Three (Zeus, Hades and Poseidon) swore off having children due to a very dangerous prophecy that predicted one of their offspring would be the saviour or downfall of Olympus.
Enter Percy (Perseus) Jackson, who just so happens to be a child of Poseidon, god of the seas. Chaos and divine danger ensue, as he discovers his heritage and abilities, and receives a quest which involves recovering Zeus's master bolt.
Along with Annabeth (daughter of Athena) and Grover (a satyr), the trio cross America to discover the truth – and who the lightning thief is...
Is there a trailer?
There sure is, and you can watch it below...
Set to a dramatic cover of Vance Joy's Riptide – which just so happens to be the name of Percy's trusty sword – the trailer thankfully hints at a more novel-accurate version of on screen events than the films.
We see Percy's dramatic trip to the Metropolitan Museum Of Art, where he's attacked by a Fury, and Chiron – a centaur in disguise – tells him: "When you're ready to hear what the gods have in store for you, they'll tell you."
The trailer also hints at various scenes cut from the films, including Aphrodite's booby-trapped water park, an encounter with the dreaded Fates and Percy's fight with a chimaera atop the Gateway Arch in St. Louis.
Also teased are looks at various gods and monsters, like Zeus, Dionysus and Hermes, and Medusa, the Minotaur and more.
Who is starring in Percy Jackson and the Olympians?
Walker Scobell stars as Percy Jackson, alongside Leah Sava Jeffries and Aryan Simhadri as Annabeth Chase and Grover Underwood, respectively.
Virginia Kull appears as Percy's mother, Sally Jackson, with Glynn Turman as Chiron (Camp Half Blood's centaur activities director disguised as Percy's Latin teacher).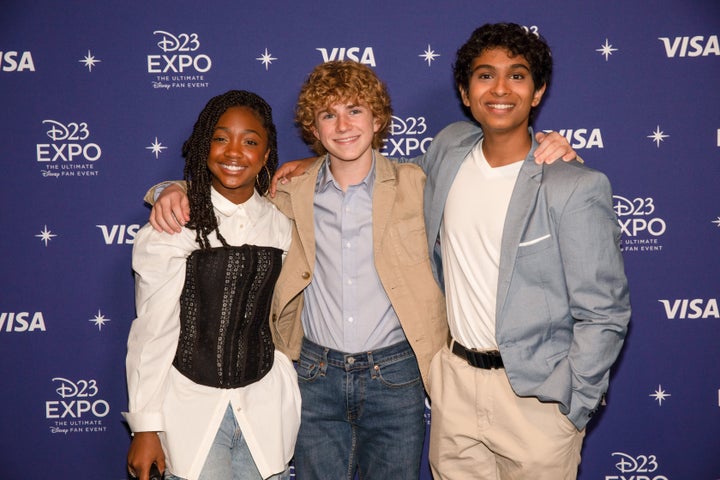 Gods-wise, the series stars Jason Matzoukas as Dionysus, Adam Copelan as Ares, Lin-Manuel Miranda as Hermes, Jay Duplass as Hades and Timothy Omundson as Hephaestus.
How involved is Rick Riordan in the series?
During the release of both films, author Rick Riordan was fairly outspoken about his dissatisfaction with producers' deviation from his source material. In fact, he even wrote a blog post in 2018 in which he detailed just how limited his influence on the films was, including the extracts of two separate emails to producers.
This time round, Rick serves as an executive producer, and has written the teleplay for at least three episodes.
Basically, the series is in good hands.
When is Percy Jackson And The Olympians coming out?
Percy Jackson and The Olympians is set to release its first two episodes on Disney Plus on 20 December 2023.
Its subsequent six instalments will be rolled out weekly on the streaming service.