Piers Morgan's colleagues and fellow celebrities had a lot of thoughts on a newspaper campaign to make him prime minister.
The tabloid's front page on Tuesday carried the headline "PM For PM", in light of his tough interviews with government ministers during the pandemic.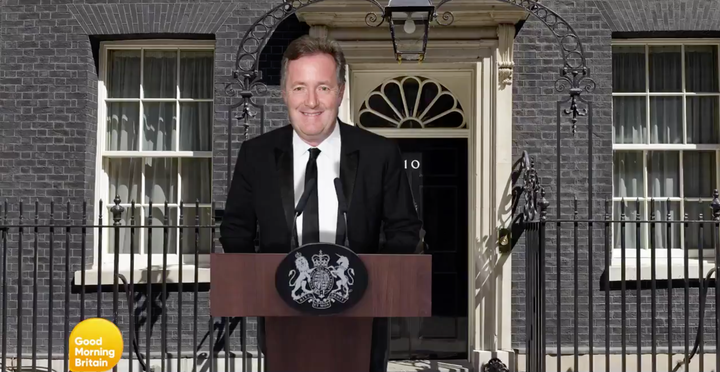 Piers reacted to the campaign on the ITV breakfast show, admitting he believed it "had a ring to it".
"Could I do any worse is the real question?" he said.
"That's the real calculation for the British people as they wake up this morning to this huge campaign. Could I do any worse?"
However, it seems many had an answer to that question – most notably Piers' long-running sparring partner Lord Sugar.
The Apprentice tycoon branded the Daily Star's front page a "joke" before tearing into Piers, who he has fallen out with during the pandemic.
However, Piers found some backing from Pointless host Richard Osman – although only because it meant he'd be on TV less.
Meanwhile, Piers' GMB colleague Susanna Reid asked for "help" while Alex Beresford praised the Star for giving us a much-needed laugh.
Piers was also brought back down to earth by a poll GMB's official Twitter account ran asking viewers if they would like to see him as the UK leader.
As support languished at the 26% mark, Piers said on air: "I can't believe that GMB viewers don't want me to run the country."
"Perhaps it is because they don't want you to leave Good Morning Britain?", Susanna replied.
While the divisive presenter has been severely critical of the current government in recent times, he did vote for Boris Johnson in the 2019 general election, saying he felt that the Conservatives were most likely to deliver on Brexit.
"I voted for Boris Johnson and the Conservative Party," he told LBC. "Not from any great love of either, but because, as I have made clear on Good Morning Britain for the last three years, I was incensed by the failure to honour the result of the referendum.
"I voted to Remain and I would vote to Remain again. I'm not a great fan of Brexit. However, I'm a much bigger fan of democracy. And to me, Boris Johnson was the only major party candidate who was offering to honour democracy and to respect the fact that 17.4 million people had voted to leave the European Union."