Six in 10 parents are worried about gender stereotyping when it comes to shopping for their kids, new research by the Fawcett Society suggests.
The charity found such widespread concern about the impact of "pink for girls, blue for boys" marketing that it is launching a new commission to examine gender stereotypes in early childhood – chaired by MP David Lammy and Professor Becky Francis of the UCL Institute for Education.
Running until 2020, the commission will gather evidence and attempt to find solutions to the problem.
This follows polling by the charity that shows 63% of mothers and 60% of fathers agreed that product marketing reinforces gender stereotypes. And it's not only parents – more than half of men and women without kids agreed.
"Unjust stereotypes are massively detrimental to our society," said Lammy. "As well as holding back women and girls, they send damaging messages to boys about what it means to be a man – like whether it's OK to show emotion, or to have an equal role in parenting."
Unravelling gender stereotypes was a "social justice issue", Lammy said. "This is about creating a fairer society where no child is limited just because of their sex, race, disability or any other characteristic."
Read more: 'Everyone Has Bums': 7-Year-Old's Brilliantly Simple Take On Gender]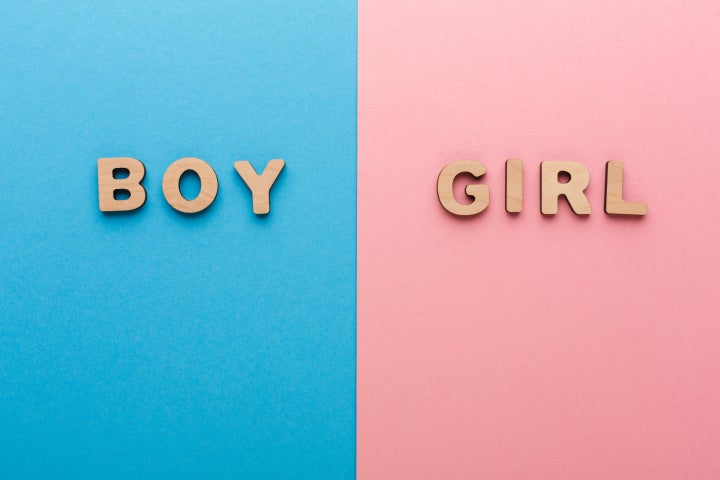 Researchers also discovered that six in 10 (59%) people felt it was more acceptable for a girl to be a 'tomboy' than it was for a boy to be 'feminine', while 69% of men under the age of 35 said that stereotypes had a damaging effect on perceptions of what it means to be a man or a woman.
Sam Smethers, chief executive of the Fawcett Society said: "Evidence shows that there is no such thing as a female or a male brain but retailers persist in creating and perpetuating gender differences just to sell products."

Almost half of more than 1,000 adults surveyed said they had experienced gender stereotyping when they were children.
Parent Voice: "We've shopped in pink and blue for too long"
HuffPost writer Victoria Richards is mum to a daughter, 7 and son, 2:
Take a moment to answer this question: when you're looking for a child's present online, do you ever write 'gifts for girls' or 'gifts for boys'? And when you click through to the results, are they divided into pink and blue? Thought so.
I've done it, you've probably done it, we've all done it – especially when we're feeling time-poor and lost for inspiration. And at those moments, being directed by retailers to the 'perfect present' for a niece or nephew, or a school birthday party gift, can seem helpful and convenient.
The problems is that marking kids out by gender actually reinforces stereotypes about what girls and boys can (or can't) do – and has been shown to have long-lasting and damaging effects, impacting everything from career choice to healthy relationships and self-esteem.
Gender stereotyping is something I've been thinking about since the moment I found out I'd had a baby girl, approximately 30 seconds after she was born.
When the midwife said those fateful words – "it's a girl" – a kaleidoscope of concerns ran through my head: from the gender pay gap to sexism to body image and the pressures to be skinny and beautiful. Seven years later, I'm still worried. More so, if anything.
And now I have a son, too – which means I'm thinking about the pressures he'll face to be 'macho' rather than sensitive, and the insidious effects of toxic masculinity.
One pal who works in marketing told me that big brands consciously divide kids' products by gender, because it increases sales. She said it is consumer-led and reactive – meaning they only do it because we are searching for it.
So perhaps the answer to combating gender reinforcement when it comes to shopping lies with us.
And to stop it, we simply need to stop searching for it.