Every Pixar enthusiast knows to be on the lookout for one of the animation studio's oldest traditions while watching a Pixar film: easter eggs. These eggs, otherwise known as hidden gems, are little references to movies and characters from the studio's past and future.
Pixar fans flocked to theaters to see "Brave," the studio's first foray into fairytales with a female protagonist, Princess Merida. When Merida is forced to choose a suitor by her mother, she runs away into the forest, where she happens to find a witch.
The Witch is an old woman disguised as a woodcarver specializing in whittling wooden bear figurines. She conjures haphazard spells which were not of much help to Merida, but as we can see from this photo, she does have a mysterious knowledge of the future. Look closely, and you'll see a carved figurine of the infamous Pizza Planet truck. For those fair-weather Pixar fans, the Pizza Planet truck has appeared in nearly every full-length feature film from the animation studio since 1995's "Toy Story."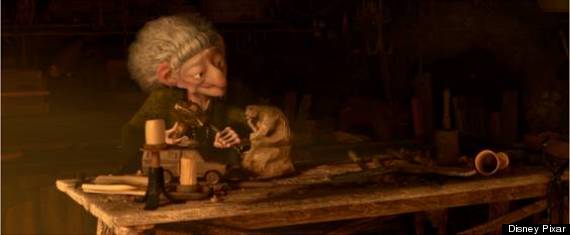 Now for some of you, that may have been easy to spot, but did you know that one of the monsters from Pixar's next film, 2013's "Monsters University" -- the highly anticipated prequel to "Monsters, Inc." -- was also hiding in The Witch's cabin?
A carving of Sulley, the lovable blue monster, voiced by John Goodman, appears on a piece of wood in The Witch's home. It's a blink and you'll miss it moment, but check out the photographic evidence below.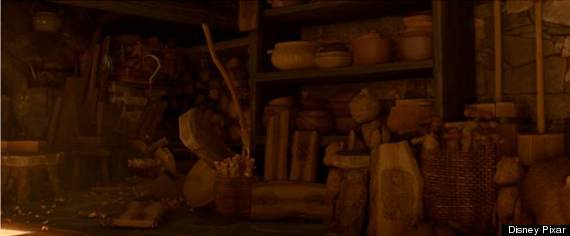 Below, check out HuffPost Entertainment's easter egg slideshow and contribute with slides of your favorite Pixar easter eggs!