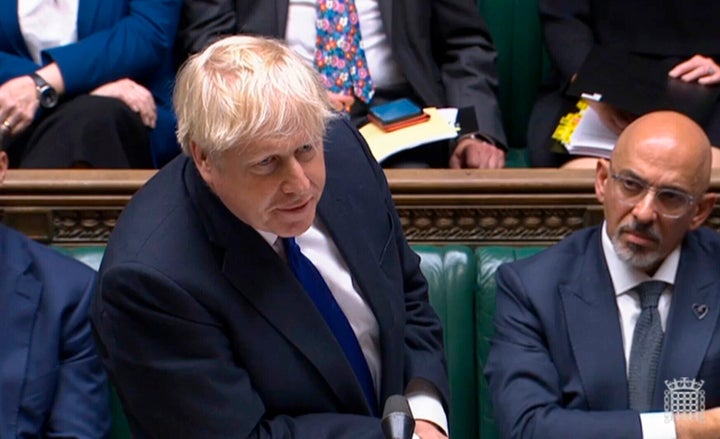 Boris Johnson's not good, terrible, very bad day – year, really – continued with this afternoon's PMQs – with ten different MPs asking him to resign.
The government's been plunged into a new level of chaos following the surprise resignations of top cabinet ministers, Rishi Sunak and Sajid Javid. Since then, the Tory party has been haemorrhaging MPs from government at an alarming rate.
It really picked up pace during and after PMQs, as MPs called on Johnson to go ten times in just 30 minutes.
Keir Starmer
Keir Starmer was the first up to bat. As leader of the opposition, it was no surprise when he criticised Johnson for appointing Chris Pincher to cabinet, despite knowing about the sexual misconduct allegations against him.
Touching on the flurry of resignations, he described them as: "Sinking ships fleeing the rat."
Ian Blackford
Again, the SNP MP's interjection was no surprise as he has been calling for Johnson to quit for some time – and he didn't hold back this week.
He said: "Whether he knows it or not, he is now an ex-prime minister."
"I hope the dishonesty of his leadership follows him out of the Downing Street door," he added, before asking: "If the prime minister won't resign, will he call a general election?"
Liz Saville-Roberts
The Welsh MP, who is also the group leader of Plaid Cymru in the Commons, claimed that Johnson's attitude was only encouraging calls for Wales to leave the rest of the UK.
She said: "Even if he goes – and it's not an if, it's a when, isn't it – the same Westminster arrogance will continue to dictate our futures in Wales.
"Does he want a medal for being the best recruiting sergeant for independence we could wish for?"
Ian Lavery
Then another Labour MP was up – Lavery – who began by bringing up the Johnson government's unfulfilled promises of funds. Lavery set the stage for his eventual ask by telling the crowd that Britishvolt had not received a penny of the promised money, effectively jeopardising over 8,000 factory workers' jobs in his constituency of Wansbeck.
Lavery summed up his concerns: "The betrayal of my constituents cannot be another broken promise of this government.
"Who'll be in that seat this time this afternoon, never mind next week!"
Mark Hendrick
After a couple minutes of respite, Johnson was back in the line of fire when the Labour MP for Preston said the British people are "fed up" and brought up the ongoing exodus of Tories. "Is the real problem him [Johnson] or them [resigning MPs] for believing him in the first place?" Hendrick asked to applause.
Andy Slaughter
The Labour MP for Hammersmith also brought up promises left undelivered by the Johnson government, referring specifically to the building (or lack) of new NHS hospitals which he said are meant to be delivered by 2024, but Johnson insisted are for 2030.
Pointing out that "there's no building going on" in his constituency, Slaughter concluded, "As this is likely to be his last Prime Minister's Questions, will he finally tell us the truth?"
Gary Sambrook
The Conservative backbencher is receiving praise for labelling Johnson's haphazard handling of the Chris Pincher crisis "insulting". Sambrook said Johnson's comments were insulting not only to Pincher's victims but also to the people who did try to intervene in the disgraced former whip's drunken behaviour.
Judging by the flurry of MP resignations that followed PMQs, Sambrook was speaking for many when he said, "[Johnson] always tries to blame other people for his mistakes.
"There's nothing left for him to do other than take responsibility and resign."
Munira Wilson
The Liberal Democrat MP took an innovative approach to her censure by quoting Johnson's own words about flailing PMs back at him.
"It is a wonderful and necessary fact of political biology that we never know when our time is up.
"Long after it is obvious to everyone that we are goners, we continue to believe it is our duty to hang onto the perks and privileges of our post.
"In reality we are just terrified of the comedown."
And then became the eighth MP to ask Johnson to step down: "So for the sake of this great country, will the prime minister heed the advice of his former self and get over his terror and do the decent thing?"
Peter Dowd
The Labour MP delivered a zinger just moments after Wilson when he said: "Given that the prime minister doesn't like walkouts and strikes what legislation will he be introducing to stop further walk outs and strikes amongst his cabinet colleagues and junior ministers?"
David Davis
David Davis, the well-known Conservative and Johnson-critic got the final word of the day by reminding parliament that he called for Johnson to resign six months ago, because "even then it was clear that his [Johnson's] approach to leadership and integrity was already creating a pipeline of problems that would paralyse proper government".
He concluded this volley of criticism by asking Johnson to do the "honourable thing" before it "becomes impossible for the government to do its proper job".