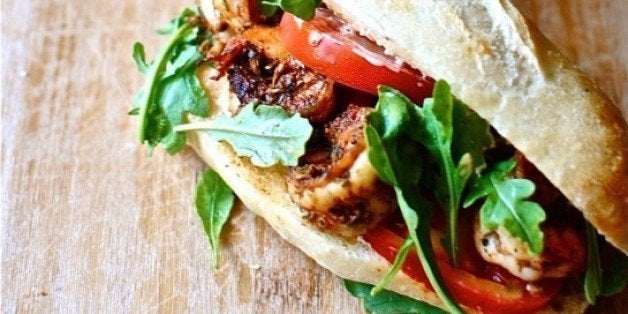 With Mardi Gras around the corner, all eyes and devious minds are turning to New Orleans. Naturally, the thought of the Big Easy immediately makes our stomachs rumble with dreams of hot beignets, mountainous muffulettas and po' boys. Oh the po' boys. Louisiana's pride and joy, the po' boy sandwich is one of the many gifts the state has given the rest of the country, and indeed the world. If you're not well-versed in the art of the po' boy, let Mardi Gras this year be your golden opportunity to change that.
In truth, a po' boy (or poboy, po-boy, poor boy -- no one can really decide how they want to spell it, but we all know it means something delicious) is a sandwich style more than anything. Crusty French bread, crispy shredded lettuce, sliced tomatoes, remoulade or Creole mayonnaise (usually) are paired with meat, seafood, sausage or whatever you want the main event of your sandwich to be.
Although those outside New Orleans usually associate fried shrimp or oysters with the po' boy first, the real deal is most definitely the roast beef po' boy with debris gravy (don't worry, debris refers to the bits of meat that stick around in the pan gravy after the beef is done braising).
Get your Mardi Gras game on this year by putting your own spin on this amazing American sandwich. Here are 17 po' boy sandwiches to get you started.