A murder investigation has been launched after a long-serving police officer was shot inside a station in south London.
The male officer died in hospital after the suspect, who was being detained, opened fire at Croydon Custody Centre during the early hours of Friday.
The 23-year-old suspect is in a critical condition in hospital with reported a self-inflicted gunshot wound.
No police firearms were discharged during the incident, which happened at about 2.15am at the Windmill Road centre, Scotland Yard said.
The victim is the eighth officer shot dead in the UK over the past 20 years.
Metropolitan Police commissioner Cressida Dick said early indications were that the suspect had shot himself, though this has not been confirmed.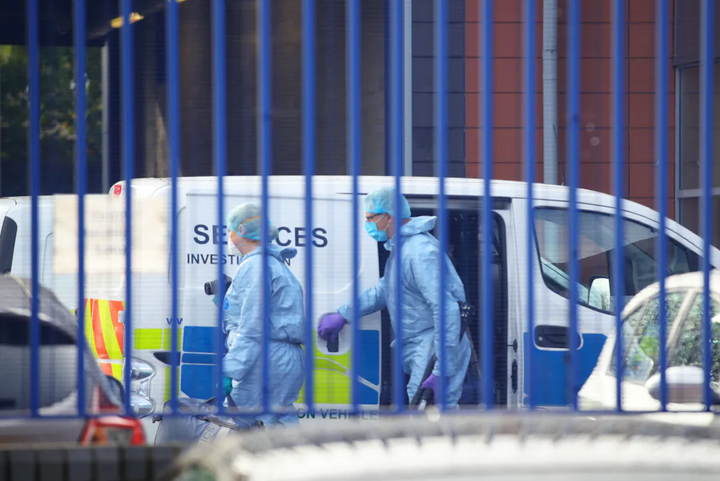 She said: "This morning we learned of the shocking death of a much-loved colleague, a long-serving sergeant in the Metropolitan Police who was working last night in our Croydon custody suite.
"I have visited and spoken to our officer's partner together with other colleagues, and we are of course giving her the best support we can.
"My heartfelt condolences go to her, to their family, to his colleagues and his close friends.
"I'm thinking also of everyone who was involved in, and those affected by, this terrible event.
"We are all deeply shocked and very sad."
Just before 2pm a dozen uniformed police officers walked silently to the custody centre, laid two large bouquets and bowed their heads as they stood side-by-side in tribute to their colleague. They left a minute later without saying a word.
The deceased officer was described as "an inspiration" by a friend who knew him from playing rugby together.
He said: "It is sad that our force are out in that position. They are just men and women doing a job.
"They are at the front line and on the bad end of it but nobody deserves that."
The 27 year-old friend, who would only give his name as Paul, said: "We all looked to him – on the field or off the rugby field, he always found a way to gee us up. Losing that is big.
"The man was a machine. He went from training with us last night to come to his shift work here in Croydon. He would do that week in and week out.
Leroy Logan, a former Metropolitan Police superintendent, said there were a number of questions to be answered around the circumstances which led to the shooting of the officer.
He told BBC News: "The first thing you want to know is how did this happen?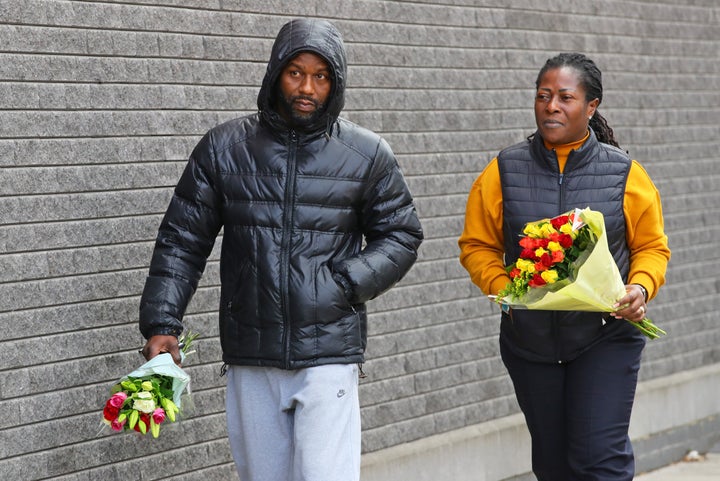 "How did that person come to be in the station whether it's in the yard or the building itself and be able to produce a weapon, whether it's on them at the time.
"It depends on the calibre of the weapon, because obviously if it's a small weapon and it can be easily in that person's clothing, then obviously it brings another question on how thoroughly that person was searched, if at all.
He added: "It depends if that person was arrested outside the police station and has been transported in a vehicle. Invariably these officers will search that individual to make sure they haven't got anything that can harm other people or themselves. Or try and hide any material whether it's drugs or any sort of articles that they shouldn't have.
"That's standard procedure and of course that's for security reasons just in case they have got a weapon.
"There are circumstances where someone might turn up at the custody suite area itself in the reception and are led straight through.
"So not knowing all of the details, how this person got into the secure area of the station, whether it's outside the building or in the yard or whatever, we just need to try and find out what's happened because the details are very, very scant."
Community police officer Jacqueline Kufuor burst into tears after laying flowers outside the centre in tribute to her colleague.
She told the PA news agency that the deceased officer was "a lovely guy" and "the nicest man I have ever met".
She said: "You never expect this to happen when you go to work. For him to have been in custody and for this to have happened, it is just so sad.
"He was a very lovely man. He was such a nice man. When he sees you, he would just stand and talk to you. He would ask you about your job and how your are coping and how you are doing out there.
"So when I ever had issues, I would just talk to him."
Prime Minister Boris Johnson has sent his "deepest condolences" to the family, friends and colleagues of the officer, adding: "We owe a huge debt to those who risk their own lives to keep us safe."
Home Secretary Priti Patel said she was "deeply shocked and saddened" to learn of the death.
Mayor of London Sadiq Khan tweeted: "Devastated by this news. My heart goes out to the family of this brave officer, who has paid the ultimate price for helping to keep Londoners safe."
Steve Reed, Labour MP for Croydon North, said his thoughts were with the officer's family and colleagues.
Policing minister Kit Malthouse updated MPs about the officer's death, adding: "May justice follow this heinous crime."
Raising a point of order in the House of Commons, Malthouse said: "We ask our police officers to do an extraordinary job.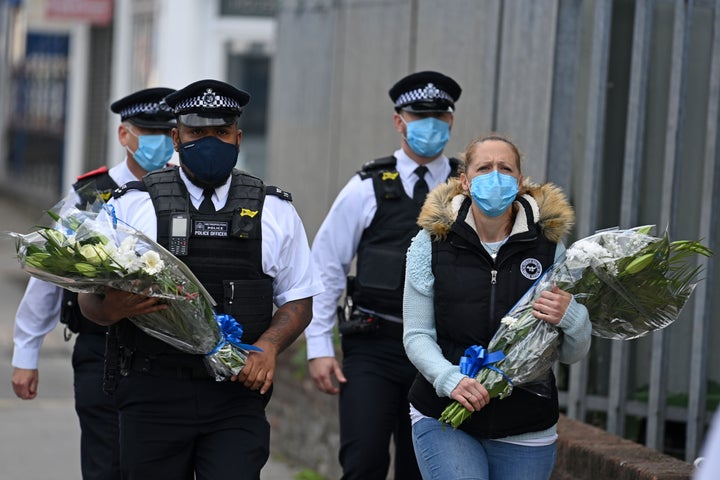 "The fact that one of them has fallen in the line of performing that duty is a tragedy for the entire nation.
"I know the entire House will offer their condolences to his family and friends and colleagues.
"May he rest in peace and may justice follow this heinous crime."
Reverend Catherine Tucker, who attended the centre to see if anyone needed prayer or support, said: "The action taken against the police is really unacceptable but I also feel sorry for the perpetrator.
"Sadly, I am not surprised there has been a shooting in Croydon."
Rev Tucker, who is of the Holy Church Croydon parish, which includes the centre in its catchment area, described the region as having a diverse community who live in a highly-deprived setting.
She said: "There are tensions between the police and young people particularly in relation to stop and search and the way the police relate to the community."
A number of policing colleagues have changed their social media profile pictures to black, with a blue line, as a mark of respect to the officer.
The incident has been referred to the Independent Office for Police Conduct which will lead an independent investigation.
Lissie Harper, the widow of PC Andrew Harper, who was killed on duty last year, said the death of a Metropolitan Police officer was "utterly devastating".
In a statement she said: "This is devastating news. No person should go to work never to return. No human being should be stripped of their life in a barbaric act of crime.
"Another hero has been taken from us in unwarranted violence.
"They protect us but who protects them? Another life is gone in a disgraceful act that reminds us of the danger our police officers face with every shift they begin."
Some 25 other officers have been murdered since 2020, according to the UK's police roll of honour.
The officer killed on Friday is the first to be killed by a firearm in the line of duty since PCs Fiona Bone, 32, and Nicola Hughes, 23, in September 2012.
They were murdered by Dale Cregan in a gun and grenade attack while responding to a report of a burglary in Greater Manchester.
In July the same year, off-duty police officer PC Ian Dibell, 41, was shot dead while trying to stop gunman Peter Reeve, 64, who had fired at a couple in Clacton, Essex.
In March 2009, police officer Stephen Carroll was shot dead while responding to a call in Craigavon, Co Armagh.
PC Ricky Gray was shot in the head by a gunman who then turned the weapon on himself in Shrewsbury, Shropshire, in May 2007.
PC Sharon Beshenivsky was shot dead when she and a colleague tried to stop armed robbers in Bradford in November 2005.
American David Bieber murdered PC Ian Broadhurst and attempted to murder PCs Neil Roper and James Banks in 2003 in Leeds.