After facing criticism for not speaking out against Myanmar's treatment of Rohingya Muslims during his visit to the Southeast Asian country last week, Pope Francis defended his silence on Saturday, saying he'd spoken privately about the humanitarian crisis with the nation's leaders and that he believed a more direct approach would have backfired.
Francis also said he'd been moved to tears during his Friday meeting with a group of Rohingya refugees in Bangladesh. "I wept, I tried to do it in a way that it couldn't be seen," he said of the encounter, according to Agence-France Presse. "They wept too."
The pontiff, who spent four days in Myanmar last week, had been widely lambasted for not using the term "Rohingya" even once during his visit to the country, which doesn't officially recognize the ethnic group as lawful citizens.
The usually candid pope instead chose to share more generic messages of unity during his visit, telling faith leaders in Yangon on Tuesday that "religious differences need not be a source of division and distrust, but rather a force for unity, forgiveness, tolerance and wise nation building."
Speaking to reporters during his return flight to the Vatican on Saturday, following a two-day stop in Bangladesh, Francis defended his decision to skirt the Rohingya issue during his public appearances in Myanmar.
"If I had used the word ['Rohingya'] during an official speech, I would have slammed the door," he said.
The pontiff added that he'd spoken more openly about the issue in private with Myanmar's leaders, saying he was "very, very satisfied" with his meetings with the country's de facto leader Aung San Suu Kyi ― a Nobel Peace Prize laureate who has herself been slammed for not standing up for the Rohingya ― and the country's military chief, General Min Aung Hlaing.
"It was a good conversation and the truth was non-negotiable," Francis said of the meetings, according to Reuters. "For me, the most important thing is that the message gets through."
The U.S. has accused Myanmar's military of "ethnic cleansing" in its alleged mass murder, rape and torture of Rohingya men, women and children living in Rakhine State. The military has committed atrocities amounting to crimes against humanity, according to Amnesty International.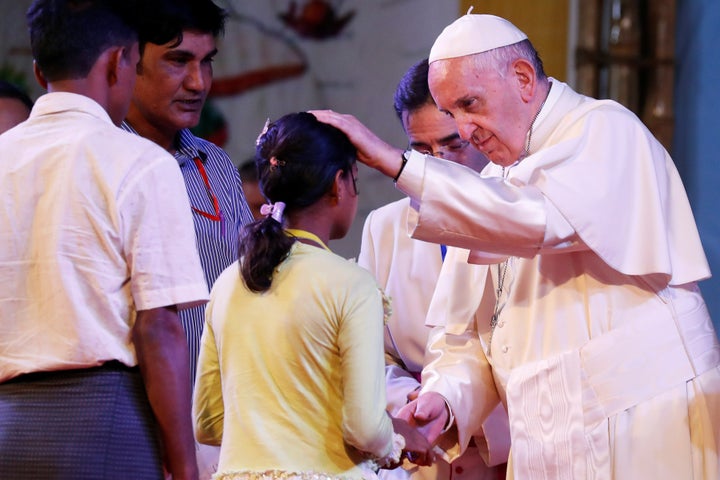 Related