Two sunbathers have been killed after a light plane made an emergency landing on a beach near Lisbon.
The Associated Press news agency reported the crash killed a 50-year-old man and an 8-year-old girl at Sao Joao beach on Portugal's Costa de Caparica coastline near the city of Setubal.
Local reports cite eyewitnesses at the beach at Caparica, about 30 kilometers (20 miles) south of Lisbon. Some sunbathers reportedly ran into the sea.
One eyewitness told cable news channel SIC Noticias that the plane skimmed low over the sunbathers before landing on the beach.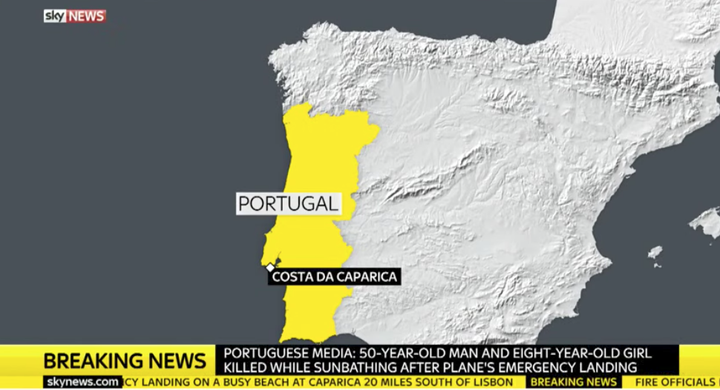 Images posted on social media suggested the plane had remained in one piece.
The aircraft was reportedly carrying two people and appeared to be in difficulty, spreading panic on the beach as it wobbled and skimmed low over sunbathers.
The two occupants of the plane were led away by police.
Maritime Police Chief Pedro Coelho Dias, a spokesman for the Maritime Authority National, said: "The victims are a man and an eight-year-old girl. They were hit by the plane and died at the scene."
The aircraft is a two-seater Cessna 152, which belonged to the Torres Vedras air club and was built in 1978.
The nationalities of the victims are not yet known.